Children's Healthcare of Atlanta has received state approval for its planned 446-bed hospital in Brookhaven.
The approval of the certificate-of-need application was announced late last week. The project was not opposed by any other hospital system.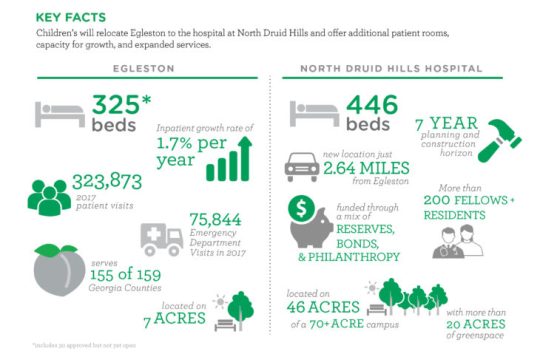 The project features additional beds and expanded services that allows Children's to relocate from Egleston Children's Hospital, on Clifton Road in Atlanta, to the North Druid Hills property in Brookhaven.
"We are pleased that the Department [of Community Health] recognized the long-term value of this new hospital for Georgia's current and future generations of children," Children's Healthcare of Atlanta CEO Donna Hyland said in a statement Friday. "We remain laser-focused on top-quality patient care and operational excellence at all of our facilities as we plan to start construction on the new hospital in early 2020."
The $1.5 billion project for the North Druid Hills campus would be the largest hospital construction plan, in terms of cost, in the history of the Georgia certificate-of-need (CON) program, experts say. It will continue Children's dominance in pediatric care in the region.
Health system officials said that visits to Children's, including Egleston, are increasing faster than overall population growth, causing the need for additional beds.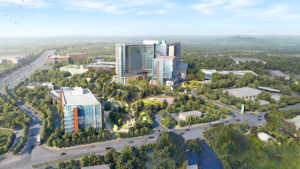 By 2025, the North Druid Hills campus will include the relocated hospital, two support staff buildings, the Center for Advanced Pediatrics, more than 20 acres of greenspace, and walking trails and paths on and around the site. Children's also has committed to improving the surrounding area by investing more than $40 million in traffic and infrastructure improvements.
Completion of the support buildings in 2020 will enable Children's employees to vacate current offices on the site of the planned hospital, allowing construction to begin. After the construction of the new hospital is complete, Children's will no longer operate an inpatient facility at Egleston.