The morning after Hurricane Michael struck, the hospital in Blakely got a call from the Early County sheriff's office.
A woman, 27 weeks pregnant, was in labor and needed to come to the hospital.
Michael had swept through southwest Georgia, knocking out power, downing large numbers of trees and making roads impassable.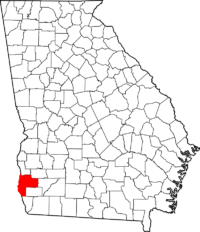 The woman was driven as close as possible to the LifeBrite Community Hospital of Early on Thursday morning, but she had to walk the last part of the way, because a vehicle could not get through.
The small Blakely hospital was working at a disadvantage, and not just because of the roads. It had given up childbirth services years before. And it didn't have the ventilators and other equipment to handle a child born prematurely.
Meanwhile, a hospital in an adjoining county also confronted a severe challenge related to Michael. Miller County Hospital lost water for 18 hours when the city of Colquitt's water supply went down.
The two hospitals' experiences show medical staffs at their best, reacting in a crisis situation to provide care to patients within damaged facilities. And the episodes reflect how important rural health care is to small communities when a disaster strikes.
"This is why rural health care is so important,'' Warren Binderman of LifeBrite told GHN. "When no one is able to assist, we're there."
LifeBrite of Early was dealing with electrical issues when the pregnant patient arrived. The 25-bed ''critical access'' hospital was getting power from backup generators, like many other Georgia hospitals in the storm's aftermath.
The administrator, Ginger Cushing, said later Thursday that "27 weeks is viable [for a baby to be delivered and survive], but we're not prepared'' with the technology for a preemie. "We had very few resources. But we had to deliver – there was no way out."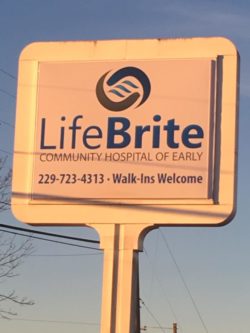 A physician assistant, a nurse and Cushing herself – who's also a nurse — delivered the baby in the emergency room. The infant girl weighed less than 2 pounds.
"We kept the baby alive,'' Cushing said Thursday afternoon. "It really was a little miracle."
Around noon, the girl was transferred by specialized ambulance to a neonatal intensive care unit in Columbus. The mother remained at the Early County hospital Thursday night. Both were doing fine, hospital officials said Friday.
Just a few miles away, Miller County Hospital and its nursing home were also dealing with an electrical cutoff. Backup generators kept the hospital powered.
CEO Robin Rau said that the hospital staff had done a disaster drill just two weeks before. Hospitals immediately put such emergency plans in place when a disaster strikes, said Jimmy Lewis, CEO of HomeTown Health, an association of rural hospitals in the state.
As the storm approached the Florida Panhandle — which is at the doorstep of southwest Georgia — Miller County Hospital stocked up on food, cots and air mattresses, as Rau anticipated the staff would have to remain at the facility during the storm. They housed staffers' family members at the hospital as well.
There were about 140 patients in the hospital and nursing home when 115 mph winds struck the facility, ripping air conditioning units off the roof.
The generators held, and the air conditioning still worked in patient areas. But then the city of Colquitt lost its water supply.
For the rest of Wednesday and much of Thursday, the hospital had no water supply. There was a week's worth of drinkable water on hand, and that was a help. But kidney dialysis patients typically need water for the procedure.
Staffers connected those patients to equipment that doesn't require water.
Besides the spotty air conditioning, sanitary conditions deteriorated, but "there was no effect on medical care,'' Rau sad. "It was a phenomenal effort by our staff."
The generators were still on at the Miller County facility as of Thursday night. "Our county looks like Katrina,'' Rau said, referring to the notorious 2005 hurricane on the Gulf Coast. "I have been in health care administration for about 30 years. I've never had to deal with anything like this before."
One thing Rau says she has learned from the ordeal: The hospital may have to dig its own well if it wants to ensure an independent water supply.