Gov. Nathan Deal said Thursday morning that all hospitals and nursing homes in the state had power in the aftermath of Hurricane Michael, though many were having to use backup generators.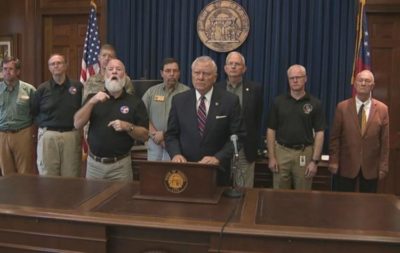 He said much of southwest Georgia, where the storm hit hardest, was inaccessible due to debris in roads. Officials were assessing the situation by helicopter, and debris removal teams were moving in to clear the routes. The governor urged residents to exercise caution, and not to do anything that might hinder work crews.
More than 400,000 power outages were reported across Georgia on Thursday morning.
One death was reported in Georgia – a young girl in the southwestern part of the state – as a result of the storm.
A trade group representing Georgia's nursing home industry said at noon Thursday that 11 nursing homes were still without regular electricity and were operating on generator power.
"We are dedicated to supporting our members impacted by the storm and our state partners as they work to restore power to those centers as quickly as possible,'' said Georgia Health Care Association spokeswoman Devon Barill.
The Georgia Hospital Association said Thursday that about a dozen hospitals were on generator power. A hospital in Tifton lost water pressure briefly, while Phoebe Putney in Albany had low water pressure due to a power outage, but did not lose pressure entirely, the hospital group said.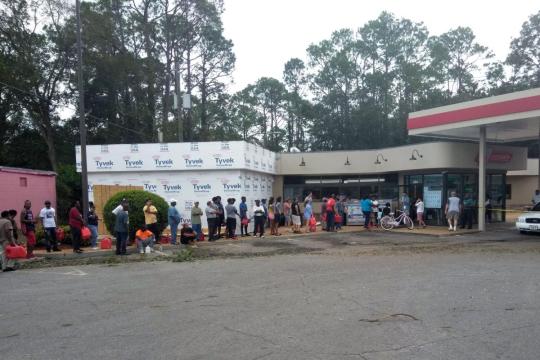 In southwest Georgia, more than 90 percent of the Albany Utilities Authority's customers, 24,720 customer accounts, were without power Thursday morning, the Albany Herald reported. Michael remained a hurricane for hours after it entered Georgia, and winds that reportedly gusted up to 100 mph tore down trees, tore facades off the fronts of businesses and left a path of destruction in Dougherty County.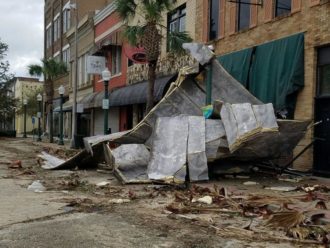 Authorities said an 11-year-old girl was killed in Seminole County when the winds picked up a carport and dropped it on her home. One of the carport's legs punctured the roof and hit her in the head. Seminole County occupies the southwestern corner of Georgia, where the state meets Florida and Alabama, and not far from where Michael first hit land Wednesday in the Florida Panhandle.
In Middle Georgia, Hurricane Michael toppled trees onto houses and left power lines strewn across roadways, blocking hundreds of roads overnight Wednesday, the Macon Telegraph reported.
President Trump declared a federal state of emergency in Georgia, the White House said Thursday, after the storm left a trail of destruction across the state.
The action allows Georgia to tap into federal resources, including money, debris removal and protective measures aimed at supplementing state and local efforts.