Children's Healthcare of Atlanta has taken its first step toward state approval of its plan for a $1.5 billion North Druid Hills campus.
It would be the largest hospital construction plan, in terms of cost, in the history of the Georgia certificate-of-need (CON) program, experts say.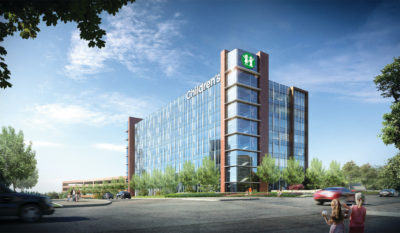 The pediatric care organization recently filed a letter of intent to apply for a state permit, or CON, to build a new hospital on a campus at I-85 and North Druid Hills Road in the Atlanta suburb of Brookhaven.
A letter of intent comes 30 days before a CON application is filed.
The state regulatory process can be a long journey if a hospital project draws opposition. It's unknown whether the planned 70-acre campus will get such a fight.
Adrienne Marting, a CON expert with the law firm Nelson Mullins Riley & Scarborough, said she doubts the Children's project will be opposed. "Hardly anybody opposes Children's. You'd have to be a hospital with pediatrics'' to have any stake in fighting it, she said.
Health care projects that involve ambulatory surgery or open-heart surgery are more frequently opposed by competitors than those where a hospital is adding beds and refurbishing its facility, Marting added.
If it gets no formal opposition, the Children's project is expected to take about six months for state approval.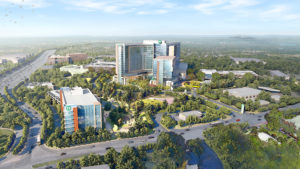 The new hospital would replace Children's hospital at Egleston, on Clifton Road in Atlanta, with a much bigger version: 446 beds, up from the current 325.
The facility would have two patient towers that would use natural daylight in the design to reduce energy costs and promote healing.
The 70-acre site would have more than 20 acres of greenspace, and Children's would invest more than $40 million in transportation and traffic improvements.
The total cost listed in the CON application will be $1.5 billion and includes the hospital, the attached clinic and office building, the central utility plant, hospital- and campus-related infrastructure.
Children's will eventually open support buildings that will house organization personnel. That's not a clinical care site, and therefore does not require a CON.
Also exempted from the CON process is the Center for Advanced Pediatrics — a 260,000-square-foot medical office building that will bring pediatric clinics and specialists together under one roof. It would focus on better serving children with complex conditions. It's expected to open this summer.
The opening date for the new hospital is projected for 2025. Late last year, the Brookhaven City Council approved several steps for the pediatric health care organization to move forward on the project.
Chris Kane, a consultant with Progressive Healthcare, said Thursday that state approval of the project is almost certain.
He and Marting said it would be the most expensive CON project they could recall.
Kane added that Children's has a dominant position in the metro Atlanta market for pediatric care, so health insurers must have it in their network.
As a part of a CON application, a hospital must demonstrate that it has the financing it needs for the project or has a strong probability of obtaining such financing, Marting said.
"Despite its large price tag, there's nothing really unusual'' about the Children's plan that would raise red flags with state regulators, Marting added.