Gov. Nathan Deal, in his final State of the State address, announced Thursday that he is recommending $22.9 million in additional funding for children's mental health services.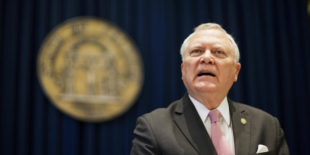 He based the funding on the work of a state commission on children's mental health, which recently issued recommendation for improving kids' services.ie
Deal, a Republican former congressman, has been elected governor twice and is ineligible under Georgia law to run again this year. Next year's State of the State address will be given by a newly inaugurated governor.
The recommendation on funding was the only mention of health care in Deal's address to the General Assembly.
In contrast, a year earlier, Deal had laid out several health care initiatives in his annual address. They included big pay raises for DFCS caseworkers; expanding mental health coverage for kids under Medicaid and PeachCare; renewal of the hospital ''provider fee'' to plug a large hole in the state's Medicaid budget; pay raises for primary care doctors and OB/GYNs under Medicaid; and proposals to fight the opioid epidemic.
In his Thursday speech, Deal cited the state's progress in several areas during his tenure, including Georgia's business climate, education, and criminal justice reform.
The $26 billion fiscal 2019 budget, unveiled Thursday, had some additional health care spending.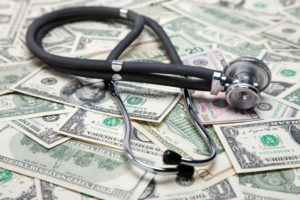 But absent from the governor's framework is money to bolster rural health care, a big legislative focus over the past year.
A group of influential lawmakers, the House Rural Development Council, introduced in December a series of proposals to boost health care in rural Georgia. They included requiring nursing homes to have telemedicine capability, and allowing expanded responsibility for health care providers who are not physicians. The council also made recommendations to improve broadband Internet access
Another council proposal on health care was to develop a demonstration "waiver'' program to explore extending medical coverage to more Georgians who currently have none. And the group backed a bold revamp of the state's certificate of need (CON) laws, which govern where health care facilities can be built and what services they can offer.
The recommendations on CON include facilitating what the council called "micro hospitals,'' with limited beds and 24/7 care. The biggest change, though, would create a two-tiered system for CON.
The first would keep the regulations in place for service areas of 85,000 people and below, but for areas above that population threshold, CON would essentially go away for hospitals and organizations.
State Sen. Renee Unterman (R-Buford) said Thursday that she is concerned about the potential for a CON reform to put safety-net hospitals at a disadvantage.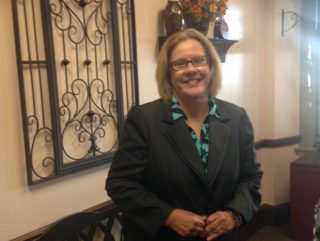 If CON changes allow other facilities to "cherry-pick'' privately insured patients, "then you're creating a critical imbalance,'' Unterman, a nurse with a longtime interest in health care policy, said at an event sponsored by the consumer group Georgians for a Healthy Future.
Included in the budget are:
** $28.8 million for child welfare services to fund out-of-home care growth and foster care per diem increases.
** $5.9 million for autism crisis services for children under 21.
** $16.9 million for a nursing home provider rate increase.
** $1.9 million for additional Graduate Medical Education (GME) slots.
But unlike the previous year, there was no money allocated to reduce the number of people on waiting lists for home- and community-based services. More than 12,000 Georgians are on these lists.
"We are disappointed that the budget proposal does not include additional funding for older adults," said Vicki Johnson, chair of the Georgia Council on Aging. "We will work with committees in the Georgia House and Senate to try to get additional funding included in the final budget."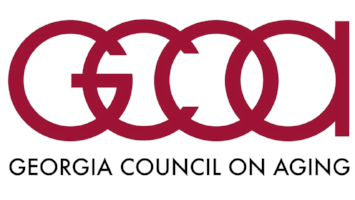 Without additional funds, that list will only get longer, and more people will have to go into nursing homes, where their care will be much more expensive, the Council on Aging said.
Its priorities also include $4 million for the Aging and Disability Resource Centers (ADRCs), which provide information and referral services to older adults and persons with disabilities to help them navigate complex public and private programs to get needed help.
Under the Deal budget, teachers and state employees would go without state raises in the upcoming fiscal year.
Access to health care debate
Democrats have called for the state to expand its Medicaid program under the Affordable Care Act, as more than 30 other states have done.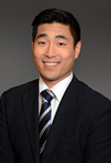 Rep. Sam Park, a Lawrenceville Democrat, said Thursday that in states that have expanded Medicaid, hospital systems are more financially secure. In Kentucky, a state that has done expansion, many more people have received substance abuse services, he said. "A lot of uninsured people in Georgia don't have access to health care,'' Park said.
But with Republicans still in control of the General Assembly, the expansion effort appears doomed for now, though a slimmed-down "waiver'' plan could get political traction, experts say.
Mental health services, meanwhile, were a big winner in the budget.
The $22.9 million for children's mental health would go for crisis services, therapeutic foster care, Apex grants, telehealth services, suicide prevention, wraparound services, supported employment and education, and opioid prevention and treatment to provide comprehensive support to Georgia's youth in crisis.
Deal, in a budget statement, commented on adults services as well, saying that "we have invested almost $240 million over the last seven years to serve citizens in need of behavioral health services more appropriately in their own communities and outside of state institutions. As a state, we are doing more to help the behavioral well-being of our citizens than ever before.''