More than 600,000 Americans signed up for coverage in the first four days of Open Enrollment for the health insurance exchanges, federal health officials said Thursday.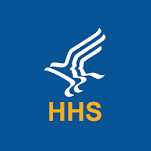 That national average of 150,000 a day is higher than the 84,000 people a day who signed up during a 12-day initial enrollment period last year.
The 601,462 figure reported Thursday came in the 39 states, including Georgia, whose exchanges are run by the federal government. But the Department of Health and Human Services, which released the numbers, did not break them down by state.
Georgia officials involved with enrolling consumers reported Thursday that they have seen a steady flow of people looking to sign up for 2018 exchange coverage.
Administration officials said more than 200,000 consumers selected plans on the first day, more than double the number last year, the Washington Post reported. The officials spoke about the first-day figure on the condition of anonymity because they were not authorized to disclose it.
The national surge comes despite the Trump administration's drastic cuts in marketing and enrollment activities for the exchanges, which were created by the Affordable Care Act to offer coverage to people who don't receive job-based or government insurance. It also comes after several congressional attempts to repeal and replace the ACA, efforts that some analysts predicted would confuse consumers and depress enrollment.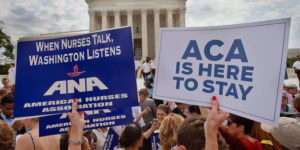 Federal health officials announced this fall that they would slash the exchanges' marketing and advertising budget by 90 percent. They made a 61 percent funding cut for Georgia's health insurance navigator programs, which provide specially trained insurance counselors for exchange customers, and they ended community partnerships and initiatives that promote enrollment among hard-to-reach populations.
The Trump administration has also shortened the sign-up period for buying insurance on the ACA exchanges. Open Enrollment, which started Nov. 1, runs through Dec. 15. That's only about six weeks.
Duane Kavka, executive director of the Georgia Association for Primary Health Care, said Thursday that his organization has seen brisk enrollment "since Day One.''
Laura Colbert of consumer group Georgians for a Healthy Future said that given the confusion about the future of the ACA and low consumer awareness of the enrollment period, "it is a little surprising to see such robust participation in the first week of the ACA's open enrollment period. This strong start demonstrates that consumers still value affordable, quality health insurance and are motivated to enroll."

Insure Georgia, a leading navigator organization in the state, said it had enrolled 203 people through Wednesday of this week. Most of the people signing up are re-enrolling in coverage from last year, said Marc Jenkins, regional outreach coordinator for Insure Georgia.
That reflects the national trend as well, where about 75 percent of sign-ups are renewing coverage, HHS said.
The Insure Georgia navigator workforce, though, has shrunk from about 60 to fewer than 20 due to much lower funding levels this year, said Jenkins, a navigator himself.
Despite the high national numbers, he said the Trump administration's less aggressive approach to getting people enrolled on the exchanges would ultimately have a negative effect on enrollment in Georgia.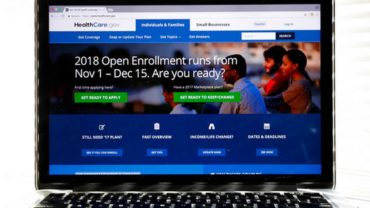 "We can't reach every corner of the state like we did last year because of [lower] funding,'' he said Thursday. "A lot of consumers undoubtedly will be left out."
Many people in rural areas don't have computers, and so face barriers to signing up, Jenkins added.
About 404,000 began coverage in the exchange in Georgia this year, but overall the number declined from 2016, when 478,000 paid for a plan.
The apparent enrollment uptick in the federally run exchanges has been mirrored in states that run their own ACA marketplaces, The Post reported. The vast majority of those exchanges — including California, Colorado, Connecticut, the District, Idaho, Maryland, New York, Rhode Island and Washington — reported an increase in both enrollment and inquiries at their call centers.