Inflammatory breast cancer (IBC) is one of the most aggressive forms of breast cancer, and according to a recent study conducted by Georgia State University, South Georgia has some of the highest numbers of IBC cases in the nation. And while certain types of breast cancer are widely known, many people have never heard of IBC.
So what is it?
IBC is often referred to as an "orphan" disease because it is so rare, representing just 1 percent to 3 percent of all breast cancer cases in the nation, according to the National Cancer Institute. The complex disease, which is also aggressive and sometimes terminal, differs from other types of breast cancer, particularly in its symptoms, rapid evolution, prognosis and
treatment.
IBC is typically (though not always):
** diagnosed at younger ages, compared with other types of breast cancer
** more common and diagnosed at younger ages in African-American women than in white women
** more prevalent in obese women
The disease is triggered by cancer cells that block the lymph vessels in the skin of the breast, causing the breast to become swollen, red or inflamed by fluid buildup. Classical symptoms include pitting or ridging of the skin – making the breast appear like an orange peel — as well as tenderness, pain or itchiness in the breast. The affected breast can swell, becoming larger, and symptoms may include a feeling of warmth and a feeling that the breast is physically heavier.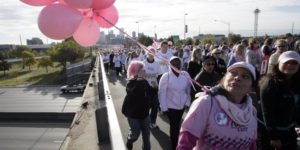 It's important to know that if you experience these symptoms, it does not necessarily mean you have IBC, because infection or physical trauma to the breast can produce similar changes. Because it's difficult to differentiate between an infection and more serious issues, you should consult a physician immediately to explore potential causes, especially if symptoms last longer than seven to 10 days and are not eliminated by antibiotics.
A deceptive, aggressive illness

Given that its symptoms can resemble those of other conditions, IBC can be difficult to diagnose properly. It is not always characterized by lumps or tumors in the breast that are easily discovered by a physical exam or mammogram. In fact, mammography reveals a cancerous mass in only about 10 percent of IBC cases. The deceptive and aggressive nature of this disease makes early detection difficult. Because of this, women and their physicians should be aware of what to look for in order to make informed decisions.
At diagnosis, IBC is minimum stage III, meaning it may have spread to nearby lymph nodes and skin surrounding the breast. Undetected, it can spread to other parts of the body, affecting doctors' ability to treat it effectively and promote positive survival outcomes. For these reasons, affected women and physicians need to act swiftly if they recognize symptoms. Once the disease is detected, physicians can take advantage of different diagnostic tools, including a mammogram, breast ultrasound, MRI scan, CT scan or PET scan in order to investigate fully.
In most instances, breast cancer treatment begins with chemotherapy for at least six months, followed by surgery and radiation therapy. A treatment plan may also include a carefully selected standard of care treatment and/or clinical trials in areas such as immunotherapy, genomically targeted chemotherapy and other innovative research. Patients may be treated by a multidisciplinary team comprised of a medical oncologist, radiation oncologist, breast surgeon and plastic surgeon. Dietitians, naturopathic providers, mind-body therapists and other supportive care clinicians may help patients manage fatigue, nausea, diarrhea and other side effects.
,
In conclusion, it's critically important for women to pay attention to their bodies and not ignore symptoms, and to contact their doctor immediately if they notice any changes or abnormalities.
Dr. Ricardo H. Alvarez is a medical oncologist at Cancer Treatment Centers of America, working at its Southeastern Regional Medical Center in Newnan, Georgia. He serves as medical director of the Breast Center and director of Cancer Research, mainly focusing on the treatment of advanced breast cancer and inflammatory breast cancer.