A report by University of Georgia researchers shows that an Athens-area charitable health clinic is helping to reduce the number of unnecessary ER visits.
The report examined 185 new patients who began receiving health care from the Mercy Health Center from Feb. 1 to July 31, 2015, and continued to do so for at least a year and a half.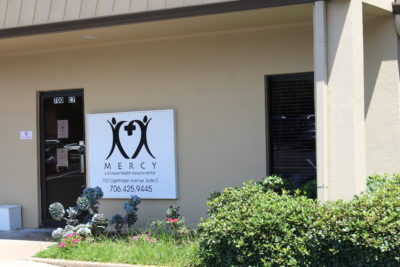 The time frame of the study, conducted by College of Public Health researchers, stretched from nine months before each patient began at Mercy, to 18 months after their first clinical visit — a total of 27 months.
During the nine months before beginning at Mercy, the 185 patients had a collective total of 207 emergency room visits, costing an estimated $385,641. That number dropped to 171 visits costing $318,573 during their first nine months using the clinic, and then to 121 — costing $225,423 — in their second nine months at Mercy.
"Mercy patients have fewer emergency department visits over time," Rebecca Walcott, one of the researchers, said in an interview. Gaining access to primary care, she said, "leads to reduced reliance on these departments."
Walcott, Samantha Elliott, Justin Ingels and Phaedra Corso of the college's Economic Evaluation Research Group did the research. It began in May 2016, and the study was finished two weeks ago. Corso is a Mercy board member, and the College of Public Health's dean, Phillip Williams, sits on the clinic's advisory board.
Despite that relationship, Mercy only assisted in the study's data collection, and were available to answer the researchers' questions.
"This report is a pretty big win for us," said Tracy Thompson, Mercy Health Center's executive director. "It validates what I already knew, but it's good to see it on paper."
Overall, the research suggests that as Mercy Health Center has given its patients access to consistent primary care, they have gone to emergency rooms less and less. Many of the clinic's patients never had access to affordable medical care before, and therefore often used local hospital ERs as their primary source of health care. Patients with no coverage would show up at emergency rooms with problems that an insured individual would handle through a routine visit to a doctor's office.

"If a hospital is struggling with overcrowding, this report is very encouraging," said Rebecca Walcott, the study's coordinator.
By cutting down these emergency room visits, Thompson says, Mercy is saving both Athens hospitals and the taxpayers money, because emergency care is more expensive to deliver than routine care. More importantly, a less crowded ER means that doctors are more available to treat the patients who really need emergency care.
Mercy has served the Athens community since 2001, yet receives no federal funding, and relies solely on donations, grants and foundations to bankroll its operations. A new patient must be completely uninsured, and at or below 150 percent of the Federal Poverty Level. Last year, Mercy provided 13,000 visits; the clinic has 3,900 patients in its active patient population.
"We do medical, dental and pharmacy," Thompson said. "We do specialty care, everything from neurology to podiatry — head to foot."

The study added costs from emergency department visits, Mercy Health Center and outpatient services to calculate total medical costs. Once the patients joined Mercy, there was a jump in overall health care costs, from $411,462 during the first nine months before joining the clinic to $540,776 during the first nine months at the clinic. But this is attributed to an increase in diagnostic outpatient services such as lab tests, mammograms and outpatient surgeries, which the patients didn't have access to previously.
Both Thompson and Walcott noted that many of these early costs were for one-time services, to diagnose illness and begin treatment, such as liver biopsy to test for hepatitis C. In the second nine months in Mercy, the overall costs dropped to $351,212, and the researchers expect the number to at least stay consistent, if not to decrease.
Thompson said she hopes that the study will show Piedmont Athens Regional and St. Mary's, the two Athens hospitals, the impact of Mercy Health Center on the local community.
"It's very important for the community to see that we are doing much, much more with the small amount of money we are receiving," she said.
Thompson hopes the study's findings will encourage hospitals, businesses and individuals to donate to Mercy.
"If you are treating a patient for something they didn't have access to treatment before, or even if you're just given them the security of knowing they have a place to go if they get sick that won't bankrupt them, you're improving quality of life," Walcott said. "That is valuable as well, though harder to place a dollar value on."
Jim Lichtenwalter is a writer and reporter from Alpharetta. His work has appeared in many publications, including Birmingham Magazine, The Alpharetta-Roswell Revue and News, The Johns Creek Herald, and The Athens Banner-Herald. A graduate of Samford University in Birmingham, Ala., Jim is currently working on his master's degree in journalism at the University of Georgia's Grady College of Journalism.