The demand for health care services is growing. So is the need for physicians and other professionals to deliver these services, especially with the aging of the Baby Boom generation.
Jackson Healthcare, a health care staffing company, is expanding its Alpharetta headquarters to meet this surge.
The company announced Thursday that its expansion will bring 1,400 new jobs to the area, as groundbreaking occurred for the $100 million project.
"It's a growing industry, and we're adding market share,'' Shane Jackson, president of Jackson Healthcare, told GHN this week.
Physician staffing "is the biggest part of what we do,'' Jackson said. The company also supplies other clinical workers, including nurses, therapists, pharmacists, nurse practitioners and physician assistants.
The majority of Jackson Healthcare's staffing work is for temporary positions. Hospitals, urgent care centers, pharmacies, home health agencies and nursing homes are customers for the company, which is privately held. It had revenues of nearly $800 million in 2015.
The campus expansion will have an Italian theme, with a piazza and an amenities building that is a replica of the Roman Colosseum. The latter building will house a hair salon, dry cleaners, spray-tanning studio, a chiropractor, massage services and a barber for employees to use.
"Jackson Healthcare is a powerhouse job creator for our region," Brandon Beach, president and CEO of the North Fulton Chamber of Commerce, said in a statement. "This project is going to continue to make North Fulton a destination to live and work."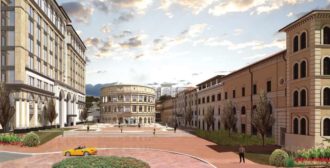 The expansion will take about 20 months to complete.
Jackson Healthcare currently employs 1,100 workers across the country, including 900 in the Atlanta area.