Among the bills Gov. Nathan Deal vetoed this week was Senate Bill 125, which would have authorized physicians to delegate their authority to prescribe hydrocodone compound products to physician assistants.
Deal cited the growing opioid epidemic as a reason for the veto, saying the legislation would be counter to the state's efforts to halt that problem.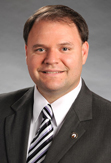 In a new GHN Commentary, state Rep. Jason Spencer, a physician assistant, argues that the veto actually will hurt patients in rural Georgia, limiting their options for necessary care.
"This veto relegates citizens in the rural part of the state to "second class" status,'' Spencer says. "It will deprive them of proper and ethical pain control of traumatic injuries and painful medical emergencies. In some cases, when people become desperate, it will cause a resort to illegal sources and push the abuse of opiates further underground."