Jon-Paul Croom has taken over this month as the new president of WellStar North Fulton Hospital in Roswell.
Croom previously served as CEO for the 429-bed Central Mississippi Medical Center in Jackson, Miss.
North Fulton was considered the crown jewel of the Texas-based Tenet hospital system's facilities in Georgia. A year ago, nonprofit WellStar acquired North Fulton and Tenet's other four Georgia hospitals (all located in metro Atlanta) for $575 million.
Marietta-based WellStar now is Georgia's largest hospital system, with 11 facilities.
"I am excited to join the North Fulton community," said Croom in a statement. "WellStar North Fulton Hospital has done great work to care for our patients. The hospital has made great progress over the past year as part of WellStar. I look forward to continuing to improve the health of our patients and their community."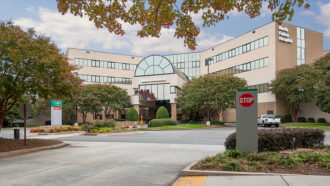 Carrie Owen Plietz, executive vice president of WellStar, said in a statement that "it is important that we continue to grow access to health care in the community, so North Fulton residents can stay close to home to receive their medical care. We are excited to welcome Jon-Paul Croom to WellStar North Fulton Hospital. He is the right person to take care of our patients and lead this hospital into the future."
Croom was also CEO for Merit Health Rankin in Brandon, Miss., chief operating officer for Clearview Regional Medical Center in Monroe, Ga., and chief operating officer for Roxborough Memorial Hospital in Philadelphia. Additionally, he served on the board of the Mississippi chapter of March of Dimes.
He received his bachelor's degree from Mercer University in Macon, and a master's degree in both business administration and health administration from the University of Alabama at Birmingham.