Georgia's insurance commissioner has urged Tom Price, the new federal health secretary, to remove agents' commissions from rules governing how insure companies spend the premium dollars they collect.
The issue cited by Commissioner Ralph Hudgens in his letter to Price, a fellow Georgian, involves the "Medical Loss Ratio," or MLR.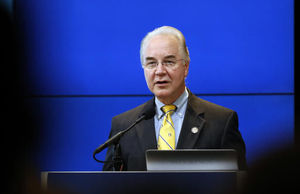 Hudgens, a fierce opponent of the Affordable Care Act, said the health law's current MLR rule "has dramatically reduced the commissions insurance agents receive from the sale of health insurance products."
The ACA requires health insurers to disclose how much they spend on funding customers' health care and how much they spend on administrative costs, such as salaries, marketing, and profits.
Under the MLR rule, if an insurance company spends less than 80 percent (or 85 percent in the large-group market) of premiums on medical care and efforts to improve the quality of care, it must refund the portion of the premiums that exceed this limit.
The Obama administration included agents' commissions in the "administration" category, the part that must be held to 20 percent or below. Hudgens wants to remove those commissions from that category, contending that the rule as now applied prevents agents from getting reasonable compensation.
"Neither the current law nor any reform effort will be successful unless a large number of healthy Georgians decide to sign up for coverage,'' Hudgens writes in his letter, dated Feb. 15. "However, the previous administration had a fundamental distrust of the role agents play in the orderly delivery of health insurance."
The agent commission issue has flared up nationally as well.
Kaiser Health News reported in November that some insurers — including Cigna and Aetna — will not pay licensed agents and brokers a commission for helping people enroll in individual health insurance coverage for 2017 in many states, while others have reduced their commissions.
Both insurer and agent groups in Georgia applauded Hudgens' request to Price.
"We didn't ask him to do this, but we think it's great he did it," Russ Childers, state legislative chairman of the Georgia Association of Health Underwriters, told GHN on Tuesday. Childers, an Americus agent, said his commissions have steadily declined since the ACA went into effect.
Childers said traditional agents and brokers "do a much better job'' of helping people get proper coverage than do the insurance counselors — called "navigators'' or "assisters'' — whose positions were created by the ACA.
Hudgens, in his letter, says agents tell him that some insurers selling individual policies "have reduced commissions from around 10 percent to a payment of $10 per policy."
Jay Florence, deputy insurance commissioner for Georgia, said "federal law should not be used to hurt insurance agents."
"We hear complaints from insurance agents all the time [about commissions] continuing to be lowered,'' Florence said.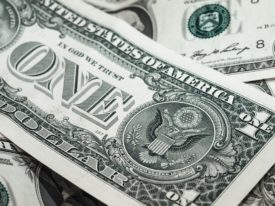 "Agents have told me it's not worth their time to sell individual policies."
If agent commissions are removed from the MLR, Florence said, "the free market will determine agent commissions."
But Cindy Zeldin of Georgians for a Healthy Future, which supports the ACA, said Tuesday that the MLR provision "plays an essential role in holding insurance companies accountable for how they spend the premium dollars they collect from consumers. Weakening it could increase costs for consumers by allowing insurance companies to spend more on administrative activities like marketing and profits."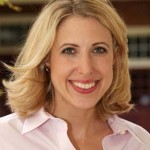 Zeldin said that amid the high-stakes policy conversations in Congress, "health care consumers are worried about losing their coverage and many of their health care rights and protections. State and federal policymakers should be looking out first and foremost for the needs of consumers, not the insurance industry, which surely can represent itself in the policymaking process."
The Hudgens proposal, meanwhile, is supported by Graham Thompson of the Georgia Association of Health Plans, an industry trade group.
"Insurers' administrative expenses are strained under the [current] MLR ratio,'' Thompson said. The 20 percent must take care of administrative costs and profits, including executive salaries, overhead, and marketing, the insurance industry notes.
"Agents play a vital role,'' Thompson said.
Childers, the Americus agent, said he believes the drop this year in Georgia's insurance exchange enrollment could be partly due to the commission problem.
The 493,880 people who signed up for Georgia exchange coverage during open enrollment represented a 16 percent drop from the 587,845 who enrolled during the same period a year ago.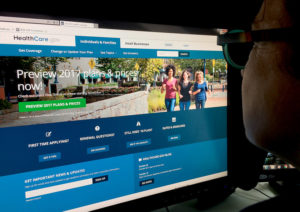 "Some [agents] who enrolled people are no longer enrolling people,'' Childers said.
Hudgens recently wrote a letter to congressional leaders urging them to allow states more flexibility in setting their own health insurance rules. (Here's a GHN article on that previous Hudgens letter.)
In his letter to Price, he says, "Under your leadership at the Department of Health and Human Services, I have no doubt that our nation will address the failing policies of the ACA in a way that serves the interests of all our citizens."
Price, a physician, was until recently a Georgia congressman with a history of fighting the ACA. He will now be working with congressional leaders to overhaul federal health policy.
In a related matter in Georgia, a bill in the Legislature would require that agents be paid for all sales. House Bill 64 has passed the House and awaits action in the Senate.