Born in Macon, one of four girls raised by a single mother, Dr. Valerie Montgomery Rice has met every challenge with dedication, service and success.
Montgomery Rice is now president and dean of Morehouse School of Medicine in Atlanta — the first woman to hold that prestigious position.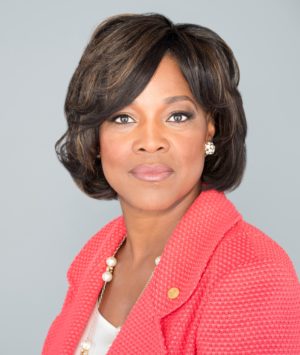 In addition to her professional accomplishments, Montgomery Rice is being honored as an award recipient of the Horatio Alger Association of Distinguished Americans in 2017, an honor bestowed upon leaders over the last 70 years. Ten to 12 leaders are selected annually.
The Horatio Alger Award recognizes exceptional leadership, and recipients have a strong commitment to philanthropy and higher education. Other Georgia award winners have included baseball legend Hank Aaron and business tycoons Ted Turner and Bernie Marcus.
Horatio Alger was a prolific American author in the late 1800s, His novels, written for young people, were about boys rising from poverty through hard work, honesty and other virtues.
As with many leaders, Montgomery Rice's journey has had a few bumps along the way. "I have a story that resonates, but I don't know that my story that is so different than the other honorees, as we all came from humble beginnings," she said in an interview with GHN.
"We took those challenges that were associated with our modest beginnings and turned them into tangible assets," she said.
As a child, Montgomery Rice struggled with osteomyelitis, a serious bone infection. When she was on crutches from her extensive treatments, her mother had to find a school bus that would pick her up and drop her off. The bus turned out to be mainly for children with mental disabilities or physical ones such as cystic fibrosis.
Even on the bus ride, she showed leadership skills, helping her fellow passengers. And those special children made a positive impact on her. They helped shape her desire to aid underserved populations, she said.
Later, Montgomery Rice attended Georgia Tech in Atlanta as a chemical engineering student. With Tech's co-op opportunities, she was able to work for Proctor & Gamble. At that time, Tech had a "work a quarter and go to school a quarter" system for qualified students, Montgomery Rice explained.
She graduated from Tech with a degree in chemistry. But in the course of earning that degree, she realized that chemical engineering was not for her. She decided to go in another direction, pursuing a career in medicine.
For her, what was missing in an engineering career was "the opportunity to engage with people," Montgomery Rice said.
The long road to becoming a physician was difficult at best.

Without realizing that most would-be doctors do some preliminary studying before trying the Medical College Admission Test, Rice simply took it "cold turkey." And she passed.
She believes her background in critical thinking as an engineering student helped her succeed on the test. She was used to "looking at data and making evidence-based decisions."
"What's different about medicine," she said, is the "gray zone — the part where you are working with people." But that was exactly what she wanted to do.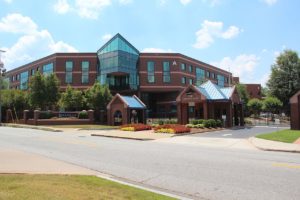 Montgomery Rice earned a medical degree from Harvard Medical School. She completed her residency in obstetrics and gynecology at Emory University School of Medicine and her fellowship in reproductive endocrinology and infertility at Hutzel Hospital in Detroit.
Prior to coming to Morehouse School of Medicine, Montgomery Rice served as dean of the School of Medicine and senior vice president of health affairs at Meharry Medical College in Nashville, Tenn. There, she founded and directed the Center for Women's Health Research, one of the nation's first research centers devoted to studying diseases that disproportionately affect women of color.
Respected in her field and community
Rice supports many organizations, including the Girl Scouts of America; the National Medical Fellows; the March of Dimes; the Society for Women's Health Research; the United Negro College Fund; the Georgia Hispanic Chamber of Commerce and more.
Atlanta media consultant Jeff Dickerson said of Montgomery Rice, "I know her to be an energetic, tenacious leader with a passionate commitment to training physicians who will help narrow health, gender and racial health care disparities."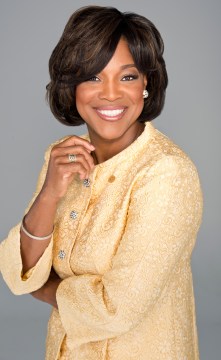 Montgomery Rice and the Morehouse School of Medicine adopted the Tuskegee Airmen Global Academy, a Title I elementary school, and developed a STEM lab, group and individual mentoring programs as well as quarterly programming in collaboration with corporations.
"From a young age, I witnessed my mother's strength and resilience in the face of great challenges," Montgomery Rice said. "She taught me to strive for the impossible and to never give up on my dreams."
Journalist Alexis Scott, who chairs the Historic South-view Preservation Foundation Board of Trustees, noted that Montgomery Rice recently received the inaugural Homer E. Nash Medicine Award during 130th anniversary of the South-view cemetery, which was founded by formerly enslaved African-Americans in 1886.
Montgomery Rice "demonstrates excellence in her work at the highest levels of patient care," said Scott, known to many as a featured commentator on the Atlanta-based public affairs talk show "The Georgia Gang."
Now that Montgomery Rice is receiving the distinguished Horatio Alger Award for "outstanding individuals in our society who have succeeded in the face of adversity," she feels she has a "broader platform to leverage the opportunity of higher education with scholarships," from her position at Morehouse School of Medicine.
Montgomery Rice added that she hopes to bring more "diverse kids together, who may not have had the opportunity to pursue their dreams." One desire is to reach out to kids in rural Georgia who believe they are "forgotten."
"I want to say to them, they are not limited by their circumstances or their environment," Montgomery Rice said.
Her hope is to encourage education as the way to a better tomorrow. "Education is the equalizer," she said.
Judi Kanne, a registered nurse and freelance writer, combines her nursing and journalism backgrounds to write about public health. She lives in Atlanta.