The CDC would lose $890 million of funding annually if the Affordable Care Act is repealed, a new report says. That's 12 percent of the Atlanta-based agency's budget.
And states would lose more than $3 billion over the next five years — from grants and programs supported by the Prevention Fund, which is part of the ACA. That would include $20 million in public health funding to Georgia each year over five years, or a total of $100 million, the report says.

The report from the Trust for America's Health, released Tuesday, comes amid Republican efforts to repeal the federal health reform law, which passed in 2010. On Friday, the House approved a budget that prevents Democrats from using a Senate filibuster to derail a blueprint that would repeal and replace the ACA. The Senate approved the measure Thursday.
And this Friday, Donald Trump, a fierce critic of the ACA, will be sworn in as president. He has pledged to repeal and replace the law quickly.
What will happen to the Prevention Fund under a GOP replacement plan is unclear.
The Prevention Fund makes grants to states for infectious disease control and other public health programs, said the report from the Trust for America's Health.
"CDC is the world's leading public health authority and the front line against major threats to the health and well-being of the American people — such as disease outbreaks, prescription drug misuse and diabetes," John Auerbach, president and CEO of the Trust for America's Health, said in a statement.
"Losing the Prevention Fund would result in diminished support for public health in every state, undermining their ability to fight epidemics and keep people safe,'' Auerbach said. "The costs of these vital public health efforts will either be passed along to states or the efforts will be eliminated, resulting in more people becoming sick and higher health care costs."
The Georgia Department of Public Health said Tuesday that the need for public health funding "is very clear,'' citing ongoing battles against Zika, Ebola, opioid abuse and obesity, as well as chronic disease prevention.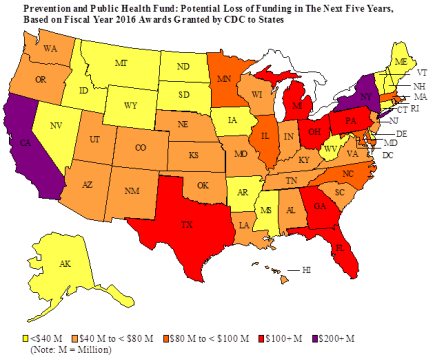 "Every dollar public health receives is critical not only to the work done daily but also to sustain preventive health measures for future generations of Georgians; both have significant impact on the overall economic stability and success of the state,'' said Nancy Nydam, a spokeswoman for Public Health.
The Prevention Fund, she added, "remains central to basic public health services such as lead screening, immunization and infectious disease prevention. It is critical that this funding continues to exist regardless of changes made in Washington to overall health care policy."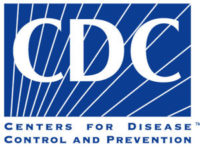 The $100 million impact on Georgia would trail only California, New York, Texas, Ohio, Pennsylvania, Michigan and Florida, the report says.
The Trust for America's Health (TFAH) is a nonprofit organization "dedicated to saving lives by protecting the health of every community and working to make disease prevention a national priority."
(Here's a link to a recent GHN article on the CDC's future under the Trump administration.)