More areas of Georgia are reporting increases in respiratory illnesses as the smoke from wildfires spreads over a wide swath of the state.
State health officials reported Wednesday that the areas of Rome and LaGrange had joined metro Atlanta, Dalton, Gainesville and Jasper as seeing a rise in hospital emergency room visits for asthma.
Patients 65 and older and young children are the groups most frequently affected, the state Department of Public Health said. These groups, along with people with existing respiratory conditions, are especially susceptible to health effects from the smoke.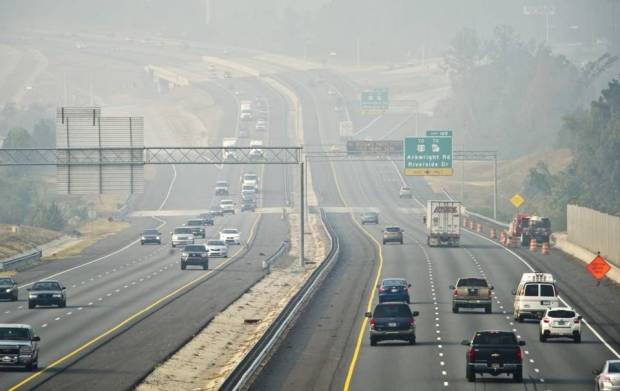 Public Health said it could not determine what percentage of the ER visits were attributable to smoke from the ongoing wildfires in North Georgia, Tennessee and North Carolina.
Fire officials say the largest wildfire in the South has now burned more than 23,000 acres in the North Georgia mountains — an area larger than the New York City borough of Manhattan, reported CBS Atlanta affiliate WGCL-TV. The blaze was 30 percent contained Wednesday morning, the station said. A smaller fire in Rabun County has burned more than 6,000 acres and was still spreading Wednesday.
This year's drought helped create the conditions for wildfires, and the continuing lack of rainfall has contributed to their spread.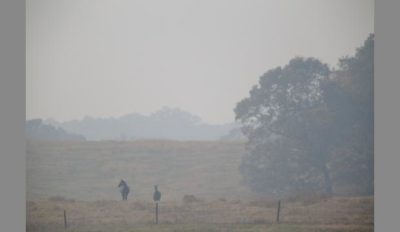 AirNow — an EPA website that displays the Air Quality Index — showed unhealthy air from Georgia's northern border through Macon and farther south.
In Middle Georgia, Dr. Shalabh "Mickey" Bansal, medical director of the Pediatric Emergency Room at Coliseum Northside Hospital in Macon, told the Macon Telegraph that he has been seeing more children with respiratory illnesses.
"Not only known asthmatics but kids that have been previously healthy . . . are coming in with very serious respiratory concerns, including wheezing, breathing very fast and low oxygen levels," Bansal said.
St. Mary's Hospital in Athens said it is seeing an increase in outpatient visits from people with respiratory conditions.
Mark Ralston, public relations manager at St. Mary's, said patients with asthma and chronic obstructive pulmonary disease are coming in more frequently for outpatient care, the Athens Banner-Herald reported.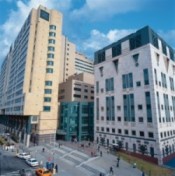 Grady Memorial Hospital, Atlanta's biggest safety-net hospital, said Wednesday that its ER is seeing a slight increase of patients complaining of respiratory issues. The hospital linked at least some of those ER visits to wildfire smoke.
Public Health, using its surveillance system, reported Wednesday that in the Dalton health district, the percentage of ER visits with asthma complaints has been climbing steadily, from below 4 percent in early October to 4 percent to 7 percent during the last 10 days.
The percentage of asthma-related emergency room visits in Gainesville has been climbing since Oct. 23, reaching 8 percent on Monday.
In Atlanta, asthma ER visits have consistently reached above 8 percent over the last 11 days, with the biggest increase among children. The Lawrenceville district's portion of asthma ER trips has been above 7 percent in 6 of the last 9 days, including 3 days when it was higher than 8 percent.
LaGrange and Decatur districts also report an uptick in ER visits for asthma problems. Rome district ER visits for asthma appear to be increasing this month, but not as significantly as in other areas.
Piedmont Healthcare told GHN on Monday that its hospital in Jasper, Piedmont Mountainside, said the average number of patients seen in its emergency department with respiratory issues (per day) increased by 8 percent from September to October. But then those visits jumped by more than 50 percent in the first 14 days of November, Piedmont officials said.
Here's a link to GHN's previous story on smoke-related illnesses.