To those driving out of Watkinsville along State Route 53, farms and horses are a common sight. But hidden behind a wooden privacy fence adorned with painted butterflies is a nine-acre farm that is home to eight uncommon horses.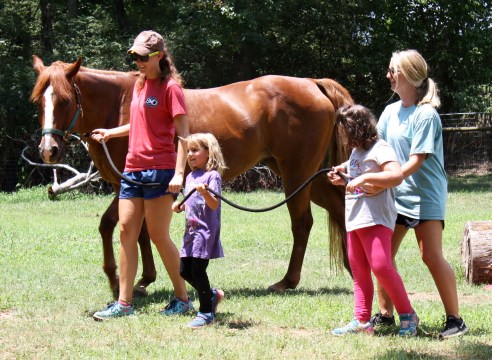 The horses at Butterfly Dreams Farm, a nonprofit therapeutic horseback-riding center, provide life-changing therapy to individuals as young as 2 years old with serious health needs and disabilities, including autism, cerebral palsy, Down syndrome and mental illnesses. Military veterans and older adults also frequent the center.
"No matter what the person's challenge is, there's almost always a way to fit horses into their lives and help them heal," says Cat Vereen, a speech pathologist, certified therapeutic riding instructor and founder of Butterfly Dreams Farm.
Vereen began practicing hippotherapy, a form of physical, occupational and speech therapy that uses a horse's movements, in 1994 when she helped build a riding center to supplement traditional therapy services at St. Mary's Hospital in Athens.
Hippotherapy (from "hippos," the ancient Greek word for horse) takes place under a medical professional's supervision and focuses on achieving specific goals, such as improved speech or muscle function.
The experience of riding a horse requires balance, strengthens muscles and enhances communication skills as riders give cues to their mounts, creating a unique form of therapy that uses the whole body and cannot be emulated in a clinical setting. Although riders may need assistance mounting and balancing while on a horse's back, simply feeling the motion of the horse triggers motor and sensory input.
Another form of therapy, known as therapeutic riding, teaches riding and caretaking skills to those with disabilities. Developing a relationship with a horse can create many positive emotional and behavioral outcomes, and because riding is an enjoyable activity, participants often forget that it is therapy. For those who are afraid to ride, simply spending time grooming or leading a horse can increase confidence.
Brandie Fowler of Farmington says she has seen incredible progress in her 10-year-old daughter, Faith, since the youngster began therapy at Butterfly Dreams 3 years ago. Faith is non-verbal due to a rare syndrome, and before she began riding a horse, the only animal she would touch was the family dog.
"But the horse, she got right on it and loved them," Fowler says. "In the last 6 months, she's started petting them, which is a huge thing. It's really hard to teach any child empathy, but to teach a special-needs child is even more special."
During Faith's sessions, two volunteers stabilize each side of her 43-pound body, while another volunteer leads the horse, and Vereen helps Faith communicate through pointing, signing or touching the horse. Now, Faith is able to give signs on her own, something that Fowler said she was unable to do before riding.
Kind people and gentle animals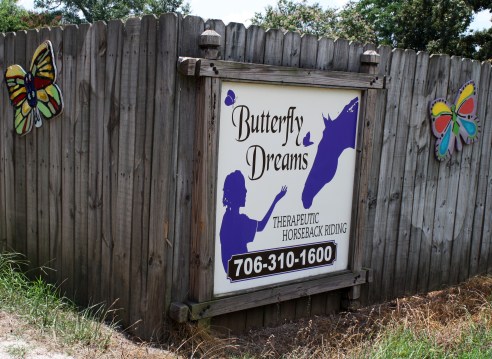 Sarah Ohlsson, 15, a rising sophomore at Oconee County High School who grew up around horses, began volunteering with Butterfly Dreams five years ago, after friends suggested she try it. Now Ohlsson also volunteers at Extra Special People (ESP), a facility for children with developmental disabilities in Watkinsville, and is considering a future as a physical therapist.
"It's just so great to spend time with the kids and see them have these experiences," she says. "Horses are really good at picking up on emotions, so if you're happy, they are going to radiate that."
In July, children from ESP visited Butterfly Dreams as part of their summer camp program. Vereen says this has been happening annually for several years, and has become something of a tradition. For many of these campers, the day at Butterfly Dreams marks their first time around horses.
"We usually end up getting a couple of referrals every time ESP comes out, because a few of the kids will just love it so much," Vereen says.
Butterfly Dreams Farm is a member of the Professional Association of Therapeutic Horsemanship (PATH), an international association that works to accredit and certify therapeutic riding centers and instructors. There are 30 other PATH centers in Georgia. Vereen says riders travel to Butterfly Dreams from as far away as Atlanta, Commerce, Jefferson, Madison, Lawrenceville and Covington.
The biggest challenge in running the farm is affording the horses and the training, she says.
"A lot of the families are unable to pay," she says. "We just always try to figure out a way to let every individual that wants to come out, but we're always looking for ways to fund scholarships."
The Georgia climate, combined with limited facilities, can create additional obstacles for therapy.
"We've been trying for years to get funding for a covered arena, which would've been amazing [during a recent week in the "dog days" of summer] because it was just so unbelievably hot, and we weren't able to do some of the things we were hoping to do because we didn't have a big enough shaded area," Vereen says.
She notes that most of Butterfly Dreams Farm's funding comes from individual donors.
According to PATH's most recent riding center report, the greatest source of funding for centers (20 percent) comes from individual donations, followed by participant fees and fundraising. The least amount of PATH center funding (4 percent total) comes from the state and federal governments.
A lot of good people, including volunteers and donors, help make therapeutic riding possible. But a special word needs to be said for the horses themselves. A therapy horse must be gentle, calm and possess a steady, rhythmic gait, and such animals are hard to come by.
According to Brandie Fowler, it's as if the horses know that their job is to help and heal: "The horses are amazing there — they know — they're the most gentle, loving horses," she says.
Elizabeth Fite graduated from Auburn University in 2012 with bachelor's degrees in journalism and English literature, and she is currently pursing a master's degree in health and medical journalism from the University of Georgia. Formerly, she was a reporter for the Auburn Plainsman in Auburn, and the Aiken Standard in Aiken, S.C.