This is the sixth in a series of articles about health care in Southwest Georgia, an area of the state that has great health needs and challenges, but also some innovative approaches to such problems. The series is the product of a collaboration between Georgia Health News and the health and medical journalism graduate program at UGA Grady College of Journalism and Mass Communication, a partnership made possible by the Ford Foundation and Grady College.
Wood planks banged, skill saws buzzed and hammers rang out early on a crisp spring morning in Albany, the largest city in Southwest Georgia. Much of the world was rushing to work, but 13 retired men were doing what they do nearly every Tuesday and Thursday — building a wheelchair ramp for someone in need.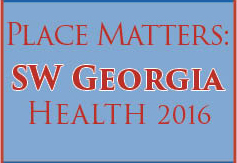 Numerous people have been helped by the members of the Retired Senior Volunteer Program (RSVP) ramp crew. Joseph Cauley is one of them. He was in physical decline for four years, after Type 2 diabetes caused the amputation of his right toes. Using a wheelchair, fighting severe infections and unable to put any weight on his leg, he found simple tasks like checking the mail impossible — until March, when a free wheelchair ramp changed his life's trajectory.
[youtube]https://www.youtube.com/watch?v=wS7_1YVFMwI[/youtube]"It's a blessing, believe me,'' Cauley said recently. "You don't know how it is when you can't get around until you can't get around. I'm out of the house and not in there with four walls. I'm out here in the sun and the breeze. My freedom is halfway back."
The crew donates time and carpentry skills to build about 80 wheelchair ramps a year for severely disabled people in the Albany area, mostly residents of Dougherty and Lee counties. But unlike typical construction crews, whose members are mostly on the younger side, these builders range from 60 to 93 years old, with the average age being 78.
"I spent 20 years in the Air Force, and I've been all over the place. I've never met a group of men like these guys," said Jim Hill, who has been a part of the crew for 15 years and currently serves as the ramp crew coordinator.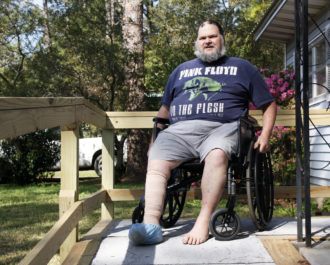 Phoebe Putney Memorial Hospital in Albany donates $25,000 a year to the project, and other private donors chip in as well. RSVP, a program of the SOWEGA Council on Aging, partners with the hospital to coordinate the construction and the volunteers.
While there are other organizations across the state, such as Habitat for Humanity and United Way, that provide ramp-building services, the Albany crew is the only group of volunteer senior builders representing a Council on Aging.
According to Hill, the ramps cost about $12 a foot to build, and this price is below average, since Short and Paulk Supply Company provides free delivery and materials at cost. Last month, the team built its longest ramp to date — a 99-footer costing $1,107.
Although priority often goes to people who recently had a limb amputated or suffered a paralyzing spinal cord injury, the crew has also built ramps for people with diabetes, Parkinson's disease, cerebral palsy, COPD, stroke, heart attack, obesity, congestive heart failure and multiple sclerosis, according to Marilyn Westbrook, RSVP Project Director at the SOWEGA Council on Aging.
Passing along a sense of dedication
Westbrook and Hill work together to figure out who needs what kind of ramp and how soon it can be built. There's always a waiting list.
"We never don't have a ramp to build," Hill said, adding that skilled volunteers are hard to come by and it is difficult to deliver materials, tools and workers to outlying rural areas.
"We get calls from people who are farther away than we can service, and it'd be nice if more communities could do something like this," said Steve Dockery, a regular member of the construction team. His favorite part of ramp building is seeing the smiles on peoples' faces when their ramps are finished.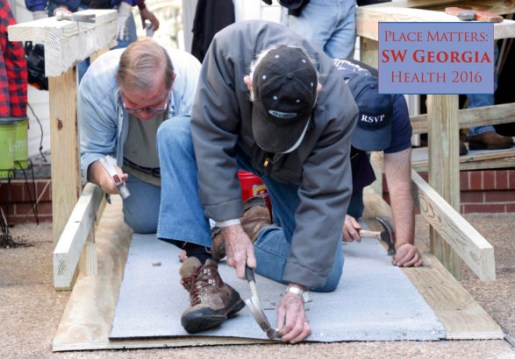 That moment is emotional for the builders as well as the ramp recipients. "It's hard not to get a tear," Dockery said.
This spring, the crew built a ramp for Robert Jones, who has spent the last five months in an intense rehabilitation program at the Charlie Norwood VA Medical Center in Augusta. He's there following a life-threatening meningitis infection that left doctors with no choice but to amputate all four of his limbs.
"I know it's going to be pretty hard the next couple of years trying to get used to a different life," he said, but having the ramp waiting for his return home later this month is a huge relief. He said it will be an important part of his recovery and will help his wife, Editha, care for him.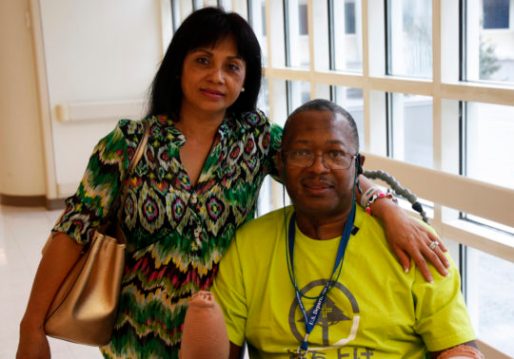 Jones served 20 years in the Army, drove trucks across Georgia, worked in a dairy and still managed to put in seven years at the post office. Now he's working tirelessly to reclaim his active life by mastering the use of prosthetic legs and arms.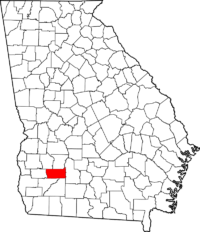 "I can remember the first time I started walking. I couldn't do it. It was just too painful. Now I'm walking three days a week," Jones said. He says the help of God, and a dedicated wife, inspired him to keep moving forward.
"I'm making a lot of people happy by walking, so that's my goal — to walk out of here," he said.
Much like the volunteers who built his ramp, Jones wants to use the tools he has to help others reverse decline.
"My spirits are so high, because God made it possible for me to be here," said Jones, who hopes to do some motivational speaking. "There's some people that I know around in Albany that definitely need some uplifting."
A disability can send a person's life into free fall, but the RSVP ramp crew is trying to change that. One ramp at a time.
Elizabeth Fite graduated from Auburn University in 2012 with bachelor's degrees in journalism and English literature, and she is currently pursing a master's degree in health and medical journalism from the University of Georgia. Formerly, she was a reporter for the Auburn Plainsman in Auburn, and the Aiken Standard in Aiken, S.C.