Just a week ago, the Philadelphia College of Osteopathic Medicine, which has a suburban Atlanta campus, announced a $5 million venture capital fund aimed to spark innovation in primary care.
In just seven days, the PCOM fund has fielded more than 10 queries, PCOM officials told GHN.
"We're really focused on primary care innovation – how do we improve quality of care, access to care and efficiency,'' said Dr. Jay Feldstein, president and CEO of PCOM.
It's unusual for a medical school to have a venture capital fund, Feldstein added.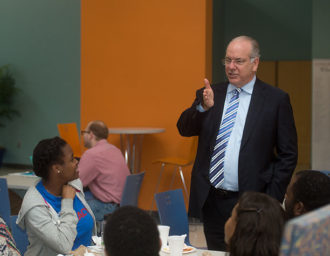 The venture capital fund will seek to produce financial returns that can offer the college a new potential revenue stream. Investments from all regions of the country will be considered, with a focus on the Philadelphia and Atlanta areas.
Dean Miller, who will manage the fund, said Thursday that it won't focus on early-stage innovations, but will instead concentrate on products and services that have already been marketed.
Miller cited a current proposal from a maker of a diagnostic product that is now used in specialist physician practices. The product can be brought into primary care, and can be delivered in the home instead of at a clinical site, Miller said.
Michael Cassidy, president and CEO of the Georgia Research Alliance, said in a statement, "I am excited that PCOM will focus on investments to improve health care in Georgia and across the country. There are many opportunities for collaboration with health care institutions in the state."
The Georgia campus of PCOM is in Suwanee, a northeastern suburb of Atlanta.
PCOM opened the campus in 2005, and this week is graduating a new group of physicians and other health professionals. More than 120 students will receive Doctor of Osteopathic Medicine (DO) degrees. About 100 will get Doctor of Pharmacy degrees, and about 58 candidates will receive Master of Science in Biomedical Sciences degrees.
More information about investment opportunities can be found by visiting http://www.pcom.edu/campuses/ philadelphia-campus/news-and- events/pcom-news/innovation- fund-established.html