This is the first in a series of articles about health care in Southwest Georgia, an area of the state that has great health needs and challenges, but also some innovative approaches to such problems. The series is the product of a collaboration between Georgia Health News and the health and medical journalism graduate program at UGA Grady College of Journalism and Mass Communication, a partnership made possible by the Ford Foundation and Grady College.
Dr. Karen Kinsell has been the only physician in Clay County for the past 11 years.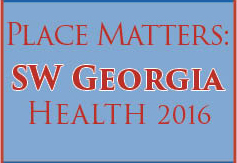 Kinsell, an internist and graduate of Columbia University's medical school in New York, earns far less than a typical physician. Vacations simply don't happen.
She stays very busy seeing the residents of Clay County, an impoverished rural area hard against the Alabama line. Patients come from all over southwest Georgia, and even from Alabama.
The one-story building reflects the practice's financial fragility. Outside, the paint is peeling on the front door, and the parking lot is unpaved. Inside, the wood paneling on the walls looks flimsy.
Still, the practice handles about 30 patients a day.
Lillie Sims, a 53-year-old resident of Georgetown, 28 miles away, needs to have both her knees replaced, but for now she cannot even afford an MRI. She left her job as a manager at Dollar General because the pain in her legs made it impossible to perform her duties. Since then, she has been unemployed.
She's frustrated by the enforced idleness. "Faith without works is dead," she says, quoting the Bible. "So every day I get online and apply for jobs that won't be too strenuous."
Sims does not qualify for insurance subsidies under the Affordable Care Act exchange.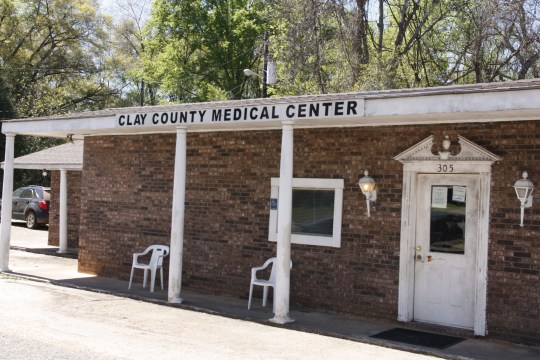 "Fricking frat!" she exclaims as Dr. Kinsell injects a mixture of steroids and Lidocaine into her knees. The injections really hurt, but they will provide some temporary relief from her chronic pain.
After the pain subsides, Dr. Kinsell hands Sims a checklist that's used to identify signs of clinical depression.
The questions on the checklist seem to hit home with Sims. "I don't think about hurting myself, but I wonder if sometimes it wouldn't be better if I didn't wake up," she says, weeping.
Where few can pay much for care
Clay County Medical Center is the only Georgia health care facility within 20 miles of Fort Gaines, the county seat.
About 40 percent of Clay County residents live below the poverty level, and it has the second-worst health outcomes in the state, according to County Health Rankings from the University of Wisconsin and the Robert Wood Johnson Foundation.
Some 40 percent of Dr. Kinsell's patients are uninsured and poor. She asks them to pay a $10 fee if they are able, but no one is turned away for having empty pockets.
Medicaid expansion in Georgia, Kinsell says, would give coverage to these low-income adults – and she would get higher payment for services. But the state has rejected such a step.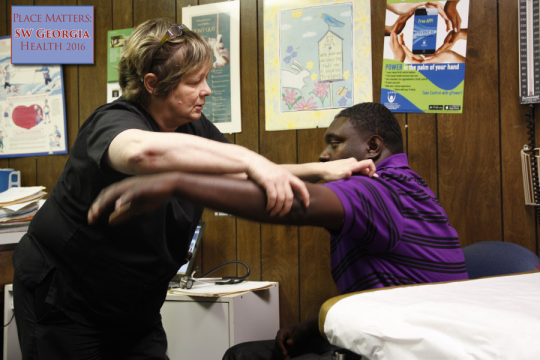 "The biggest health problem here is that people cannot afford to take care of their illnesses," says Kinsell, 60.
Another patient, 74-year-old Fort Gaines resident Earnest Allen, needs an overnight sleep study at a hospital. Kinsell believes this would confirm that Allen has sleep apnea.
Allen has been Kinsell's patient for 15 years. They seem to know each other well. During the examination, she affectionately squeezes his hand and addresses him as "sweetheart." Later, she asks him about when he plans to retire from his job.
"I might retire next year," says Allen. "Next year."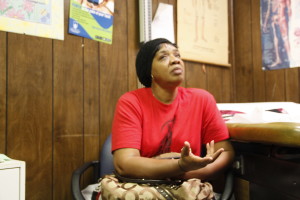 She arranges for him to get a sleep study across the river in Alabama.
Allen is among the 30 percent of Kinsell's patients who are covered by Medicare. Reimbursements from Medicare and Medicaid, and from private insurers in a few cases, take care of the $20,000 a month it costs to run the clinic. Just barely.
"It's not a sustainable model,'' Kinsell says.
Hope for better times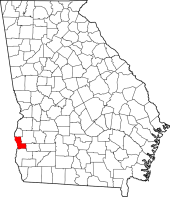 Kinsell hopes her practice will soon be classified as a Federally Qualified Health Center (FQHC). As an FQHC, the clinic would qualify for higher reimbursement from Medicaid and Medicare, and also be eligible for federal grants. If FQHC status is approved, Dr. Kinsell will draw a regular salary and the clinic will be able to move to a better facility and really become sustainable.
Beverly Walker traveled from Abbeville, Ala., to see Kinsell. Walker has symptoms of what could be the flu, but she does not have insurance and cannot afford to pay for a doctor visit where she lives.
"The reason I come here is that you only have to pay $10," she says.
While Walker at least has a car, many patients don't. And lack of transportation too often translates into a lack of medical care.
Medicaid has vans for patients, but a patient pick-up must be arranged three days in advance, Kinsell says, "and sometimes they don't show up." When they do come, other patients are on board, and a trip to see the doctor becomes an all-day ordeal.
Sherita Nunnally brings four of her six children into the clinic, including her 9-year-old son Tykevious. They had to get a ride to the clinic because the family car had broken down.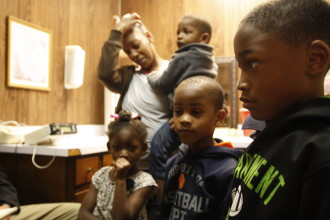 Nunnally first took her son to a hospital emergency room about 20 miles away after a wart on the side of his head began to bleed. Tykevious has Medicaid coverage, but the hospital declined to remove the wart, seeing it as a non-emergency procedure.
Kinsell thinks the wart needs to be removed, but the circumstances aren't right for the surgery to happen at her clinic So instead she spends considerable time on the phone arranging for the child to see a surgeon in Cuthbert, 22 miles from Fort Gaines.
During her son's examination, Nunnally mentions to the doctor how heavy her periods are, and how it's making her feel. Kinsell does a quick test and determines that Nunnally is becoming anemic due to loss of blood. The doctor would like to give her birth control pills to reduce her menstrual flow, but oral contraceptives are expensive.
A pack of basic birth control pills to control periods would be $22 in town, $9 at Wal-Mart (25 miles away), where Nunnally and her family probably don't go frequently, Kinsell says.
"A lot of women don't use birth control because it's not cheap," she adds.
Kinsell gives Nunnally a prescription for iron pills to help rebuild her blood, and then hands each of the four children a plastic jar of bubble-blowing solution to take home.
The doctor then moves on to the next patient. On a typical day she doesn't leave the clinic until 7 p.m.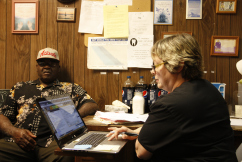 Travis Vaughn, 28, has been coming to the clinic since he was a child. When he was in high school he played defensive end on the football team, and still has an athletic physique.. But now, he says, he's dealing with a painful shoulder, the result of a fall on his porch on a rainy day.
Vaughn, like most of Kinsell's patients, is African-American. In Georgia and elsewhere, there are significant health disparities between blacks and whites, at least partly because blacks tend to be worse off economically.
Kinsell's patients face constant health challenges, including chronic illness. She stays on the job because she believes she is making a difference.
"It's a tremendous privilege to be able to see whoever needs help. This is why I went to medical school," she says, "to do what I think is right."
Meera Naqvi graduated from the University of Georgia in 2010 with a B.A. in philosophy. She is currently a master's student in the Health and Medical Journalism program at the Grady College of Journalism at UGA. Meera is active in the Athens community as a volunteer for organizations helping women, children and families; she is also a certified yoga instructor who teaches classes locally. As a journalist, she plans to focus on issues of public health and social justice.