This is the third in a series of articles about health care in Southwest Georgia, an area of the state that has great health needs and challenges, but also some innovative approaches to such problems. The series is the product of a collaboration between Georgia Health News and the health and medical journalism graduate program at UGA Grady College of Journalism and Mass Communication, a partnership made possible by the Ford Foundation and Grady College.
Springtime brings joy to hikers, bikers, birdwatchers and gardeners in Georgia.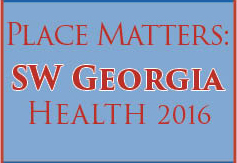 But everyone who pursues these passions knows what it's like to find ticks embedded in tender parts of the body. Beyond being annoying, painful and maddeningly itchy, encounters with these tiny arachnids can also transmit worrisome diseases.
In the Southeast, the Lone Star tick is the most common species that feeds on humans, followed by the Gulf Coast tick and the Brown Dog tick. Although these are less famous than the deer tick, which carries Lyme disease, they're far more common in Georgia.
"Each one of them transmits their own suite of potential pathogens," said Michael Yabsley, an epidemiologist and associate professor of wildlife disease ecology at the University of Georgia.
Southeastern ticks are especially likely to carry Ehrlichiosis, a family of bacterial diseases that affect humans and animals. Although these infections sometimes send people to the hospital, and in rare instances can be fatal, they typically cause flu-like symptoms that respond well to antibiotics.
[youtube]https://www.youtube.com/watch?v=F0SqBhv6NqA [/youtube]Ticks in Georgia also can carry Rocky Mountain spotted fever (RMSF). This disease got its name because it was first recognized in Idaho in the 1800s, but it occurs naturally in various parts of the Western Hemisphere, and is actually more common in the South than in the Rockies.
RMSF begins suddenly and lays people low with high fevers and pounding headaches. Sometimes, though not always, sufferers develop an unusual rash, hence the term "spotted fever." Most people who get the disease recover if they get proper diagnosis and antibiotic treatment.
Lyme disease, though it is the most commonly reported vector-borne illness in the United States, is fortunately rare in Georgia. The CDC has reported only a handful of cases here. This tick-borne illness is found mostly in the Northeastern states and the upper Midwest.
Symptoms of Lyme disease often include a rash and flu-like symptoms. If untreated, it can lead to joint pain and neurological damage such as paralysis or numbness in the limbs.
Trolling for ticks
Tick populations in Georgia peak in late spring. Yabsley and his colleagues track population trends by dragging white sheets through undergrowth and open fields and counting how many ticks attach themselves. They call this the "drag and flag" method.
"If we go out in April, we can easily catch 2,000 Lone Star ticks in an hour," he said.
Experts say that there are more ticks now than in the past and that people are more likely to encounter them. There are several reasons for this. Climate is changing, subdivisions are gobbling up farms and woodlands, tick-carrying whitetail deer and wild turkeys are proliferating, and the practice of burning underbrush to manage forests has declined in recent decades.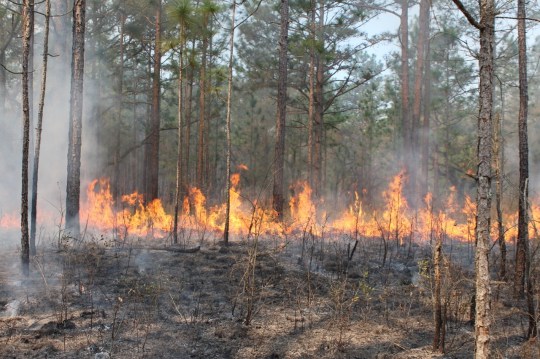 That last factor – the decline in controlled burning – is especially important for people who love the outdoors but want to avoid ticks and the diseases they carry.
When Elizabeth Gleim was a doctoral student in Yabsley's lab, she set out to discover how prescribed burning affected tick populations and disease risk in wooded areas. This was possible in part because of UGA's educational partnership with the Joseph W. Jones Ecological Research Center at Ichauway.
The Jones Center in Newton, in Southwest Georgia, has the largest contiguous tract of privately owned longleaf pines in the United States, and this longleaf pine and wiregrass ecosystem is managed using controlled burns. Operating on a tight schedule, underbrush on nearly all of its 30,000 acres is burned at two-year intervals.
Gleim's team identified 21 tracts of land in South Georgia and North Florida. Some of the land parcels had a long, well-documented history of prescribed burning, while others had never been burned. In addition to these factors, the researchers also took into account whether the unburned sites in the study were surrounded by burned or unburned land.
Using the "drag and flag" method, they found a 95.4 percent reduction in tick populations in the tightly managed Jones Center woods, compared with areas that had never been managed with fire and were surrounded by unburned sites.
Their research showed that a person would encounter about one infected tick per every 50 hours spent in areas burned regularly for many years. In contrast, someone walking through the never-burned woods would cross paths with an infected tick every 1.5 hours. This translated to a 97 percent reduction in disease risk.
Burning can be responsible and safe
Gleim and Yabsley also uncovered good news for people who own wooded areas and want to manage them wisely. "We were excited to find that regardless of the burn frequency — as long as burning had been occurring for at least 10 years — there were significant reductions in tick populations," said Gleim, now a visiting assistant professor of biology at Oxford College of Emory University.
Prescribed burning requires expertise and resources and takes time, so this finding is important for individuals or organizations with limited resources.
Controlled burning is by no means a new practice. Historically, American Indians used fire to remove brush and undergrowth in North American forests and as a hunting strategy, though there's no evidence that they targeted ticks in the process.
Many North American ecosystems are actually fire-dependent, meaning they need some occasional burning as part of their normal life cycles. Fires can occur naturally from lightning strikes, but since humans have already intervened in these ecosystems anyway, a prescribed burn can be a safe way of giving nature a helping hand.
The practice of prescribed burning occurs throughout the United States and it is quite common in the Southeast. The National Park Service reports that nearly 60 percent of its acres in the Southeast region are treated using prescribed burns.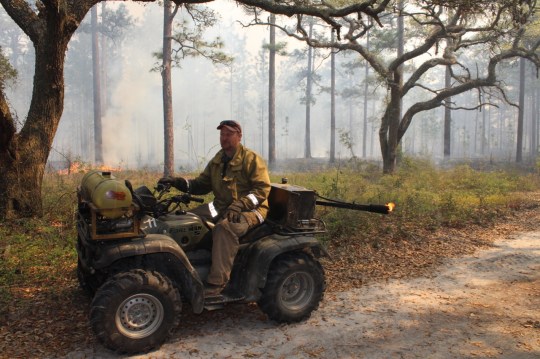 Experienced farmers and land managers use prescribed burning to reduce the likelihood that a lightning strike or a discarded cigarette will touch off an uncontrollable wildfire. Despite its benefits, this practice has become less common over the years.
"When a society industrializes, you lose your domestic use of fire," said Mark Melvin, who leads conservation management and education programs for prescribed fire at the Jones Center.
Fire prevention campaigns like the ones using the character Smokey Bear have made the public aware of the dangers of carelessness with fire. But they have also made people more reluctant to use fire responsibly, as a tool for killing ticks or managing forests.
In response to this, Smokey Bear now warns against "wildfires," not all "forest fires," and the character's website describes the importance of controlled fires when they are done responsibly.
"Fire is very emotional and personal," said Melvin. "It is neither inherently good or bad, but it is an agent of change."
Prescribed burns have drawbacks, mostly associated with smoke. During spring burning season in Georgia, it's not unusual to see temporary roadside signs warning that visibility is impaired by smoke.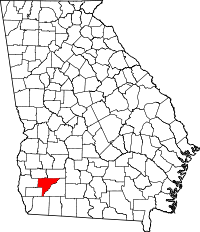 Smoke also increases local air pollution, generating fine particles that pose a hazard to people with chronic lung disease, including children with asthma, or people with bronchitis or other temporary respiratory ailments.
At the Jones Center, it's not unusual for expert teams to burn underbrush on more than 300 acres at a time. But the timing and strategy for lighting and extinguishing flames in the target area is meticulous. People like Mark Melvin take it very seriously and believe that hazards can be minimized.
Melvin lives near the research center on his family farm, and he is very aware of a neighbor with chronic pulmonary disease. Taking temperature, humidity and wind direction into account, he says that he uses prescribed burning every year "and I have never laid a whisper of smoke on her porch."
Erin Geoffroy holds an MBA from the University of Georgia and is currently a graduate student at UGA's Grady College of Journalism and Mass Communication. Erin is passionate about environmental health, clean energy and sustainable business; see her portfolio at eringeoffroy.com