Student-run organizations at the University of Georgia, Georgia Tech and Georgia State University are raising awareness about human trafficking and working with local organizations to combat it.
Human trafficking involves illegally trading people for exploitation or commercial gain. Traffickers use force, fraud or coercion to lure their victims and force them into labor or commercial sexual exploitation (sex trafficking).
Determining the scope of the problem is not easy. Many cases around the world involve people working in underground economies in countries where they have no legal documentation.
The International Labor Organization estimates that more than 20 million people worldwide are trafficking victims. Most wind up doing forced manual labor under harsh conditions — what most Americans traditionally think of when they hear the word "slavery" — but the organization says more than 4 million of these people are coerced into the sex trade.
There is no official estimate of the total number of human trafficking victims in the United States. In 2015, more than 5,500 human trafficking cases were reported to the National Human Trafficking Resource Center (NHTRC), which is funded in part by the U.S. Department of Health and Human Services. Often the cases are hard to prosecute, because of lack of evidence or victims being fearful of testifying.
Sex trafficking is often associated with underage prostitution. A 2010 study conducted by an Atlanta-based research firm reported that each month about 7,200 men in Georgia purchase sex with adolescent girls. The FBI lists Atlanta as one of 14 cities with the highest rates of child prostitution in the United States.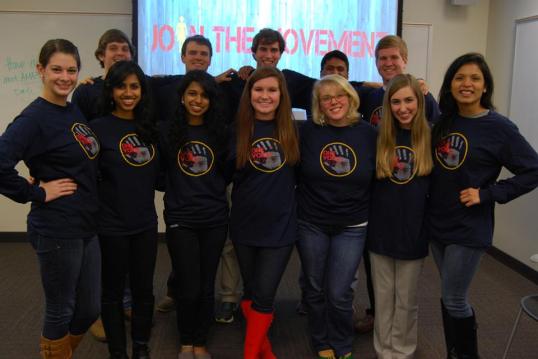 Erin Greenhaw, a senior biomedical engineering major at Georgia Tech, got involved with the anti-sex trafficking student organization, One Voice, during her freshman year. She said that before college, she had never heard of sex trafficking as a contemporary problem, and she believes the same is true for many other college students.
"Our mission is to educate our campus and community and get involved with nonprofits to reach out to survivors and address the issue from the demand side of it," Greenhaw said.
One Voice often sets up booths with marketing material about the organization near the campus's student center. Greenhaw said one of the most effective strategies for educating their peers has been to give away a piece of candy with a fact about sex trafficking attached to it.
"We like for them to express initial interest first and have a conversation with them about who we are and how sex trafficking is a big problem," she said.
One Voice meets once a week during the fall and spring semesters. Greenhaw estimates there are more than 40 active members. She said leaders from various anti-trafficking organizations in the local community often speak at the meetings.
One Voice members volunteer with these organizations multiple times throughout the month. On Saturdays, members can volunteer with Out of Darkness, an anti-trafficking ministry of the Atlanta Dream Center, a local nonprofit. Every Saturday, Out of Darkness' Adopt-a-Block program visits women who live in or frequently visit hotels where trafficking and prostitution have been known to take place, according to the organization's website. Greenhaw said volunteers help pass out snacks and toiletries to these women and share encouraging words to help build a relationship with them.
Testimony from survivors
One Voice members also often volunteer with 4 Sarah, a faith-based nonprofit organization that seeks to change the lives of women who work in the adult entertainment industry — whether they were victims of trafficking or entered the business of their own accord.
As volunteers with 4 Sarah, One Voice members visit the adult section of Backpage.com, a classifieds website, and contact the women who are advertising sex for sale. Greenhaw has helped with this effort since her freshmen year. She said the goal is to talk with these women about opportunities for an alternative lifestyle through 4 Sarah programs and to gain their trust.
"It is an outreach effort that I have felt personally connected to," she said. "You may call 15 numbers and only one person seems interested, but if 4 Sarah is able to take that one woman out of the prostitution industry, then that's definitely a victory for our side."
From her volunteer experience, Greenhaw has heard testimonies from sex trafficking survivors, some of whom she said had experienced more hardship at 12 and 13 years old than she had in 22 years. She said there's a difference in talking with a survivor in-person compared to watching documentaries on sex trafficking.
"I would say it is common to feel sadness and anger yet inspiration from perseverance while watching video testimonies, whereas reverence and empowerment when talking to survivors," Greenhaw said.
She added that such testimonies reinforce how important outreach efforts are and help dispel the myth that sex trafficking only occurs in faraway cities or third world countries.
In February, One Voice hosted a free film screening with Georgia Tech's student chapter of UNICEF, and the student chapter of She's The First, a nonprofit organization that sponsors girls' education in low-income countries. The film shown was the "Dark Side of Chocolate," a documentary about child labor on cocoa plantations in West Africa.
"Our organization focuses on sex trafficking, so that event shed new knowledge on our members, because we don't usually discuss labor trafficking," Greenhaw said.
"I've been mentored just as much as I've mentored others," Greenhaw said. "And it's so powerful to have that mutual level of mentorship. You really learn that there is something you can do to help."
Georgia State University's student organization Manumission (which means release from slavery) started about 6 years ago. It was originally a student chapter of Street GRACE, a faith-based organization that seeks to end sex trafficking of minors in Atlanta and the United States, but decided to rebrand itself in 2012.
Amber Biggs, a junior and current president of Manumission, said the organization strives to educate students about child sex trafficking. She said members set up information tables around campus and reach out to students as they walk by.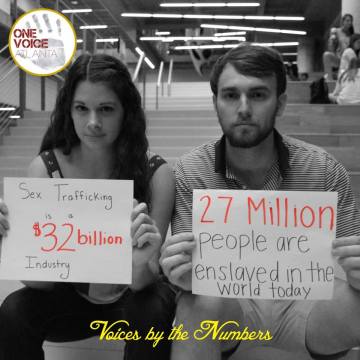 "We strive to promote awareness because this is something that is happening right under our noses," she said. "We don't want to force people to join our organization, or make them feel guilty. It's just about bonding with others who care about the same issue."
Manumission holds open, general meetings two times a semester for students to learn about the organization. The executive board meets once a month to discuss additional ways to promote awareness on campus, said Biggs, a managerial science major. "We want to have a visual impact," she said. "We want to really stir up students, faculty and staff."
Manumission regularly shares trafficking-related news and volunteer opportunities on its social media channels. Last October, Manumission hosted a film screening of "Not My Life," a documentary about modern-day slavery. Over the years, the organization has held speaker series that featured advocacy leaders and sex trafficking survivors.
The End IT Movement is a national effort to bring awareness to modern-day slavery. This type of slavery includes domestic and international sex trafficking, forced labor, and domestic servitude, according to the FBI's website.
'Passion is contagious'
Sophomore Trevor Bramblett is one of the founding members of the UGA chapter of the End IT Movement. He said his team meets every week to discuss creative ways to increase awareness on campus. This often includes meeting one-on-one with leaders from other student organizations or attending those organizations' meetings.
"We don't like the approach of setting up a table and hoping people will stop by," Bramblett said. "If you go to where they are, they're more likely to listen. They see our passion, and passion is contagious."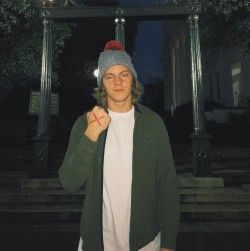 End IT UGA begins each meeting with a video or story to remind them of why they are raising awareness for this cause. Bramblett said it can be hard to discuss a topic as serious as trafficking, but the video and story reminders keep the team motivated and encouraged.
Although the national movement launched in 2013, the UGA chapter is only in its second semester. At least three other student organizations on campus also raise awareness about modern slavery, but Bramblett said the groups don't compete.
"End IT isn't a club. You don't need to join us," he said. "You get involved with us by just raising your voice. We empower through unity by raising our voices together."
In January, the End IT Movement partnered with Breaking the Shackles UGA, an anti-trafficking organization, and UGA Union, an entertainment programming organization, to hold a human trafficking simulation. The simulation was held for Human Trafficking Awareness Month.
It featured three live exhibits that were played out by actors and represented labor trafficking and sex trafficking. Members from Breaking the Shackles and End IT Movement were the actors. The event's organizers reported that more than 300 people participated. Six nonprofit organizations, including Out of Darkness and Wellspring Living, were at the event for students to learn more about the topic and how to get involved in anti-trafficking efforts.
"Awareness is only the beginning, but it is something everyone can do," Bramblett said. "We can't all be on the ground fighting, but we can all raise our voices."
Anyone who is a victim or survivor of human trafficking, or anyone who suspects a possible human trafficking case, can call the toll-free, 24-hour hotline at 1-888-373-7888. Reports can also be made by emailing NHTRC (nhtrc@polarisproject.org) or visiting the website, http://traffickingresourcecenter.org.
April Bailey is a freelance journalist and writer based in Atlanta. She writes about health and people. Follow her on Twitter @aprilbwrites