A new report Wednesday finds that metro Atlanta has its cleanest air in more than a decade.
The American Lung Association's 2016 "State of the Air'' report said ozone and particle pollution levels in the Atlanta area have improved since its first report in 2000. That's when Atlanta ranked as the ninth most polluted city for ozone.
Now the metro area ranks 52nd for most ozone-polluted city.
The better air in Atlanta was driven "by improvements in transportation emissions, and our power plants have taken steps to clean up,'' said June Deen of the American Lung Association of the Southeast.
"We've invested more in energy efficiency,'' she said, adding that the Clean Air Act has had a big impact on pollution.
"We're doing so much better,'' Deen said.
Still, Fulton County, the most polluted county in the metro area (and the one that contains most of the city of Atlanta), had a weighted average of 9.5 days of unhealthy levels of ozone. Other metro Atlanta counties getting F's on ozone were Rockdale, Cobb, DeKalb and Henry.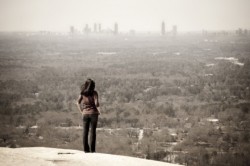 Earning ozone A's were the coastal counties of Chatham and Glynn, plus Sumter County in South Georgia. Other grades include a C for Clarke County, which includes Athens, a C for Bibb, which includes Macon, a C for Richmond, which includes Augusta, and a B for Muscogee County, which includes Columbus.
Most Georgia counties did not have enough data to receive a grade.
On particle pollution, several Georgia counties earned A's — Clarke, Clayton, Cobb, DeKalb, Floyd, Fulton, Glynn, Hall, Houston, Lowndes, Paulding, Richmond, Walker and Washington.
(Here's a link to the report.)
Ozone and particle pollution, or soot, are the most widespread air pollutants and among the most dangerous. Ground-level ozone, a main ingredient of smog, has harmful effects, especially on children, older adults, people with respiratory illnesses, and those who work outdoors.
Ozone, a variant of oxygen, plays a necessary role in the upper reaches of the atmosphere but is unhealthy for living creatures. At ground level, it is created by the reaction of sunlight on emissions from vehicles and other sources.
Particle pollution is made of soot or tiny particles that come from coal-fired power plants, diesel emissions, wildfires and wood-burning devices.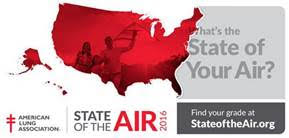 Exposure to particles can increase the risk of hospitalization for asthma, damage to the lungs, lung cancer and premature death.
Rome, Augusta, Savannah, Dalton and Valdosta made the list of the cleanest U.S. cities for short-term particle pollution. Brunswick was among the cleanest for ozone and for short-term particle pollution. Bainbridge and Savannah/Hinesville/Stateboro were among the cleanest for ozone.
The "State of the Air 2016" report looks at levels of ozone and particle pollution found in official monitoring sites across the U.S. in 2012, 2013, and 2014.
"It's a trend report,'' Deen said. Each year takes a three-year block of data, so that a single unusual year doesn't skew the results, she said.
Nationally, the report found continued improvement in air quality in 2012-2014, showing lower levels of year-round particle pollution and ozone. In the 25 cities with the worst pollution, the majority saw improvements from last year. Many saw their lowest levels ever of year-round particle pollution or ozone pollution.
Still, more than half of all Americans — 166 million people — live in counties where they are exposed to unhealthful levels of these pollutants, the report said.