Emory University Hospital's special infectious disease unit is awaiting a patient suspected of having Lassa fever, an acute viral disease indigenous to West Africa.
The patient's diagnosis has not yet been confirmed. Emory said Friday that it will work with the CDC and Georgia Public Health officials to diagnose the patient, a physician assistant who has been working for a missionary organization in the nation of Togo.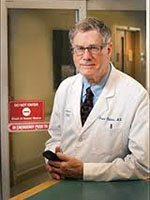 The special medical isolation unit at the Atlanta hospital successfully treated four patients infected with the Ebola virus in 2014. Emory, in fact, was the first American facility ever to treat an Ebola patient.
A record outbreak of Ebola killed thousands of West Africans in 2014, and for the first time ever, a few cases turned up outside the region, raising worldwide fears. Successful treatment of patients by Emory and other U.S. hospitals showed that the disease was beatable, and the African epidemic was mostly contained in 2015.
The Emory infectious disease unit has not been used for patient care since the Ebola cases, said Dr. Bruce Ribner, medical director of Emory University Hospital's Serious Communicable Disease Unit.
Lassa fever is much less transmissible, and less dangerous, than Ebola, experts say. Eighty percent of the people who have Lassa don't realize it, and get better on their own, Ribner told GHN on Friday.
The patient's arrival time is not yet confirmed, but the person is expected to arrive at the Atlanta hospital this weekend after air transport.
Ribner said Emory's success in handling Ebola cases may have played a role in the U.S. State Department's request that the patient be treated there.
No need for excessive fear
The same level of precautions used with Ebola patients will be employed for this patient, Ribner said.
"I'm hoping we're not going to see the same hysteria we saw with Ebola,'' he said. "We don't think there's any risk with other patients or the community'' in contracting Lassa fever.
Although Lassa fever and Ebola can result in similar symptoms, Lassa is less likely than Ebola to spread from person to person, in addition to being far less deadly. The death rate from Lassa fever is approximately 10 percent to 20 percent in hospitalized patients, versus about 70 percent in Ebola virus disease patients. While both diseases are viral hemorrhagic fevers, bleeding and severe symptoms are not common in cases of Lassa.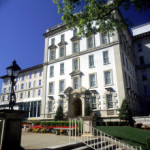 The illness was discovered in 1969 when two missionary nurses died in Nigeria. The virus is named after the town in Nigeria where the first cases occurred.
An estimated 100,000 to 300,000 people are infected each year, with about 5,000 deaths. Lassa fever is primarily spread through direct contact with or the inhalation of droppings from rodents that carry the virus.
The virus can be transmitted by infected humans, but only through direct contact with bodily fluids. It cannot be transmitted through casual contact, and is not an airborne virus.
Last year, a U.S. traveler who had returned from West Africa died of Lassa fever in a New Jersey hospital.
The patient coming to Emory is believed to work for Samaritan's Purse, the same Christian missionary organization that employed Dr. Kent Brantly – the first Ebola patient whom Emory treated.
The individual will be treated with "aggressive critical care,'' as were the Ebola patients, Ribner said, adding that this will be Emory's first experience with Lassa fever.
According to the CDC, there have been only a few cases of Lassa fever reported in the United States, the most recent being the New Jersey patient in 2015 and one patient in 2010.