After two testy committee hearings, a Georgia House health panel passed a bill Tuesday that would allow dental hygienists to practice in safety-net settings without a dentist present.
The House Health and Human Services Committee vote came after agreement between the hygienists and the Georgia Dental Association on provisions in the bill.
The legislation would allow hygienists to clean teeth in safety-net clinics, nursing homes, federally qualified health centers and school-based health clinics without a dentist present — if the work has been authorized by a dentist. Currently, Georgia law requires that a dentist actually be present in the facility for a hygienist to do such work.
Wendy Blond, a dental hygienist in the northern Atlanta suburbs, said after the vote that she was optimistic about the proposal's prospects. "I believe it will make an exponential difference, especially for our nursing home residents and for children."
It will also help safety-net clinics that serve the working poor, Blond added.
House Bill 684 was among a flurry of health care bills that drew important votes Tuesday in the Georgia General Assembly.
A proposal to bring the Fulton County Department of Health & Wellness under state control easily passed the House.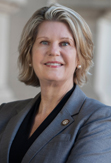 Of the 159 county health departments in the state, Fulton's is the only one that basically operates independently. "Only Fulton County operates in a silo,'' State Rep. Jan Jones (R-Milton), sponsor of House Bill 885, told House lawmakers Tuesday.
She noted that Fulton — which contains most of the city of Atlanta and is the most populous county in Georgia — has a high rate of new HIV infections and TB outbreaks at homeless shelters.
A WABE article this week pointed out that the bill followed the failure of Fulton County to use millions in federal grant dollars for HIV prevention and treatment.
Jones, who is House speaker pro tem, said statewide coordination of efforts to fight diseases such as Zika virus is important.
"Infectious diseases do not respect county lines,'' she added before the House overwhelmingly passed the legislation.
The state Senate, meanwhile, passed a bill that would allow physician assistants in Georgia to prescribe certain pain medications.
The bill's sponsor, Sen. Chuck Hufstetler (R-Rome), told GHN that PAs in Georgia were prescribing these medications until October 2014, when the federal government made hydrocodone a Schedule II drug instead of Schedule III. Georgia does not allow PAs to prescribe Schedule II drugs, although more than 40 other states do.
Hufstetler said Senate Bill 115 could help patients in rural areas who have a broken bone or a kidney stone and don't have a physician nearby. A dose of an over-the-counter product such as Tylenol is not going to relieve that level of acute pain, Hufstetler told GHN.
The bill would allow PAs to prescribe only hydrocodone products under Schedule II.

The legislation would leave the issue up to a physician's discretion, Hufstetler added. Any physician who did not want to delegate Schedule II prescription authority to a PA would not have to do so.
This is the third time the Senate has passed such legislation, Hufstetler said, but similar legislation has not been approved yet by the House.
Also on Tuesday, the Senate approved legislation that would make some insurer network arrangements more transparent.
Health plans have drawn complaints that they sometimes use discounted fees for paying doctors through "rental networks'' without first notifying the physicians, so that the doctors get less reimbursement than they expected.
Senate Bill 158 would make such networks register with the state's Department of Insurance, and insurers would have to inform medical providers of these arrangements.
"Rental networks weren't being appropriately transparent,'' Sen. Dean Burke (R-Bainbridge), the bill's sponsor, told GHN. He said eight states outlaw rental networks, while many others do ''light regulation,'' like Senate Bill 158 envisions.