When actor Charlie Sheen went public with his HIV status late last year, Cathryn Lapka hoped his announcement would ignite a 21st century conversation about HIV – and its prevention – in America.
But she was disappointed.
Sheen was already notorious for his reckless, bizarre behavior, which he now admits was tied to drug use. Perhaps because many in the public and the media did not view him as a sympathetic character, his announcement caused an uproar instead of the useful discussion that Lapka was hoping for.
"People freaked out and were just shaming him and blaming him and saying how wrong it was," said Lapka, the family advocacy and client services coordinator for AIDS Athens, Inc. The nonprofit focuses on reducing the spread of HIV, the virus that can cause AIDS, and improving the lives of HIV/AIDS patients.
The media frenzy skipped over the fact that taking one pill daily can help shield healthy, HIV-negative people from infection if they are exposed to the virus through sexual activity or drug use. The medication is called Truvada, and the daily regimen is known as PrEP, or pre-exposure prophylaxis.
HIV hits hard among certain communities. A new CDC report estimated that half of all black men who have sex with men and a quarter of Latino men who have sex with men will contract HIV.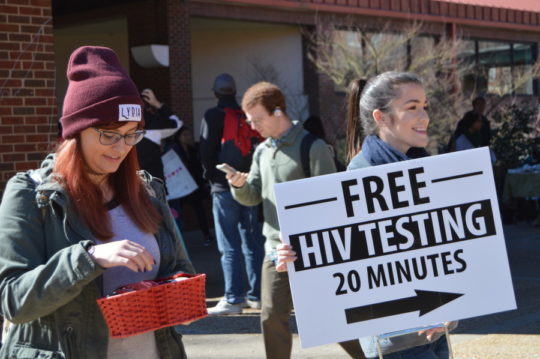 But expanded HIV testing and treatment and expanding the use of PrEP could reduce new HIV infections by 70 percent in five years, the CDC said.
When people at a high risk of contracting the virus take Truvada daily, it reduces the risk of infection by about 92 percent, according to the National Institute of Allergy and Infectious Diseases. But skipping doses lowers PrEP's effectiveness.
The pill, which the FDA approved in 2012, isn't for everyone. Like most medications, it has side effects, and in rare cases they can be life-threatening.
But for high-risk groups, such as men who have sex with men, transgender people and those who inject themselves with illegal drugs, it adds a layer of protection, Lapka said.
"The rule of thumb is you're supposed to use condoms," she said, "but people don't use them consistently. People don't use them all the time." Nor do people who inject drugs always have access to sterile needles, even though they know that reusing old ones is dangerous.
PrEP can be an expensive safeguard, adding up to $2,000 a month out of pocket depending on insurance coverage, according to the San Francisco AIDS Foundation.
Gilead, Truvada's manufacturer, offers a co-pay assistance program that can help cover the costs of the drug for those with insurance coverage who qualify, and the company also has a program for the uninsured to help get PrEP.
Testing regimen
Actually, the cost of the pill isn't the real problem for most potential PrEP users, said Patrick Reilly, community HIV testing and education outreach coordinator for the Specialty Care Clinic of the Northeast Public Health District, which includes Clarke County.
"There's always a way to get free meds or greatly reduced meds," said Reilly, who helps clinic patients obtain needed care. What uninsured people can't afford are the monitoring costs associated with PrEP: a clinic visit every three months and lab work needed to make sure that adverse effects are under control.
The National Institutes of Health recommends that people taking Truvada be tested four times a year for the presence of HIV, for the lactic acid levels in their blood, and for kidney function.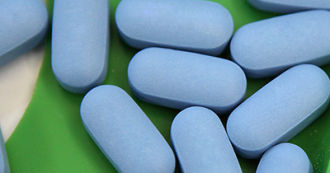 The costs of such a regimen add up fast, Reilly says. Still, anything that lowers the risk of infection beats the alternative.
Most Georgians, however, have very limited access to this protective regimen. Individual doctors who are willing to talk about and occasionally prescribe PrEP are scattered around the state, Reilly said, but the catch is that the patient usually has to bring up the subject.
When it comes to people at risk for infection, "most people in that community in the everyday world don't know about PrEP – don't know what it is, don't know what it can do," said Dázon Dixon Diallo, president and CEO of SisterLove Inc., a nonprofit that focuses on AIDS and reproductive justice for African-American women.
Georgia's only dedicated PrEP clinics are in metro Atlanta, according to PrEP Watch, a national clearinghouse for up-to-date information about this daily, medication-based prevention tool.
AIDS Athens is looking to open a medical clinic at 240 North Avenue at the Athens Resource Center for Hope in July, and the organization will then look into whether it's feasible to offer both PrEP and the follow-up care, said Olivia Long, executive director of the nonprofit.
In Fulton County, which contains most of the city of Atlanta, the Department of Health and Wellness recently partnered with Gilead to offer not only free prescriptions and access to PrEP, but also free follow-up visits and tests.
"Having a clinic that's going to be open to anyone, especially people who are same-gender-loving or sexual minorities or transgender – that the doors are wide open to them – is a very powerful message for a public health program to offer," said Diallo, who co-chairs the Fulton County Task Force on HIV/AIDS.
PrEP has the potential to be a game-changer in the fight against HIV, but people must be willing to start the conversation with their doctors, Diallo said, even if it's uncomfortable.
"PrEP won't work if you don't pick up the pill and take it; PrEP won't be available if the community doesn't demand it," she said.
Leigh Beeson is a graduate student at UGA in the health and medical journalism program. She had a bachelor's degree in communications and was editor-in-chief of her undergraduate university's newspaper.