Editor's note: Five and a half years ago, Hammad Aslam started medical school in Athens, and his story appeared then in Georgia Health News. This is an update of his medical journey. A video is included below.

Hammad Aslam has always wanted to be a doctor. He knew that medicine was the profession in which he belonged. Then, shortly before he started medical school, Aslam was in a car crash that left him paralyzed and forced him to postpone his enrollment by a year.
Rather than beginning medical school in the fall of 2009, he spent the year "relaxing" in preparation for med school, working out at a local gym and doing outpatient therapy at the Shepherd Center in Atlanta.
Although he had a slot available at the Medical College of Georgia, in Augusta, Aslam decided to take a chance on the new medical campus in Athens.
"I love Athens. It was where I went to undergrad and I was excited to be part of something new," Aslam said. "In addition, Athens is closer to my family's home in Snellville than Augusta is, so my parents liked that."
Back in 2010, when he and his classmates at Georgia Regents University-University of Georgia Medical Partnership received their white coats, marking them as future physicians, Aslam was the only one who rolled across the stage instead of walking.
"School was tough. I was living alone again and starting med school only a year after my accident," he said. "In addition to the rigors of med school, I was also still coming to terms with my injuries and my new life. I was very overwhelmed."
Even so, he graduated as a member of the partnership's first graduating class in 2014.
Aslam said that after his accident, while he was still undergoing recovery treatments, he was impressed by the exceptional rehabilitation physicians involved in his care. That was when he began to think about specializing in physical medicine and rehabilitation himself.
It wasn't until his third year of academic work, however, that he decided rehab medicine was the perfect area of focus for him.
A little-known specialty
According to the American Academy of Physical Medicine and Rehabilitation, a rehab doctor, also called a physiatrist (pronounced "fizz-EYE-a-trist], is "a nerve, muscle, bone, and brain expert who treats injury or illness non-surgically to decrease pain and restore function."
"We work with patients who have functional deficits affecting their performance of activities of daily living . . . as well as mobility," said Dr. Xiaohua Zhou, who is a physiatrist at the University of Alabama-Birmingham and also Aslam's attending physician.
"It's great. I absolutely love it," Aslam said. "I discovered it actually after my accident, how great the specialty was, and each day I interact with my patients is like a gift to me because it's so awesome."
Physical medicine and rehabilitation doctors such as Aslam care for patients who have some sort of physical disability as the result of an accident, a developmental issue or birth injury. They also care for those who suffer from long, often debilitating illnesses, such as cancer, or those who have endured long hospital stays, caused by a variety of ailments or injuries.
Doctors hoping to specialize in physical medicine and rehabilitation must first complete either a "preliminary year" or a "transition year." A preliminary year, which Aslam completed at the Medical College of Georgia, consists of a one-year residency program in either internal medicine or surgery. A transition year allows residents to rotate through various specialties for a year.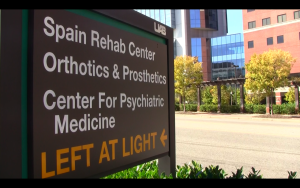 The Spain Rehabilitation Center at the University of Alabama-Birmingham is a large building across the street from UAB's cancer center and down the block from University Hospital. Each workday, Aslam drives to the center in a special, fully hand-operated vehicle, and his residency program helped him get a spot in the small parking lot connected to the building. He takes the elevator up to his floor and begins to check up on patients, particularly those who may have had something happen the night before, and confer with nurses and therapists.
"I think working with people at different levels, like with the nurses, the therapists, even working with other medical specialties like the cardiologists, the orthopedic surgeons, it's great because I'm not just focused on one thing. I learn so much from everyone else," Aslam said.
Aslam, like many doctors, loves working with his patients. He, however, also has intimate experience that most people in his field lack: He knows what it means to recover from a nearly catastrophic spinal cord injury.
"There were a couple patients that I had here that were just like me when I had my accident, in their early 20s. Just out of nowhere they had a traumatic spinal cord injury due to a motor vehicle accident, and they were going through the same things I was. . . .. So I was able to really reach out to them," he said. "Actually, it was the therapists — the occupational therapist, the physical therapist — who approached me, and they said, 'Can you talk to these patients?' And I said, 'Yeah, sure.' "
"So I would just go to their room, and any questions that they had, I would talk to them about. I would let them know that, hey, you know, it's gonna be tough, but . . . they can get through it. And I was really able to help them, I feel like. . . ."
Even though a lot of the [staff] here have been doing this for years — as I said, the therapists, the nurses, and even the other physicians — there are just some things that I'm able to tell the patients that they're not able to. And they say that the patients most likely listen to me in a different kind of way just because they know that I've been there and I can speak from experience."
Dr. Cheryl Lane, a nurse practitioner who works with Aslam, agreed that he uniquely connects with his patients.
"He has a calming effect with the patients and interacts with them very well. The patients know that he cares and will provide the best possible medical care. He has been extremely instrumental in face-to-face interviews updating the patient's condition and allowing them the time they need in rehab," she said. "We always try to motivate our patients and let them know that many things are possible after a stroke, head injury, spinal cord injury or whatever has impacted their life. However, Dr. Aslam is living proof that the sky is the limit."
Everyday inconveniences
Aslam also faces some challenges that his colleagues do not.
"You can imagine how difficult it is for him to examine the patient who is lying on the stretcher, which is higher than his chair level most of the time,'' Zhou said. "He just does it without any complaints. We have a lot of computer work, he could be sitting in front of a computer several hours straight, while at the meantime he has to do pressure relief to prevent pressure ulcers, which is a common complication for a paraplegic person. He is very optimistic, easygoing, works hard and doesn't want to leave any impression that he is handicapped."
[youtube]https://www.youtube.com/watch?v=90upvGohyeo[/youtube]When he's not working, Aslam does chores and runs errands like the rest of us, except when he has a weekend off. On free weekends, he heads home to Atlanta to visit his family and spend time with his fiancée, a lawyer.
"We met about three years ago,'' he said. "A mutual friend introduced us to each other and there was instant attraction and connection between both of us that neither of us could explain. I have never felt that way about anyone."
He hopes to continue to make a difference in an inpatient hospital setting after his medical residency is complete. Larger cities with spinal care centers are most appealing to him, and he looks forward to the opportunity of finally living in the same city and state as his future wife.
Though the future contains many uncertainties, Aslam stays busy with the day-to-day practice of medicine, helping patients through life-changing challenges and showing them how capable they really are.
Lauren Schumacker is pursuing her master's in health and medical journalism at the University of Georgia. She also holds a certificate in culinary arts and enjoys writing about all things food-related.