Emory's Winship Cancer Institute in Atlanta has announced the first community hospital partner for its new cancer network: Archbold Memorial Hospital in Thomasville.
The affiliation means that physicians with the South Georgia hospital will have access to Emory cancer specialists for care consultations, the latest protocols and research, and a route for patients to participate in clinical trials.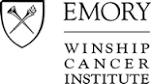 Some patients may be referred for super-specialized cancer care at the Atlanta facility, but most will get treatment in Thomasville and surrounding areas, Emory said.
Dr. Walter J. Curran Jr., Winship's executive director, told GHN on Wednesday that he envisions the Winship Cancer Network gaining more such hospital partners, possibly even some in neighboring states.
Such physician-to-physician relationships already exist in cancer care, he said, but this partnership "formalizes the process."
"We're committed to the very best care,'' Curran said. "One of the goals of Winship Cancer Institute is to be the resource center for cancer care for the state."
Curran declined to comment on whether there were any financial terms to the partnership.
Winship is the first and only National Cancer Institute-designated cancer center in the state of Georgia.
"The clinical research partnership with Emory's Winship Cancer Institute is such a great thing for patients in our region," Archbold's oncology clinical research director, Dr. Teresa Coleman, said in a statement. "Through the Winship Cancer Network, Archbold oncology patients will now have access to the largest unit in Georgia for Phase I clinical trials, which are very important in introducing new therapies against cancer. It's really incredible what this partnership will mean for patients in our region."
Chris Kane, a consultant with DHG Healthcare, said Thursday that such a partnership makes sense for both Emory and Archbold.
The deal "expands Archbold's credibility and affords Emory a broader network for complex cases and research cases,'' Kane said.
As cancer treatment is increasingly delivered in outpatient settings, patients want convenience, he said. "Yet they also want assurances that treatment protocols are world-class,'' Kane said. "This partnership addresses these expectations."