Former President Jimmy Carter said Thursday that the cancer originally found in his liver has spread to his brain.
Carter, speaking at an Atlanta news conference, also said he would receive his first radiation treatment later Thursday.
"Four spots of melanoma'' have been found on his brain, he told a media throng at the Carter Center.
Carter, 90, the only Georgian ever to become U.S. president, announced his cancer diagnosis last week. On Thursday, he appeared remarkably upbeat while discussing his illness for the first time, even showing his sense of humor at several junctures. He also showed his deep religious faith.
After finding out the cancer had spread to his brain, Carter said, "I just thought I had a few weeks left, but I was surprisingly at ease. I've had a wonderful life. It's in God's hands. I'll be prepared for anything that comes."
He has received treatment with a newly approved drug, pembrolizumab, that aims to boost his immune system.
Emory Healthcare physicians have treated other high-profile patients in the past year.
A year ago, Emory University Hospital had just received Dr. Kent Brantly, an American aid worker who became infected with Ebola while working in West Africa. Brantly and another aid worker who arrived soon after were the first Ebola patients ever treated successfully in America.
Dr. Walter Curran, executive director of Emory's Winship Cancer Institute, told reporters that the drug Carter is taking has had good results for people fighting melanoma.
"We're not looking for a cure for a person with melanoma that's spread,'' Curran said. "The goal is control with a good quality of life."
Melanoma is the most serious form of skin cancer. Carter said it's rare that melanoma is found internally in the body and not on the skin. Doctors have not located the source of the melanoma.
Carter said his doctors had scheduled four radiation treatments at three-week intervals.
"I feel good,'' he said. "I haven't felt any weakness or debility. The pain has been very slight."
Carter said he was cutting back on his busy Carter Center schedule and following the advice of his doctors.
He said he had spoken with President Barack Obama and with his fellow former presidents — George W. Bush, Bill Clinton and George H.W. Bush — as well as with Vice President Joe Biden and Democratic presidential candidate Hillary Clinton.
"I'm ready for anything,'' he said. "I'm looking forward to another adventure."
Carter said his grandson Jason will take over as board chairman of the Carter Center.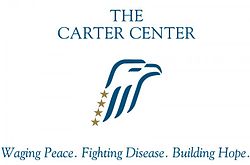 The younger Carter, who was present along with his grandmother, Rosalynn, during the news conference, told reporters later that "the bottom line is, my grandfather is a remarkable man. This is not a eulogy in any way."
"He is at peace and at ease with whatever comes."
Among other projects around the world, Carter and the Carter Center have promoted public health as a way to increase prosperity and advance peace. He is the individual most identified with the campaign to eradicate guinea worm, a tropical disease caused by parasites in drinking water.
The Carter Center is a key forum for discussions of health policy in all its aspects.
Carter has been involved in anti-cancer efforts for years, and has spoken publicly about the toll the disease took on his family. All three of his siblings died of pancreatic cancer, as did his father, and he lost his mother to breast cancer.