Last month, a consulting firm was hired to find a financial partner to rescue the ailing Southern Regional Medical Center.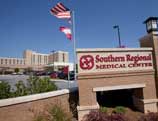 It looks like a match has been made.
Prime Healthcare Foundation, a nonprofit based in California, has signed a letter of intent to acquire the Riverdale hospital. The Clayton County commissioners approved that letter Tuesday.
The parties will move toward negotiating and executing the terms of an acquisition of Southern Regional. The health system's board and the local hospital authority must sign off on the deal.
Southern Regional, saddled with a heavy burden of uncompensated care, has been in danger of closing its doors.
The Prime Healthcare Foundation said Wednesday that it has pledged to maintain Southern Regional as an acute care hospital, including emergency services, for at least five years.
In addition, the foundation has agreed to invest $50 million in capital improvements at Southern Regional over the next five years. It has also agreed to hire "substantially all employees currently at the hospital" ; to maintain charity care at or above existing levels; to maintain a local governing board and independent medical staff; and to spend at least $1 million in new physician recruitment, said foundation spokesman Fred Ortega.
"We look forward to welcoming Southern Regional to Prime's growing network of hospitals across the country," said Ortega in a statement. "We know that by leveraging our resources and expertise, in combination with the hard work, passion and local knowledge of the physicians and staff at Southern Regional, we can continue to provide high quality, affordable health care to the greater Atlanta area for generations to come."
The Clayton News Daily reported Wednesday that the foundation is a 501(c)3 charity that runs seven hospitals in two states. It has been supported by Prime Healthcare Services, an organization that owns 27 hospitals in 11 states, the newspaper reported.
Those hospitals were mostly in similar financial straits as Southern Regional, the News Daily reported.
Southern Regional would be Prime Healthcare's first hospital in Georgia.
Hospital CEO Kim Ryan said recently that finding some type of external funding is Southern Regional's "best hope" of survival.
Clayton County, south of the city of Atlanta, has a high percentage of uninsured residents. The hospital reported $21 million in uncompensated care in fiscal 2014, and 30 percent of its ER patients last year had no insurance.
Ryan said recently that the hospital needed an infusion of $6 million by early July. "If we can't get that funding, we can't survive. We'll have to close services or shut the doors," she said.
Clayton County commissioners allocated no money for the 331-bed hospital in the proposed fiscal year 2016 budget, the AJC reported recently.
Commission Chairman Jeff Turner told the AJC on Wednesday, "I'm glad Prime Healthcare intends to buy. They felt the community needed a hospital and they were in a position to help."
Chris Kane, a consultant with DHG Healthcare, said Wednesday that Prime Healthcare acquires community hospitals with declining financial performance and systematically improves their operations.
"If Prime Healthcare acquires Southern Regional, they will apply a rigorous turnaround methodology and evaluate the merits of each clinical service,'' Kane said. "A hospital turnaround can be complex, with major changes."
In Southern Regional's case, the stakes are high, Kane said. "Even if the scope of medical services and the number of employees change, retaining a health care access point is better for the community than closure."
"This transaction appears beneficial for the county if it permits the ongoing operation and potential growth of the hospital,'' he added. "The south metro Atlanta market is very competitive, and the resources of Prime Healthcare should enhance Southern Regional's ability to attract its fair share of patients."