The state has shelved its attempt to coordinate care of Medicaid beneficiaries who are elderly or disabled.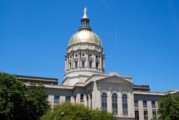 The Georgia Department of Community Health said Tuesday that it was not proceeding "at this time'' with soliciting bids from potential vendors to operate the program.
The agency's statement, made in an email to GHN, follows the General Assembly's removal of $12 million in state funds, intended for the startup of the program, from the fiscal 2016 budget proposed by Gov. Nathan Deal.
Community Health, though, denied that the removal of startup funds drove its decision to halt the contracting process.
The care coordination effort would have been voluntary for beneficiaries in the "aged, blind and disabled'' category of Medicaid.
This is the second time a push for care coordination has stalled. The state previously bid out a contract for such services, but pulled it back last year because the bids came in "over budget," officials said.
Community Health spokesman Jeremy Arieh said in Tuesday's email, "We will examine future ways to address the high costs for this population."
The aged, blind and disabled population, consisting of about 450,000 Medicaid beneficiaries, represents roughly 28 percent of Medicaid enrollees in Georgia but accounts for 60 percent of the overall costs of the program.
The switch to care coordination was seen as an attempt to improve these people's care while reducing spending. Among areas that had interested state officials was decreasing the frequent use of hospital emergency rooms by some beneficiaries.
Kathy Floyd, executive director of the Georgia Council on Aging, told GHN on Tuesday that care coordination as envisioned "is a complicated process."
"We're looking at a vulnerable population,'' Floyd said, but she added the idea may not be dead. It may take longer "to get it right,'' she said.
And Eric Jacobson, executive director of the Georgia Council on Developmental Disabilities, said many states have moved to managed care for people with disabilities.
He said he supported the Georgia version because "it didn't force people'' to join.
Care coordination can help people, Jacobson added. "If we can get folks better connected to supports and medical care, it can be a very good thing."