A Macon hospital has agreed to pay $20 million to settle allegations that it violated the False Claims Act by overcharging Medicare on patient admissions.
The U.S. Attorney's Office in the Northern District of Georgia said that from 2004 to 2008, the Medical Center of Central Georgia billed Medicare for inpatient services when the billing should have been for less costly outpatient or observation services.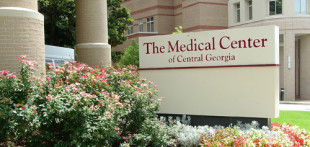 The Macon facility, with about 630 beds, is the second-largest hospital in Georgia. It's now known as Medical Center, Navicent Health.
"We agreed to settle to avoid costly litigation,'' Judy Ware, chief compliance officer with Navicent Health, said Monday.
"The high-quality care that patients and families received was not affected by this issue,'' the hospital said in a statement. "At all times, patients received medically necessary services, and the government did not claim otherwise."
As part of the agreement, the Medical Center entered into a corporate integrity agreement with the U.S. Department of Health and Human Services' Office of Inspector General that requires the hospital to engage in significant compliance efforts over the next five years, federal officials said.
Under the agreement, the hospital is required to retain an independent organization to review the accuracy of its claims for services furnished to federal health care program beneficiaries.
"Integrity is a core value at the Medical Center of Central Georgia," said Ninfa Saunders, president and CEO of Navicent Health. "We take compliance very seriously and continue to strengthen our already strong compliance policies and procedures."
Other hospitals have settled similar cases with the government, the hospital said.
In 2007, Saint Joseph's Hospital of Atlanta Inc. and Saint Joseph's Health System Inc. agreed to pay the United States $26 million to settle similar allegations.
In the Macon case, the government contended that from 2004 through 2008, the Medical Center of Central Georgia violated the False Claims Act by knowingly charging Medicare for medically unnecessary inpatient admissions.
"Overcharging the government for medical services wastes our country's limited health care resources," said Acting U.S. Attorney John Horn. "When a provider inflates its billings, we will aggressively seek to recover the overcharges under the False Claims Act."
News of the agreement comes just days after the state attorney general announced that Grady Health System in Atlanta has agreed to pay $2.95 million to settle charges that it improperly billed Medicaid for treatment to neonatal intensive care (NICU) patients.
The state of Georgia alleged that Grady inflated billings for certain services provided to these NICU patients, resulting in either unjustified or inflated payments from Medicaid.
Do hospitals get a fair shake?
The MCCG statement said that for many years, hospitals across the country have had difficulty interpreting whether a short hospital stay should be billed to Medicare as an inpatient claim or as an outpatient claim.
"It involves complex medical decisions on whether the patient is admitted as an inpatient or an outpatient,'' Ware said. "We work with the physician to use their expertise."
Since January 2009, the Justice Department has recovered a total of more than $24 billion through False Claims Act cases, with more than $15.3 billion of that amount recovered in cases involving fraud against federal health care programs.
"Charging the government for higher-cost inpatient services when the patient care received was outpatient or observation services causes Medicare to pay more than it should," said Principal Deputy Assistant Attorney General Benjamin Mizer of the Justice Department's Civil Division. "This department will continue its work to stop abuses of the nation's health care resources and to ensure patients receive the most appropriate care."
Dave Smith, a consultant with Kearny Street Consulting, said Monday that such False Claims hospital cases are fairly common. And he added that there can be gray areas in billing.
"It's easy to second-guess'' a hospital's decisions on these issues, Smith said. "But if it's blatant, that's something different."
The feds, in general, are getting tougher on such billing cases, he said.