Barbara Ellington, a health care volunteer, is helping her Athens neighbors live healthier lives. She gives them sound advice on how to take care of themselves and when to seek medical treatment.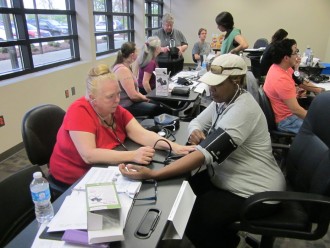 Ellington received special training from nurses and health educators in Athens as part of the Community Health Partner Program.
Through that program, she and others have become a resource for people who have little access to health advice or medical care, as well as for those whose worlds are limited by lack of transportation or infirmity.
"I was able to educate my neighbor, and I got him to start taking his blood pressure medicine by telling him why it was important," says Ellington, who completed the training in 2013 and uses what she learned on a regular basis.
She completed the training program with her sister.
As uninsured individuals with health problems, both women understand the challenges of not having health insurance. They frequently attend health fairs together, teaching those they meet about why it's important to watch their health.
Community Health Partner training is offered every spring and fall, and the next five-week series of classes starts on March 19. The course is sponsored by the Athens Health Network, a nonprofit organization dedicated to improving health and access to health care in the Classic City.
"The purpose of the program is to help spread information to the low-income and underinsured population that may not know a lot about health care," says Gale White Nyseth, who coordinates the effort.
People who sign up for the course meet for training sessions two nights a week for five weeks.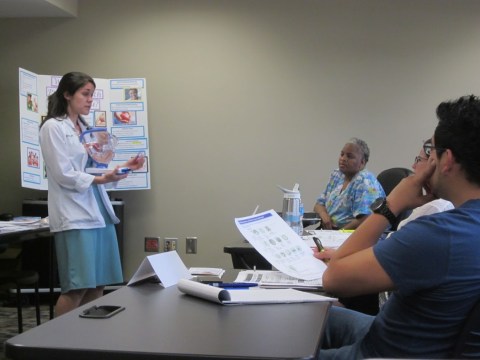 Nurses teach the volunteers about diabetes, hypertension and other chronic conditions that can lead to disability and death. During classes, the community members learn to check blood pressure, monitor blood glucose and take temperatures — skills they will put to use at health fairs and other events in town.
The program provides each student with a blood pressure cuff, a glucose monitor, a digital thermometer and other basic supplies.
The 20-hour curriculum allows the volunteers to graduate as certified lay health educators. In that capacity, they help people act in their own best interests by encouraging them to eat a healthier diet, stay active, avoid smoking and make wise use of cancer screenings and other tests.
"We go into different areas of the city, wealthy and poor, and we talk to the people . . . about health," says Ellington, the community health partner who has been a lay health educator for nearly two years.
Reaching people in everyday settings
Paige Cummings, a nurse practitioner who teaches the course and is executive director of the Athens Nurses Clinic, says, "Once the West Broad Street Farmers Market opens back up again, we'll have a table there every week with people doing blood pressure and passing out health information."
The market is a popular gathering place for people from all walks of life, who drop by for naturally grown produce at a reasonable price. The produce is sold two days a week from May through October.
Regardless of whether it's growing season or not, Health Partner Program challenges students to talk with friends and family members, finding out what's needed and spreading what they've learned about health care and personal wellness.
"When you think about the low-income population, there are a lot of people who don't know what to do or where to go when they are sick. So getting the information out there is one beneficial thing from the program," Nyseth says.
Similar programs have proved their worth over the past six years in Murray and Whitfield counties in northwest Georgia, where the Promotores de Salud (Community Health Workers) program helps underserved locals. Despite the Spanish name, it's not limited to the area's fast-growing Latino community, but is for all ethnicities.
Although Nyseth now serves as CHPP coordinator, she started out as a trainee. "Because of a divorce and a job loss, I found myself without insurance at the time."
"I was a patient at Mercy Health Center, and I found out about the program there," Nyseth says. "I have been with it since."
When Nyseth first got involved, the home base for the lay health educators program was Mercy Health Center, a Christian health resource center that provides care to many low-income and uninsured residents of the Athens area. In 2012, Mercy handed off the program to the Athens Health Network, so that it would attract a broader range of participants, Nyseth says.
The Athens Health Network is made up of three area clinics serving uninsured or underinsured area residents, as well as mental health providers; local hospitals; social service agencies; and representatives of numerous academic units of the University of Georgia, including medicine, pharmacy, public health and journalism.
"There's a strong feeling among members of the network that this is an important program," Nyseth says. There is also concern because it costs money to run, and the grant that supported it has expired.
"When the funding was lost at the Athens Health Network, the Athens Nurses Clinic assumed the responsibility, and I'm writing a grant to support the CHPP," says Cummings, director of the nurses clinic.
"The cool thing about this program is there is so many people invested in helping — it's not just teaching people in the class," says Sindhu Prabakaran, an intern for the Athens Nurses Clinic who's a senior at UGA.
Classes begin on March 19 and continue through April 21, and the graduation ceremony will be held April 23. They meet Tuesdays and Thursdays from 6:30-8:30 p.m. at the Athens Health Network office, part of the H.T. Edwards Campus on Dearing Extension in West Athens. The course will be offered again in the fall, but those dates have not been set.
For more information, visit http://www. athenshealthnetwork.com/ Community-Health-Partner- Program-v-26.html or contact Gale White Nyseth at athenshealthnet@gmail.com to sign up.
Sydney Devine is from Valdosta, Georgia, and she is currently a first-year graduate student in the Health and Medical Journalism program at the University of Georgia. She works as a research reporter for the university and is interested in health issues in low-income communities.