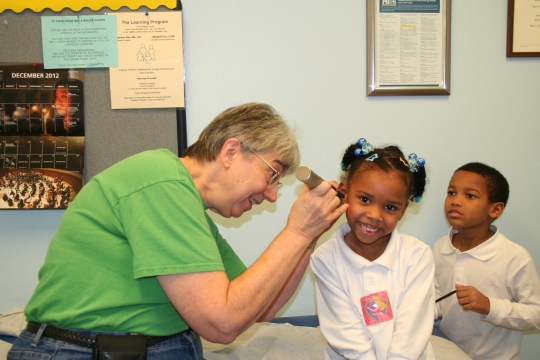 Dr. Michelle Zeanah is getting a big pay cut this month.
It's not that the Statesboro pediatrician is seeing fewer patients. Just the opposite.
The 12 rural counties surrounding Bulloch County, where Statesboro is located, have no pediatrician. So Zeanah is very much in demand.
Forty percent of her patients have driving distances of 45 minutes or more. A few come from more than 50 miles away.
Her pay cut involves the Medicaid program. Reimbursements to primary care doctors under Medicaid just went down in Georgia and many other states.
The Affordable Care Act had awarded primary care doctors treating Medicaid patients a two-year pay increase. It was funded entirely with federal money, and pushed their Medicaid pay to the level of Medicare reimbursement.
But that additional Medicaid reimbursement, which went to family physicians, pediatricians and internists, ended Jan. 1. And doctors will be missing it.
"It allowed us to hire more staff so we could serve more patients,'' Zeanah says. Without it, she adds, "I will have to work 70 hours a week'' instead of the current 60.
About 70 percent of her patients are covered by Medicaid or PeachCare (the Georgia version of the child health insurance program).
Medicaid, the federal/state program for the poor and disabled, serves more than 1.5 million Georgians. Most are children.
Before the increase, Georgia primary care doctors had gone more than a dozen years since the last Medicaid pay hike.
A few states, including Alabama and Mississippi, have continued giving their primary care doctors the pay hike by using state dollars to fund it.
But Georgia political leaders, on the eve of the 2015 General Assembly, have shown no signs they'll appropriate money to reinstate the pay hike. The money that would be needed – an estimated $62 million for a year – is not in the Department of Community Health budget being proposed to Gov. Nathan Deal.
Sasha Dlugolenski, a spokeswoman for the governor, said in an email to GHN in September that Deal was aware of the issue. She called the pay hike expiration "one of the early, blatantly obvious examples of Obamacare unloading costs onto the states. This was a short-term Band-Aid to a long-term problem, and now the states are left holding the bag."
The federal health law required that the raise be paid for two years, 2013 and 2014. The money actually did not arrive till 2014, but when it did, eligible doctors received the pay hike retroactively to Jan. 1, 2013.
Such delays in the payments occurred in many states, including Georgia, that use managed care in their Medicaid programs.
Practices feel the pinch
The end of the federally funded raise means that Medicaid fees in Georgia will now be reduced by 34.8 percent, according to a recent Urban Institute study.
Some pediatricians describe the pay bump as a children's health issue. They say children on Medicaid generally have greater health and social needs.
"It's a matter of valuing children as the future of the state,'' says Dr. Jaquelin Gotlieb, who practices along with her pediatrician husband, Edward Gotlieb.
"I believe primary care doctors feel a significant responsibility to their patients," adds Jaquelin Gotlieb, who is 68 and has practiced in Stone Mountain for almost four decades. "That's why we have hung in there."
If the pay isn't restored, she says, "This is going to take some of them and push them over the edge.''
Roughly two-thirds of the Gotliebs' patients are covered by Medicaid or PeachCare, she says.
Dr. Eugene Cindea, a pediatrician at the Longstreet Clinic in Gainesville, says the extra money "allowed us to expand offerings to patients."
"It felt good for physicians who were seeing a considerable number of Medicaid patients," he says.
The goal of the pay hike, Cindea notes, was to increase the number of physicians who accept Medicaid patients.
Without the money, he says, it's more difficult to devote staff to manage the chronic diseases of children. "It decreases the likelihood that we'll expand in an underserved area," he adds.
OB/Gyns were not eligible for the two-year federal pay bump that just ended. Pat Cota, of the Georgia Obstetrical and Gynecological Society, says her organization is asking the state to revive the pay increase and expand it to include OB/Gyns.
The majority of children born in Georgia are covered by Medicaid.
An incentive for doctors
In Alabama, physician participation in Medicaid is a concern. The state says about 22 percent of enrolled primary care physicians now receive 90 percent of all claims payments. The other problem is that Alabama has shortages of health professionals in 62 of its 67 counties.
Niko Corley of the Alabama Medical Association says that "for Medicaid to be as efficient as possible, you've got to have physicians managing that care."
The federal pay hike was supposed to increase doctor participation in Medicaid. But Kaiser Health News has reported that most states say they've seen no evidence that it did so — mostly because it was a temporary measure.
"The Medicaid pay boost was never meant to be a silver bullet," Leonardo Cuello, director of health policy at the National Health Law Program, an advocacy group for low-income Americans, told KHN. Still, he worries about the provider fee cuts. "It won't sink the ship but . . . I'm concerned it will contribute to access problems."
Statesboro pediatrician Zeanah notes that many physicians have limited their numbers of Medicaid patients. That's why her pediatric practice continues to see more patients.
Having the pay hike meant that the practice stopped losing money on delivering vaccines to kids on Medicaid. "We made a tiny profit,'' Zeanah says.
Not having the pay hike, though, means more hours and less reimbursement. It means Zeanah and her pediatrician partners can't build an office building to accommodate the growing practice.
Medicaid patients require more work, and are more often late or no-shows due to reasons such as lack of transportation, she says. "We have no social worker available to us. I am the social worker."
Georgia desperately wants to recruit new physicians, Zeanah notes. "When you don't have Medicaid payment parity, it makes it hard."