Health care costs are increasingly squeezing American workers, especially those in Georgia and the South, a new report released Thursday finds.
Nationally, workers' out-of-pocket costs for premium contributions and deductibles in 2013 accounted for a higher percentage of median family income in all states compared to 2003.
According to the report from the Commonwealth Fund, this higher burden for workers comes despite a slowdown in health insurance premium growth in most states, including Georgia, since 2010.
In Southern states, where incomes are below the national average, worker costs for premiums and deductibles are especially high compared with median income, the report found.
Combined costs for premiums and deductibles ranged from 6 percent to 7 percent of median household income in the District of Columbia, Hawaii and North Dakota, to 12 percent or more in Texas and Florida. The average was 9.6 percent.
Those worker costs were 10.8 percent in Georgia in 2013, up from 5.5 percent a decade earlier.
"Incomes haven't grown as much as health care costs, so we're all feeling it," said Bill Custer of Georgia State University, when he was asked to comment on the report by GHN.
The cost burden on working Southerners is greater, Custer said. The South has a relatively low number of health care providers and relatively low incomes for workers, he said.
"Southerners are generally less healthy, with more chronic illness and obesity," Custer added.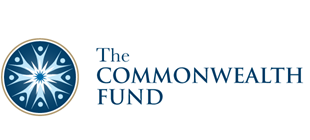 Nationally, average premium growth rates for employee-only plans slowed to 4.1 percent per year from 2010 to 2013, compared with an average 5.1 percent from 2003 to 2010. The Commonwealth Fund report authors noted that these rates have slowed since passage of the Affordable Care Act, which was enacted in 2010 and took full effect in 2014.
"Workers and their families are not yet seeing the benefits of these savings,'' said Dr. David Blumenthal, president of the Commonwealth Fund.
"Out-of-pocket costs are up in most states and incomes are not keeping pace,'' Blumenthal said. "This is of concern, since research shows that high health care cost burdens relative to income may lead people to avoid seeking needed health care."
'All states have lost ground'
The report said that in 2013, employees' contributions to premiums averaged $1,170 a year for a single-person plan, up from $606 a year in 2003.
And over that decade, per-person deductibles have more than doubled in Georgia and in all but six states and the District of Columbia. "High deductibles are the rule, rather than the exception,'' said Cathy Schoen, a co-author of the report.
The average annual deductible for an employer- sponsored, single plan hit $1,164 in Georgia, up from $457 in 2003.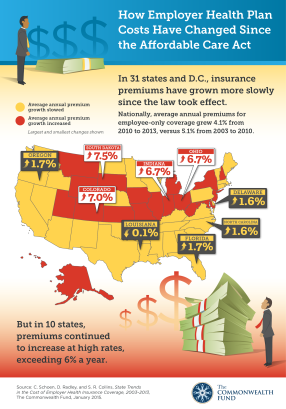 With slow income growth and rising out-of- pocket costs, Schoen said, "All states have lost ground from an employee perspective. It's taking more of take-home pay."
"Health insurance is expensive, no matter where you live," she added.
Amanda Ptashkin of the consumer group Community Catalyst said she was pleased to learn that Southern states have seen a decrease in the rate of health care premium growth.
"But that progress should be balanced with the fact that out-of-pocket costs are rising,'' Ptashkin told GHN. "Higher out-of-pocket costs can lead to delayed care and be particularly harmful for those who are sick and need care the most."
The ACA is making care more affordable through free prevention services and slowing premium rates, she said.
"But the report underscores the need to contain the cost of care through delivery system reforms. We need to tackle health care costs, but we need to do it in a way that reduces waste in the system, not in a way that shifts costs onto people who need care the most."
High costs can lead to unpaid medical bills, even for those with insurance.
Karen Pollitz of the Kaiser Family Foundation noted Thursday that the Consumer Financial Protection Board reported that medical debts account for a majority (52%) of debt collections actions that appear on consumer credit reports.
"This report offers yet another reminder that a broader view of health insurance – not just at how many have coverage, but also the effectiveness of coverage – is warranted,'' Pollitz said. An earlier Kaiser Family Foundation report found that 1 in 3 Americans struggle to pay medical bills, and that 70 percent who do so are insured, she added.
Custer of Georgia State said the road to alleviating the cost burden in health care is a long one.
Solutions include people becoming healthier overall (through better lifestyles and other factors), more health insurer competition, and more efficient delivery of medical services, Custer said. "None of these things is going to happen overnight."