Headlines about concussions and their effects on professional and college football players are inescapable. The issue is changing the way people talk about the game.
Recently, University of Texas quarterback David Ash quit playing because of continuing symptoms related to a 2013 concussion. And the family of ex-San Diego Chargers player Paul Oliver, a former University of Georgia defensive back, filed a wrongful death suit against the NFL, alleging that repeated concussions on the field drove him to suicide at his Marietta home.
Concussions have been associated with negative changes in memory and thinking ability, as well as movement disorders. There is also mounting evidence that repeated concussions lead to chronic traumatic encephalopathy (CTE), the degenerative disease that doctors found when they examined Oliver's brain after his death.
From peer-reviewed research to playground hearsay, new awareness about the dangers is changing how some parents think about having their kids play football.
Felicia Harris is one such Georgia parent. The Athens mother pulled her son off the field at age 6.
One day, she watched a boy, about her son's age, throw up on the sidelines after a hard hit. When she suggested the child might need medical attention, coaches and other parents brushed off her worries. The mentality was, 'It's just football, he's OK,'" Harris says.
When Harris' son was tackled, a much larger boy kept him pinned down before letting him up. She decided to enroll him in a new sport.
New research
While most concussion research focuses on college and professional players or young children, a team of neuroscientists at the University of Georgia is tackling an often overlooked cohort of athletes.
"A lot of thought is given to professional football players," says researcher Doug Terry. "But what about the average Joes?"
The average Joes are middle-aged men who played football, but not in any kind of national spotlight. They suffered concussions during their glory days on the high school gridiron.
Terry and his colleagues recruited 41 men ages 40-65, all former high school players from Athens. They all had roughly the same IQs and even had right-handedness in common. Of the group, 25 had suffered at least two concussions playing high school football. The other 16 had not.
Each participant underwent an fMRI scan, which measures brain activity by detecting changes in blood flow within the brain. An image of the brain appears on the computer screen, and as the volunteer performs various mental tasks, different regions light up to different degrees, representing activity in those areas.
On the monitor outside the testing room, changes in brain activity look like moving patterns of multicolored splotches.
Researchers expected to find signs of memory deficit in the players who had experienced concussions. But when put to the test, concussed players performed just as well on memory tests as their teammates who had not suffered concussions.
"Which is kind of great news," Terry says.
Stephen Miller heads the MRI lab. "People are pretty resilient," he says. And his research indicates that young brains can adapt to maintain normal function after some injuries.
When the two groups of former athletes performed cognitive tasks while being monitored, there were no significant differences in performance. There was no data to suggest cognitive decline in the men who had concussions in the past.
Researchers described seeing differences between the two groups, but not in the brain regions they predicted.
"We expected, if there were deficits, hyperactivation," Miller explains. "It would mean that those areas of the brain were working harder to sustain the same level of performance."
Instead, they saw decreased activity in the left hemisphere of the brain. Specifically, there was less activity in regions responsible for verbal understanding. This suggested that there were subtle brain organizational changes, but no overall changes to cognitive function. Essentially, concussed players could be using different parts of their brains to achieve the same results as non-concussed players when given the same memory task.
More to be learned
Terry says the next step is to find out what happens later in life. The teenager's brain may continue to function normally after the injuries, but will there be some residual effect that's not obvious until several decades later?
"Two concussions, when you're 16, could be fine, but what happens when you're 65, when you're 70?" Terry asks. "We don't know."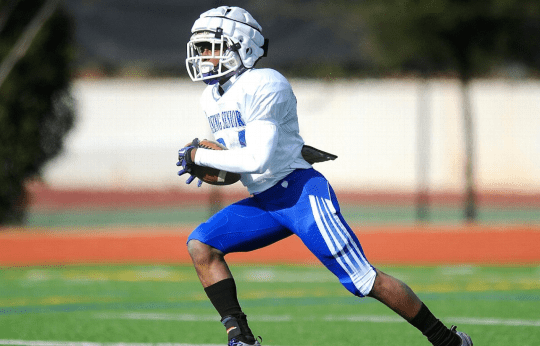 More research is needed to determine whether multiple concussions in high school athletes whose football careers end with graduation elevates the risk for Alzheimer's or other forms of dementia, says Terry. But for now, findings suggest that high school players seem to be able to rebound from typical concussions.
These encouraging findings, though preliminary, are good news for parents like Harris. She says she is willing to reconsider the sport as her son grows older.
Meanwhile, the NFL, college football and high schools in Georgia are taking action to prevent concussions and to treat the injuries properly.
The NFL commissioner has pushed for increased safety in football, as the league has toughened its protocols for players who have suffered concussions.
Last August, the NFL agreed to a $760 million settlement with more than 4,000 former players who had sued the league over head injuries.
The Atlanta Falcons and the NFL have supported a program, Heads Up Football, for youth leagues that teaches concussion awareness and proper helmet fitting, and proper techniques for tackling.
And a new Georgia law has established protocols for school athletes who have suffered concussions.
Alyssa Stafford is pursuing her master's at the University of Georgia, studying health media and communication. She is a freelance writer and her work has appeared in GHN, Piedmont Healthcare and the Association of Health Care Journalists blog.