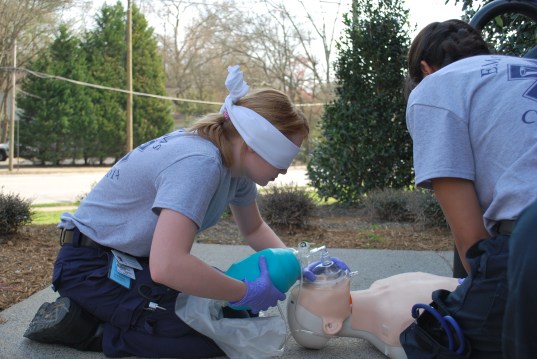 The normal sounds of classes at Emory University are occasionally interrupted by something even more important — emergency tones erupting from a radio clipped to the shirt of a student EMT.
"We really try to minimize distractions by sitting near the exit and turning the radios down low so that we don't disrupt the room when we need to leave," said Alison Yarp, who volunteered as an EMT for three out of her four years at Emory. "It can be difficult sometimes to jump back and forth between being a student and being an EMT, but it's so worth it."
According to the National Collegiate Emergency Medical Services Foundation, there are more than 250 colleges and universities in the United States with accredited collegiate EMS programs. But Emory is the only school in Georgia with a fully functioning collegiate EMS program.
Emory Emergency Medical Services, or EEMS, is an entirely volunteer-based organization staffed by students trained through the program to become Georgia-licensed advanced emergency medical technicians (AEMTs).
Student AEMTs respond to calls not only on campus but also in the surrounding community in east metro Atlanta. The EEMS response area is extremely diverse, including the CDC Roybal campus, Wesley Woods Geriatric Hospital, several schools and shopping centers and the entire university campus.
Whether it is a cardiac arrest or a car accident, the Emory AEMTs may be on the scene 5 to 10 minutes before other local medical responders arrive, according to Rachel Barnhard, full-time director for EEMS.
In their white Ford SUV with "Emory EMS" emblazoned across the side, EEMS can respond to a scene with lights, sirens, and a full trunk of medical equipment.
"Our student volunteers provide invasive medical care in a very stressful environment alongside local EMS and public safety workers in the area," Barnhard said. "Their goal is to help people, but they are truly making a difference in someone's life."
The course consists of two four-hour training sessions each week plus two eight-hour Saturday sessions each month. Each student must complete more than 100 hours of clinical rotations in different hospital emergency departments and time as a "third rider" in an ambulance with two preceptors. Clinical rotations cannot take place during regular Emory class hours, so the students have to find time to do them outside class.
"For the students in the course, it's like a yearlong job interview," Barnhard said. "The students go through a ton of pathophysiology and clinical skills training. The curriculum is very in-depth and we take this course really seriously."
Upon completion of each portion of the course (EMT & AEMT, respectively), students are eligible to sit for the National Registry of EMTs exam, divided into a written portion and a hands-on psychomotor portion.
A yearlong commitment
Since EEMS is staffed solely by graduates of the course, students are asked to volunteer a minimum of one year of their time upon completion of the program requirements and earning their AEMT certification.
During her time as an AEMT, Yarp earned the rank of supervisor. Like most EEMS students, she delicately balanced her clinical hours with other commitments — in her case, organic chemistry exams and playing the viola in the Emory orchestra.
All in all, Yarp worked 1,500 hours of EMS shift time as an undergrad, which is an impressive figure to include on her medical school applications. (She is currently taking a "gap year" to work and apply to medical schools.)
Her EEMS experience is far more than a number of hours, however. The aspiring pediatric emergency medicine physician said her time with the program not only confirmed her career goals, but expanded them as well.
"I've always had an interest in emergency medicine, but getting to be one of the first patient care providers on scene showed me that I did enjoy that environment," she said. "However, I didn't know I'd be so interested in emergency preparedness until I got indirectly exposed to it through EEMS, so that's a newer interest of mine."
Gabe Gan, a rising junior, came to Emory with extensive EMS experience after working as an EMT during high school in his home state of Maryland. Gan, who was recently appointed assistant chief of operations for EEMS, was especially attracted to Emory for the EMS program. He enjoys learning on the job, and he likes how it supplements his major in human health.
"Through interacting with patients, I am able to see the effects of chronic disease that I learned in my nutrition and chronic disease class or understand better how the mental health problem I learned about in class actually presents." Gan said.
He has completed about 600 hours of EMS shift time at Emory so far.
John Harper is a sergeant with the Emory Police Department. During his four years on the force, he has worked extensively with the EEMS students while they pull their overnight shifts from midnight to 8 a.m. During these shifts, the students work out of a special EEMS squad room in the police department building.
"They provide patients with a really high level of care in such a timely manner," Harper said. "One really big advantage to having them on campus is that they are extremely familiar with the area. They know the names of buildings and locations that non-campus personnel may not know."
From the scene of an emergency, EEMS can provide specific directions over the radio for emergency responders coming from outside the Emory campus.
Harper noted that EEMS had a presence at Emory's graduation ceremony May 12. Some families felt unsure about the Atlanta heat and its impact on elderly guests at the ceremony, and the EMTs set up a medical tent.
"At the request of families and friends, the EMTs will take the blood pressure or vital signs to ensure that guests are safe and healthy before the ceremony begins," Harper said. "They have a great attitude about it and they are extremely professional. Their presence gives guests peace of mind."
Detective Anthony ReFour is another member of the Emory Police Department who has spent time working with the EEMS students.
"The EEMS unit provides rapid medical attention that may otherwise be delayed in such a large, busy county," he said. "Being an all-volunteer unit, they do this selflessly and with astonishing attention to detail. I feel as though their work ethic and desire to be of service to their community espouse the values that Emory University was built on. In short, the altruistic nature of the program is a beacon of strength in the community."
Camaraderie and dedication
Outside of responding to calls, the EEMS has always put priority on outreach and engagement with the community. In February 2014, it hosted its first-ever regional EMS for Children conference on the Emory campus, and drew more than 100 health care providers from across the state.
While Emory EMS requires a significant commitment of time, students still make room in their schedules to pursue interests outside the program.
"It is amazing to see and learn about all that our volunteers do outside of EEMS, from performing in Emory's music, dance, and theater ensembles to playing on club sports teams," Gan said. "Not all of our members are pre-med or science majors. One of our members is actually a professor in the Goizueta Business School."
After going through so much training and moving up through the ranks together, EEMS students have become a tight-knit group. They call themselves "the Unit," Yarp said, adding that as diverse as they may be in other ways, they are united in their love for EMS work.
"We're just all brought together by our interest and passion and dedication to pre-hospital care. It's a special field and it takes certain people to do it. That interest and dedication is probably the most common thread that runs through all of us."
Whether students go on to enroll in medical school or become paramedics in their hometowns, many continue providing care and spreading knowledge long after their four years are over.
"We've had international students who are interested in going back to their country and establishing EMS programs there," Barnhard said. "Maybe a student is working to be an emergency room physician, but because of EEMS, they're going to understand the process that led up to a patient arriving in their care."
Natalie Duggan, a GHN intern, is a recent graduate of Emory University, where she majored in journalism and anthropology with an emphasis in health writing. She has previously interned at the CDC, the CNN Medical Unit, and was a summer 2013 ORISE research fellow at the National Institute of Allergy & Infectious Diseases.