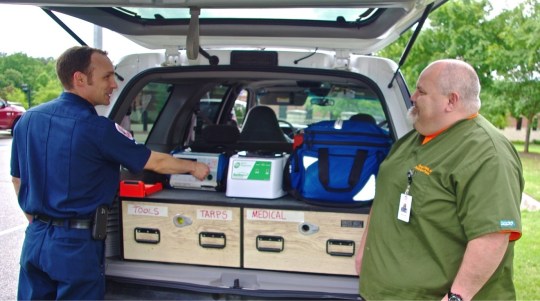 "You call. We haul. That's all!"
That old slogan, which has been applied to ambulance services over the years, may eventually be shelved as emergency medical technicians and paramedics make house calls in Georgia and across the country.
The service is called community paramedicine. It combines the old-fashioned house call with the modern mobile team approach.
Community paramedicine is not emergency service. When team members respond to a call, it's not likely they'll have to save a patient's life or pick a patient up. Their mission is to deliver medical services to patients where they are.
For health professionals, it's a two-tiered approach. Hall County's Community Mobile Team, for example, is not sent out to handle life-threatening situations, such as breathing emergencies or auto accidents. That is still the job of emergency responders.
When a call is made to Hall County's 911 center, the call-taker determines the seriousness of the problem and what kind of team is needed — emergency responders or community paramedics. This is done through an algorithm, a mathematical formula that uses various factors to distinguish a life-threatening emergency from what might be better served as a house call. (Ask any EMT or paramedic about the frustration of rushing someone to the emergency room when all the patient ultimately needed was a prescription refill, a blood pressure check or a social service referral.)
Community paramedics are bringing their skills to a formerly underserved population, saving dollars for an overburdened health care system. In many cases, they are operating in the heart of communities that they know as well as some physicians, and perhaps even better.
A way to reduce costs
David Kimbrell, Hall County's fire chief and director of emergency management, is enthusiastic about the county Mobile Care Team, up and running for about two months. The first paramedicine pilot program is located in Gainesville, the county seat, and is also part of a public-private partnership, Kimbrell said.
"Since this is new for us and we had nothing to compare it to, we partnered with a private agency who had been making house calls using nurse practitioners for about four years," said Kimbrell. A nurse practitioner is a nurse with advanced training who's qualified to handle some of the routine duties of doctors.
"This is the pilot that is allowing us to prove the concept without a large budget outlay from our department," Kimbrell said. Plus, the team is equipped at a much higher level than a typical paramedic ambulance.
"We are looking to keep the emergency department as sacred ground," said Kimbrell, meaning that they want to steer people away from unnecessary visits. The goal is to bring health care to the patient with a team consisting of a paramedic and nurse practitioner. "So far, it's going well, and we're getting positive feedback," he said.
Private insurers, Medicare and Medicaid can reimburse providers for the service, Kimbrell said.
It's costly to hospitals when patients use the emergency department (ED) for unnecessary visits, and hospitals can be penalized financially when too many of their patients are readmitted soon after discharge. Paramedicine may offer a way to address both these problems, by delivering care to people who would otherwise go to the ED, and by treating recently discharged patients at home.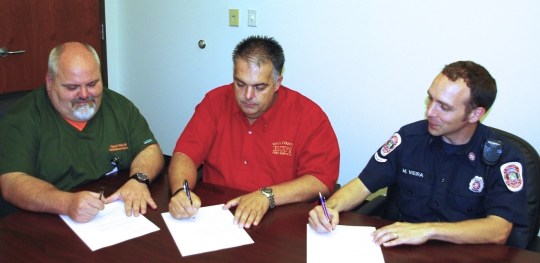 In addition to carrying advanced cardiac life support medications and equipment, the mobile care team can perform various diagnostic tests in the field, such as using an onboard centrifuge and other diagnostic equipment, like a mini-lab on wheels. They manage blood draws and with a nurse practitioner's prescriptive rights, it makes for a one-stop home experience for the patient who may have difficulty getting help and is used to calling 9-1-1 for services.
Paramedic Mickey Moore, a longtime educator and promoter of emergency medical services, said a paramedicine system is just getting started in his central Georgia community of Dublin.
Moore says it's not a new concept. "The idea is gaining momentum and attention today, but has been on the back burner for many years."
According to Moore, local emergency medical technicians (EMTs) and paramedics in a rural setting know the patients firsthand and may have already developed a relationship with the family.
"They are more easily accepted into the home — sometimes over other allied health providers," he said. Medics can easily spot other potential safety hazards in the patient's home, such as loose rugs, extension cords where people walk, and poor lighting.
EMTs and paramedics can also see if medications need refilling and can check on the kind of food being consumed by the patient. "Things like fried chicken or whole milk may not meet certain diet restrictions," he said.
With community paramedicine, a patient doesn't need a ride to the ED via one of the most expensive transportation vehicles in town, the ambulance.
A national incentive program
A good idea can resonate, but money can help it speak even louder.
Last year, the federal Centers for Medicare & Medicaid Services (CMS) announced grants would be awarded to organizations that were willing to launch community paramedicine programs. Grants totaling $13 million went to Pagosa Springs, Colo.; Prosser, Wash.; and Reno/Sparks, Nev., last year.
Those dollars were awarded to applicants with the "most compelling new ideas to deliver better health, improved care, and lower costs to people enrolled in Medicare, Medicaid and the Children's Health Insurance Program."
Today there are either paramedicine plans or ongoing programs in several states, including some that were initiated long before CMS announced the health care innovation grants last year.
The first ever Mobile Integrated Healthcare Summit, held last September, brought together top leaders in the field.
It's an evolution that has the promise of bringing all members of the health care team together. As Dr. David K. Tan stated in the Journal of Emergency Medical Services, this "new framework is intended to engage a wide spectrum of providers, including traditional EMS personnel, as well as nurses, midlevel providers, and physicians."
Judi Kanne, a registered nurse and freelance writer, combines her nursing and journalism backgrounds to write about public health. She lives in Atlanta.