The urgent care business is thriving, with more centers popping up across many parts of Georgia and the nation.
Their target clientele is a large segment of the population — people who want easy access and walk-in services and may lack a primary care doctor. And the owners of urgent care centers see their market growing as more patients have health insurance, at least partly due to the Affordable Care Act.
Large hospital systems are increasingly adopting this same kind of retail-oriented strategy, with many getting into the urgent care business.
That's much of the backstory why the Atlanta-based Piedmont Healthcare system has aligned with WellStreet and its seven urgent care centers in metro Atlanta.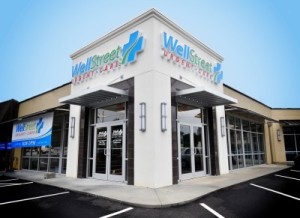 The two organizations announced a partnership this month that will rename the urgent care centers Piedmont Urgent Care by WellStreet. No money was exchanged in the
agreement.
WellStreet and its patients and physicians will get access to Piedmont's "clinically integrated health system," said Dr. Lee Resnick, chief medical officer for WellStreet
And Piedmont takes another step to expand its health care system and strengthen its primary care services.
Besides its five hospitals, the Piedmont system gains access to WellStreet's urgent care centers from the Atlanta neighborhoods of Virginia-Highland and Buckhead to the northern suburbs of Dunwoody, Sandy Springs, Johns Creek/Alpharetta and Austell. That network adds to the two urgent care centers Piedmont already runs in Fayette and Henry counties, south of Atlanta.
About 10,000 urgent care centers operate in the U.S., offering cheaper alternatives to hospital emergency rooms. Such centers have more convenient hours than regular doctors' offices, generally being open on weekends.
Hospital-based systems are increasingly buying into this model of care, though it represents a shift in strategy, WellStreet's Resnick said. Urgent care "is a consumer-oriented retail model,'' he added. "Health systems generally don't think that way."
Resnick said up to 40 percent of WellStreet patients do not have a primary care doctor.
Through the new agreement, he said, WellStreet's urgent care patients can get a referral to a hospital if they need surgery or some other form of advanced care, though they won't be compelled to go to a Piedmont facility.
Sidney Kirschner, CEO of Piedmont Physicians, said in a statement that "Piedmont has great urgent care facilities and physicians serving the Henry and Fayette county communities, and this partnership expands Piedmont urgent care services to the Atlanta area."
"Eliminating gaps in care through collaboration between providers as well as expanding access to care is a focus at Piedmont,'' Kirschner added.
Dave Smith of Kearny Street Consulting said urgent care was a hot trend about 20 years ago, but faded somewhat because hospitals opposed such centers.
Now the reverse is true, he said, as hospitals seek more entry points for patients, and urgent care is seen as "a front door."
"More people have insurance and are seeking care,'' Smith said.
Urgent care facilities differ from pharmacy retail clinics, Smith said. Doctors, not nurse practitioners, offer the medical care, and more kinds of services are available than in retail clinics.
And urgent care is much cheaper than an ER visit, with a shorter wait time for patients.
Resnick noted that the urgent care business follows the trend of medical reimbursements shifting more toward coordinated care for patients.
"At the end of the day,'' he said, "health systems will have to provide the best care in the most cost-effective, coordinated way."