Weekend sleepover camps for children can be about more than crafts and canoeing.
During the past two decades, Rene McClatchey has helped hundreds of grieving youngsters recover from devastating losses.
Every year, McClatchey, an assistant professor of social work at Kennesaw State University, runs three weekend-long sessions called Camp "MAGIK," an acronym for "Mainly About Grief In Kids." Registration is open now for this year's first camp, which takes place April 25-27 in Cartersville.
Supported by charitable donations and volunteers, all three camps are free. They are divided into two groups, one for ages 7 to 11 and the other for ages 12 to 17.
While the children spending the weekend at camp get professional counseling for grief, they also get a chance to just be kids having fun. They go swimming, climb a rope course and hike the foothills of North Georgia. "Diversions" are important for these kids in a very literal sense.
The camps are especially for children suffering from what professionals call "complicated grief," a condition that differs from normal mourning but can be hard to identify.
Children can be hit so hard by loss that they question the value of their very existence, said McClatchey. "It's thinking, 'I don't know how I can go on, life has no meaning anymore.' "
"It becomes complicated when these feelings keep hanging on and there is no relief from them," said McClatchey. Her camps are intended to get kids past this point, to give them hope, and to keep them moving forward. Sometimes it can be difficult to know which kids need help.
The unrecognized need
"The kid that gets into trouble at school after Mom dies, he'll be sent to camp because they know something is going on with him. But the kid who is quiet and overachieves is the one that I'm concerned about," said McClatchey, "because you usually miss that one."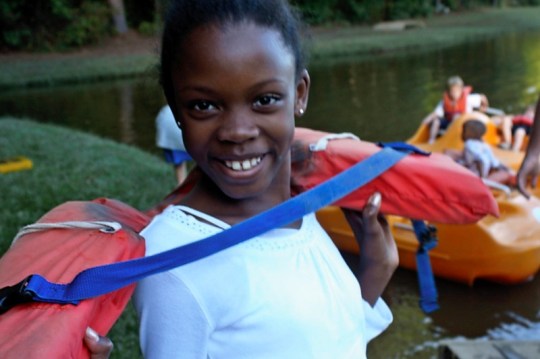 Repressed grief can have devastating consequences down the line, including suicide.
It doesn't help that our culture pressures people to get over loss quickly.
"We don't allow people to stay in a state of bereavement for very long, whereas in other cultures there can be a whole year of mourning," said Betsy Vonk, Ph.D., a professor of social work at the University of Georgia and McClatchey's research collaborator.
The timing of the death and whether it could be anticipated determine how a family responds. McClatchey and Vonk recently published a study showing that treatment may be more effective if the cause of death is taken into account, and counseling is tailored to the individual in bereavement.
When a loved one's death comes as a shock, Vonk said, survivors might be left with "some very complicated relationship dynamics that were unresolved when the person died, and the grieving person can't let go because they're still trying to sort it all out."
Environmental factors can also complicate grieving, and McClatchey says many of Camp MAGIK's kids come from inner-city neighborhoods. "They hear ambulance sirens more often and there are more gunshots. So they become hypervigilant." Children from low-income families are less likely to have access to mental health services, too, and Camp MAGIK may be their only chance to receive professional counseling.
Parents welcome
"We accept based on need," said McClatchey. "We have to give preference to those who have lost a parent or sibling."
Roughly 55 to 60 kids attend each camp. McClatchey says it would not be therapeutic if the camps were any larger. Due to high demand, they do not accept repeat campers.
Besides Cartersville, the camps are held in Hampton and Clarkesville.
Although Camp MAGIK focuses on children, McClatchey says the experience also helps parents who come along for the weekend. In fact, parents are encouraged to attend.
"What happens is that the child won't talk to the parent because they don't want the parent to start crying, and the parent doesn't talk to the child about the loss because the parent doesn't want the child to cry," said McClatchey. "We encourage them to grieve together and we encourage them to answer questions honestly."
For more information, visit http://www.campmagik.org/ or call 404.790.0140. Thanks to a grant from The Moyer Foundation and other private donations, Camp MAGIK sessions are free for children. Reservations are necessary.
Andrew Lowndes is a graduate student pursuing an M.A. in health and medical journalism at Grady College at the University of Georgia. He studied neurobiology as an undergraduate at the University of Wisconsin – Madison and hopes to explore mental health topics as a science writer.