The Georgia Senate continued practicing its sleight of hand with House bills Thursday, making one vanish, restoring a second to its original form and causing a third to reappear as the General Assembly entered the final three days of the 2014 session.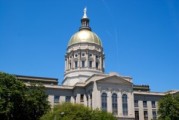 HB 913 passed the House in early March as an effort to prevent possible conflicts of interest among Department of Community Health Board members. With that stated goal, it targeted one board member in particular. But that language disappeared at a Senate Health and Human Services Committee meeting Thursday morning.
The original HB 913, sponsored by Rep. Trey Kelley (R-Cedartown), was replaced with wording from an unrelated Senate foster care bill, and was approved by the committee. SB 350 authorizes the privatization of much of the child welfare system, turning over foster care, adoption and case management services to private companies.
Committee Chairwoman Renee Unterman (R-Buford), sponsor of SB 350, was upset that a House panel chose to amend her bill, taking out what she said were some key provisions.
Unterman first found a new home for foster care reform Wednesday afternoon by tacking it onto another House bill, HB 990. That legislation, sponsored by House Speaker Pro Tempore Jan Jones (R-Milton), requires legislative approval of any expansion of the Georgia Medicaid program.
The federal Affordable Care Act, known as Obamacare, calls for Medicaid expansion, but states have the option not to go along. Gov. Nathan Deal has rejected expansion, and the legislation would reinforce official state opposition to it.
Unterman's committee restored HB 990 to its original form Thursday morning and approved it.
A third House bill, HB 707, seemed to be stuck in the Senate Labor & Insurance Committee after passing the House earlier this month.
The bill, an anti-Obamacare initiative sponsored by Rep. Jason Spencer (R-Woodbine), reappeared Thursday morning, and was voted out of the Senate committee.
HB 707 would prohibit employees of any state unit from spending state funds to advocate for Medicaid expansion. And it would prevent the Georgia insurance commissioner from enforcing any provision of the federal health reform law.

The bill would bar Georgia from operating its own health insurance exchange under the Affordable Care Act.
The House bills just beat Thursday morning's deadline for a chance to get to the Senate floor and pass the General Assembly before the end of the session next Thursday.