The 2014 legislative session was expected to be a quiet one for health care.
Experts predicted that little of significance on health issues would pass before Georgia lawmakers wrapped up a quick, tidy General Assembly session.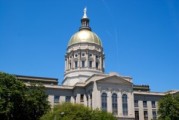 The predictions of a dull session were way off target – sort of like picking Denver to beat Seattle in the Super Bowl.
Major bills on medical marijuana, Medicaid expansion, insurance navigators, autism coverage, abortion, foster care, and the Department of Community Health board have all moved through a chamber or were pending for a vote Monday. In the process, these and other health care proposals captured major legislative attention.
Monday, the 30th day of the legislative session, was Crossover Day. That's a kind of midpoint deadline for bills to advance. A piece of legislation must have passed at least one chamber by midnight on Crossover Day to have a chance at becoming law during the session.
By late afternoon Monday, a handful of bills had moved out of a chamber with clear-cut votes.
A bill to require legislative approval for any Medicaid expansion passed by a 118-57 House vote. The main sponsor of HB 990, Rep. Jan Jones (R-Milton), House speaker pro tempore, said the bill — by adding another obstacle to expansion — would prevent added strain on the state budget and taxpayers.
Medicaid expansion would cost the state $2.8 billion over 10 years, Jones said. "Doubling down on faulty, unsustainable government programs'' is the wrong thing to do, she added.
Other estimates put that cost much lower. Democrats have argued that the expansion bill was a barrier to hundreds of thousands of low-income adults getting coverage through the Affordable Care Act.
Later, Democrats argued forcefully against HB 707, an anti-Obamacare initiative sponsored by Rep. Jason Spencer (R-Woodbine). It would prohibit employees of any state unit from spending state funds to advocate for Medicaid expansion. It would also bar the University of Georgia from operating its current navigator program that assists people trying to get coverage under the ACA.
The bill would also prevent the office of the state insurance commissioner from enforcing any provision of the health reform law.
Spencer and other Republicans during the debate Monday evening blasted the Affordable Care Act as "egregious,'' a "train wreck,'' and "welfare."
House Minority Leader Stacey Abrams (D-Atlanta) questioned whether under the bill, Georgians could still go to the state insurance commissioner if they had a problem with coverage for a medical condition. Spencer replied that residents would have to seek relief from the federal government, not the insurance commissioner, if it involved a provision of the ACA.
Rep. Pam Stephenson (D-Atlanta) concluded the debate by saying, "I don't think this [bill] is constitutionally viable.''
The bill passed by a vote of 115-59.
Democrats Dexter Sharper of Valdosta, Scott Holcomb of Atlanta and Mary Margaret Oliver of Decatur also raised questions about the constitutionality of House Bill 772, which would require some Georgia applicants for food stamps and welfare benefits to pass a drug test.
People applying for this government assistance would require testing if they raised "reasonable suspicion" of illegal drug use. Rep. Greg Morris (R-Vidalia), the sponsor of the bill, argued that his goal is to prevent the spending of taxpayer dollars to subsidize illegal drug use.
The drug testing legislation was approved by the House 107-66, an hour before the midnight deadline.
Medical marijuana
Earlier Monday, the House approved a bill by a 171-4 vote that would permit medical marijuana to be grown and used in Georgia for treatment of patients with cancer, glaucoma and seizure disorders under tightly controlled restrictions.
The bill, called Haleigh's Hope Act, was inspired by the plight of 4-year-old Monroe County resident Haleigh Cox, who suffers from as many as 100 seizures a day.
Haleigh's parents, and other people whose children suffer from similar seizure disorders, worked with Rep. Allen Peake (R-Macon) to propose a bill that would provide access to a marijuana derivative, called cannabidiol (CBD), which has been seen as effective in reducing the number and duration of the seizures.
Peake called the bill imperfect, but he said passage by the House was a first step. He also acknowledged that children in Georgia will not have immediate access to CBD if the law is enacted.
Yet for children suffering seizures, he said, "We cannot move fast enough."
Rep. Mickey Channell (R-Greensboro) said the bill is personal for him. His wife's great-niece suffers from a seizure disorder. In advocating for its passage, Channell said, "We need to act now. Let's not let the pursuit of perfection keep us from doing what's right."
But Rep. Sharon Cooper (R-Marietta) cautioned about raising the expectations of parents, saying if the bill is enacted it could be months or years before they have access to CBD in Georgia.
She noted that there is a marijuana derivative that has been approved by the FDA for clinical trials, and families in Georgia could gain access to it without passage of HB 885.
Limiting coverage of abortions
After a passionate debate, the Senate passed a bill that would prohibit coverage for an abortion in a health insurance exchange plan and the state employees' health plan, except in the case of a medical emergency.
If the bill is enacted, Georgia would join 24 other states with similar laws, according to Sen. Judson Hill (R-Marietta), sponsor of SB 98. "This bill does not change current abortion law,'' Hill added.
Female Democratic senators argued that the bill continues "a war on women.'' They held up coat hangers to represent old, unsafe methods of abortion.
The proposal infringes on "a woman's right to choose,'' said Sen. Gail Davenport (D-Jonesboro).
Added Sen. Gloria Butler (D-Stone Mountain): "This is politics at its worst. . . . Intrusion at its worst."
And Sen. Nan Orrock (D-Atlanta) noted that the bill does not exclude cases of rape or incest.
But Sen. Josh McKoon (R-Columbus) said the bill follows the congressional prohibition on using federal funds to fund abortion.
Sen. John Albers (R-Roswell) said, "The war has been on innocent babies'' since the U.S. Supreme Court's 1973 Roe v. Wade decision, which legalized abortion nationwide. And Sen. Mike Crane (R-Newnan) said, "There is an inherent evil in killing the unborn."
Sen. Renee Unterman said the brandishing of coat hangers was "a new low."
"I stand for the unborn and the children of Georgia," she said.
The bill passed by a 35-18 vote.
State benefits plan
As legislators gathered in January, changes to the State Health Benefit Plan unleashed a deluge of criticism from many educators and state employees who are members of the plan. Their main target is a lack of consumer choice – the plan now offers just one insurer and one type of insurance format – and higher out-of-pocket costs.
On Monday, the Senate passed a bill requiring a high-deductible plan with a medical savings account.
Previously, that chamber voted for another proposal, which would require the board of the Department of Community Health, which oversees the State Health Benefit Plan, to have at least one member who is enrolled in the plan.
And the House on Monday approved a bill to address possible conflicts of interest on the Community Health board by barring certain categories of people from membership. The wording of the legislation would appear to target a current DCH board member, Richard Jackson. He has led the charge for medical malpractice reform, as well as reform of the foster care system.
Already having moved through one chamber are bills that would:
** Mandate private insurance coverage for treatment of children with autism
** Toughen penalties for operating an unlicensed personal care home, raising a first offense to a felony from a misdemeanor.
** Replace much of the state's child welfare system by private companies and organizations under Senate Bill 350.
** Create new oversight for the 26 community boards, known as CSBs, that offer services to Georgians with behavioral health problems and developmental disabilities.
** Allow Public Health officials to let health care providers know if their patient has a positive HIV test and is not currently getting medical treatment.
** Grant amnesty from certain drug charges for those who seek help in the event of a drug overdose.
** Move the state's aging services into a new agency.
** Track the prevalence of Alzheimer's disease and other forms of dementia in Georgia.
** Require the Department of Public Health to establish a committee to review maternal deaths and to report on their causes. (A GHN article last summer reported that the Georgia rate of maternal deaths was the highest in the country.)
Staff writer Charles Craig contributed to this article.