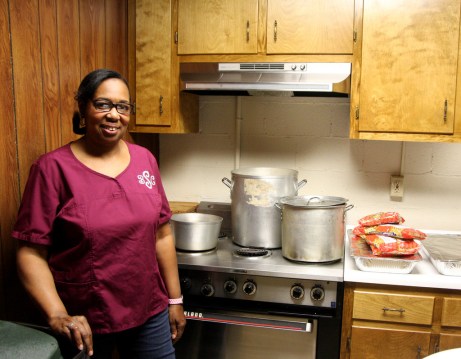 Every Sunday morning, Shiloh Baptist Church in Athens fills with about 125 members who have come for preaching, prayer and song.
The services nurture the spiritual well-being of the congregation. And then, after church lets out, Shiloh member Barbara Haynes is there to tend to their physical health.
Each week, Haynes promotes more exercise and healthier eating to help church members ward off obesity and diabetes.
"We had this thing of 'the sweeter the better' and 'the saltier the better,' " Haynes said. "Now we know better."
Often, Haynes is in the church kitchen cooking up new versions of familiar foods, using healthier seasonings than she and the other church members grew up with.
During a family picnic once or twice a year, Haynes joins forces with health professionals to screen church members for high blood pressure, elevated blood sugar levels and other problems.
Shiloh Baptist is a small, predominantly African-American church in east Athens, drawing members from throughout the city and some outlying areas.
"We have a lot of people who have health problems," Haynes said, "and [they sometimes] don't take it seriously."
Haynes, 60, who is retired and spends most of her time volunteering, uses her status as a church member — and in many cases, as a friend — to get people to pay attention and perhaps ward off preventable ailments.
Haynes did not learn her medical skills in college. She learned how to quiz people about their health worries and screen them for common problems in a five-week training course managed through the Athens Health Network, an organization that aims to narrow health disparities.
Graduates of the course are designated "community health partners," and they put their skills to work in churches, workplaces and Head Start Programs, and among neighbors and families. Since 2012, 52 people have completed the training.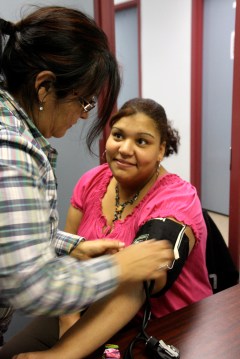 Haynes signed up because she wanted to be a leader in her community, someone who spreads information about staying healthy, a person doing battle against premature illness and death.
That's important, Haynes said, because many of her friends and neighbors don't get regular check-ups from a doctor.
"Some of them, if they don't get sick, then they never go to the doctor," she said.
That lack of medical screening could allow a problem like high blood pressure, obesity or high cholesterol to get dangerously worse before anything is done about it.
"To have someone monitor them, it will help them get the help they need without going to the doctor" as frequently, she said.
Mercy Health Center, a faith-based medical resource center, started the Community Health Partners training in Athens, and two years ago the Athens Health Network took it over.
Nurses and pharmacists are among the instructors, and participants learn about a range of chronic conditions, infectious diseases, reproductive health and nutrition.
They learn basic skills, including how to measure and interpret blood pressure results and perform simple blood tests.
Because the program is geared to people with lower incomes, the health partners learn about what kind of care is offered at the Athens clinics and who is eligible.
The course is free to those who want to participate in the program.
"They become health experts," said Laura Alexander, the new executive director of Athens Health Network. "They become resources for people to go to with questions."
Idea catches on worldwide
This is known as a "lay health educator model," an approach used around the world and with great effectiveness. Trained community members disseminate health information, keep their eyes open for emerging public health problems and report them.
These trained lay people often understand better than medical professionals why residents of their communities resist changing their health habits.
"Lay health educators bring a good sense of what those barriers are and how to change them," Alexander said.
A 2007 report by the World Health Organization highlighted the effectiveness of lay health educators, especially those who are well trained and integrated into their communities. The report said this model can be especially effective in promoting child health.
Through a federal grant, a Head Start program run by Easter Seals North Georgia is reaching children and their families using this model.
Easter Seals staff members took Athens Health Network's training course over the summer. Now they're putting what they learned to work with children 3 to 5 years old. The kids come from about 1,300 low-income families in Barrow, Madison, Jackson and Walton counties.
As part of the Easter Seals program, social workers screen students for signs of trouble and talk with parents about health issues.
Before the training, Easter Seals staff had already taught families about nutrition, exercise and a healthy lifestyle, but the Community Health Partners training bolstered the "awareness and confidence of the social workers," said June Gray, health and nutrition specialist for Easter Seals.
Four-year-old Juan Santos of Winder, a student in the program, suffers from asthma. And the problem is made worse by his attention deficit hyperactivity disorder. "He's so active," said his mother, Ismelda Santos.
But Santos said the staff there taught her how to manage Juan's asthma. They've also helped her manage her own high cholesterol.
"They are very helpful if you have a need," Santos said.
The Community Health Partners program has made a big difference in how staff members advise parents about the health of their children and families, said Kizzy Wingfield, family services supervisor for Easter Seals North Georgia.
Wingfield said the training has helped her manage her own health better, especially when it comes to reducing work-related stress and eating more healthful foods.
"It not only empowers me and my personal well-being, but it also empowers me to help my family and my community," Wingfield said. "It's a domino effect of everyone being informed of preventative care."
Aaron Hale is a former government and public safety reporter. He currently is a first-year graduate student in the health and medical journalism program at the University of Georgia.