The 26 community boards that offer services to Georgians with behavioral health problems and developmental disabilities would face new oversight under a state Senate bill introduced this week.
The legislation follows recent trouble connected with one such community service board in Coastal Georgia. A September state report on Gateway Behavioral Health Services last year said its operation was riddled with financial irregularities and management problems.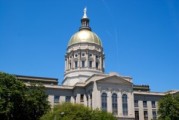 The Department of Behavioral Health and Developmental Disabilities (DBHDD) took control of Gateway last year, firing its CEO and asking its chairman to resign.
The department indicated to Georgia Health News on Wednesday that the bill is not so much about Gateway as about trying to strengthen the statewide public safety-net system and bring consistency, accountability and transparency to it.
"The bulk of these ideas preceded Gateway,'' said Andrew Johnson, legislative director for DBHDD.
The Senate Health and Human Services Committee heard testimony Wednesday on Senate Bill 349, sponsored by Sen. Charlie Bethel (R-Dalton), a floor leader for Gov. Nathan Deal in the Senate. No vote was taken.
The legislation would place new rules on the community service boards, commonly known as CSBs, which serve 175,000 Georgians with behavioral health problems or developmental disabilities.
The bulk of those patients are uninsured or have Medicaid coverage. About $300 million in government funds flows to the CSBs on an annual basis, Bethel said.
The legislation would update the regulations on the CSBs, which were created about 20 years ago, Bethel told the panel. He acknowledged that the state has had ''some particular negative experiences'' with CSBs, but his testimony did not focus on the Gateway conflict.
DBHDD Commissioner Frank Berry has personal experience running a CSB, and his input helped shape the legislation, Bethel said.
A list of tough rules
The bill would require CSBs to have public or elected officials on their governing boards; allow for contracts with financial incentives or penalties; give the DBHDD commissioner the power to review compensation of a chief executive of a CSB; impose conflict-of-interest rules; and require state agency approval of subsidiaries created by the CSBs.
The bill would also bar a CSB from suing the state.
The lawsuit prohibition, Johnson acknowledged, was directly inspired by the Gateway dispute. Gateway sued DBHDD, alleging that the state owed Gateway more than $1 million in reduced payments. The suit was eventually thrown out last year by Fulton County Superior Court.
Gateway serves the counties of Glynn, Camden, McIntosh, Long, Liberty, Bryan, Chatham and Effingham.
The proposed changes, if enacted, won't have any adverse effect on those CSBs that are performing well, Johnson told the Senate panel. Having more elected or appointed officials serve on the CSB governing boards could bring more community support and increase their level of board experience, he said.
State Sen. Nan Orrock (D-Atlanta) praised the effort to create more oversight. "It's probably long since time to take a fresh look'' at the CSB system, she said. "All too often, public dollars get plundered.''
The Georgia Association of Community Service Boards told GHN that it supports the legislation. "We are confident that it will strengthen the public safety net for people with behavioral health disorders and people with developmental disabilities,'' said Robyn Garrett-Gunnoe, director of the association.
Ellyn Jeager of Mental Health America of Georgia said Wednesday that the majority of CSBs "do a good job.''
The legislation, she said, appears to be a reaction to Gateway. "Accountability is always good," Jeager added.
Controversy on the coast
The September report on Gateway said it had a deficit of close to $4 million. It also had $1.4 million in accounts payable at the end of August, according to the report written by the organization's newly appointed manager, David Crews.
The report noted that some members of Gateway's board had done business with Gateway, which critics say was a conflict of interest.
"It's clear that a board member should not be doing business with a community service board,'' Crews told GHN.
Gateway board Chairman Howard Lynn's company, Lynn Electric, was paid about $63,000 over three fiscal years for work at the GEM bottling plant, which provides employment to people with developmental disabilities.
Lynn said his company provided the labor and expertise for free, and he said the funds paid by the board went toward the purchase of needed materials, according to the Brunswick News.
Lynn was removed as board chairman by DBHDD Commissioner Berry.
The Brunswick News has reported that a legal dispute has arisen over the severance owed to former Gateway CEO Frank Bonati.
The salary of Bonati rose from $125,000 in 2003 to more than $211,000 in 2010, the newspaper reported.
Johnson said Crews is still heading up Gateway and that its finances have stabilized. Though it still carries a debt, Gateway is no longer operating at a financial loss, DBHDD said.
"Morale is improving among employees,'' Johnson added. "The department is still working through some challenges there.''