Willie Johnson of Doraville didn't know what to expect when he went to a recent health care information event in Stone Mountain.
Johnson, a part-time restaurant worker, had no health insurance. So when he heard a spot on radio station V-103 about the event at Berean Christian Church, he decided to find out for himself.
At the church, he met officials with Enroll America, a nonprofit organization seeking to help people gain coverage under the Affordable Care Act. They gave him information about the health insurance exchange that the federal government operates in Georgia.
Soon afterward, Johnson, 47, enrolled in an exchange policy that he says will cost him just $30 a month.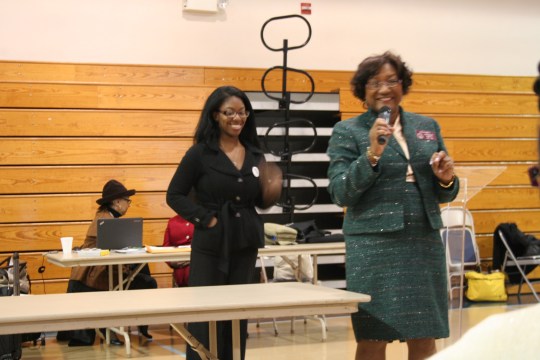 The involvement of a church in an ACA enrollment event is not incidental.
Enroll America, federal officials and others working to help uninsured Americans sign up for the new health coverage have frequently tapped churches and other places of worship to host educational events on the ACA, which is often called Obamacare.
Johnson says African-Americans feel at home at such events because "we trust the church.''
"It's a safe haven,'' he says.
In Georgia, Enroll America has connected most often with African-American churches, says Dante McKay, the group's state director. But he says his group wants to reach everyone it can help.
McKay makes the point that religious leaders of all denominations have been receptive to Enroll America's outreach, though "sometimes [when] you reach out to a church, they haven't been responsive."
And the fact that so many people who are targeted are African-Americans may be simply a matter of numbers.
Almost one in four African-Americans in Georgia have no health insurance, a higher rate than the state population as a whole. And 30 percent of the state's population is African-American.
Nationwide, one-fifth of uninsured African-American citizens and permanent residents live in the greater Atlanta, New York, Chicago, Dallas, Houston, and Detroit metropolitan areas, according to the U.S. Department of Health and Human Services.
"Churches have been a great convening point,'' says Amanda Ptashkin, an Atlanta-based health insurance "navigator'' who helps sign people up for coverage. "The faith community has asked for navigators'' to help out at the enrollment events, she adds.
'Second Sunday' events
Federal officials have joined information events at churches, with the Centers for Medicare & Medicaid Services (CMS) holding "Second Sunday" enrollment events with faith-based organizations across the country.
Even as the feds help groups promote the ACA in Georgia, top state officials stand firmly against it.
Georgia's Republican leadership, including Gov. Nathan Deal, the majority in the General Assembly and many local officials, oppose the 2010 law. Deal has refused to expand Medicaid, which the ACA encourages. There are also legislative proposals to limit state cooperation with the ACA.
ACA supporters say they sometimes have to fight misinformation about the law. In addition, the law's rollout has produced several snags and delays, including a balky federal website, healthcare.gov
People looking for information often say, "I'm hearing a lot of negative in the news,'' says Brenda Pace, a health insurance navigator who attended an education event at Fairfield Baptist Church in Lithonia in December.
The ACA is a very complicated law, and knowledge of its basic provisions is limited. A survey released in January found that most uninsured adult Americans lack basic knowledge about the law and haven't visited their online insurance marketplace because they think health insurance is unaffordable. And 69 percent of the uninsured still lacked knowledge about tax subsidies and other financial help designed to make the coverage affordable for many, the survey said.
Still, Pastor Micheal Benton of Fairfield Baptist says health insurance remains a great need from many in his community. "A lot of times we don't go to the doctor, because we can't afford to go to the doctor."
"The need is there,'' adds state Rep. Karen Bennett (D-Stone Mountain), also a pastor, who spoke at the Fairfield event. "Having insurance saves lives.''
African-American pastors have been supportive because "many of our churches serve people of low income" who are uninsured, says the Rev. Arthur Carson Jr., president of New Era Baptist Convention, which represents 85 churches in the state.
People with pre-existing conditions such as hypertension and diabetes are now getting insurance thanks to the ACA, Carson says.
The church is a natural place for this type of event, Carson says. "The church has been the center of our community.''
An event at Paradise AME Church in Jefferson in December drew AME ministers and leaders from Athens to Augusta. Talk about the ACA was preceded by the singing of hymns, including "Do Not Pass Me By" and "To My Father's House."
Whitney Horton of Enroll America gave the church leaders an emphatic pep talk. "I've been in a lot of churches,'' she told the ministers and lay leaders. "You are the lights of your community. Take good, accurate information back to your congregations.
"Everyone should have the health care they need. You guys talk to people every single Sunday. Without faith leaders, they won't know."
"We do have parishioners who are concerned about health care,'' said Ella Mae Samuels, presiding elder of the Augusta-Athens district of the African Methodist Episcopal Church, after the information event.
Activism will continue
Such grass-roots efforts may be starting to pay off in Georgia. The initial enrollment numbers in the health insurance exchange in Georgia showed a big increase in January, when sign-up numbers jumped to 101,000 from 58,000.
The open enrollment deadline of March 31, though, is fast approaching. After that, uninsured people who haven't enrolled are subject to a penalty.
Carson says New Era Baptist Convention is planning a sign-up summit in all regions of our state convention for mid-March. "Our theme is take action now," he says.
Meanwhile, pastors are lending support to the Moral Monday cause, which is urging Gov. Deal to expand Medicaid.
The governor and other top Republicans emphasize that expansion would cost more than the state could handle. It will eventually cost the state $400 million a year, says state Rep. Jan Jones (R-Milton), the House speaker pro tempore who is leading the charge for a bill that would require legislative approval for any expansion.
To pursue expansion, Jones says, Georgia would have to raise taxes.
Carson and other pastors are undeterred. "We're hoping the pressure will speak to [Gov. Deal's] conscience,'' Carson says. "There are thousands of Georgians whose lives would be dramatically changed for the good."