This past August, while in class at Roswell High School, 17-year-old Andrew Hawks suddenly felt his heart rate go up.
He knew it was something worse than just a passing feeling.
He was sent to the school clinic. Staffers there phoned his father, who immediately drove to the school with the intent of picking up Andrew and taking him to the family doctor.
But things got worse in a hurry.
As Andrew tried to stand up, he felt lightheaded and his eyes rolled back. He appeared to be on the verge of passing out, and then his body became rigid.
"It was as if he was going to have a seizure," says Kathy Hawks, Andrew's mother. The school called 911, and when first responders arrived, they were able to send a shock to the teen's heart with an automated external defibrillator, or AED, kept at the school.
Sudden cardiac death can take place without warning. This abrupt loss of heart function affects 600 to 1,000 children and adolescents and more than 350,000 adults in the United States every year.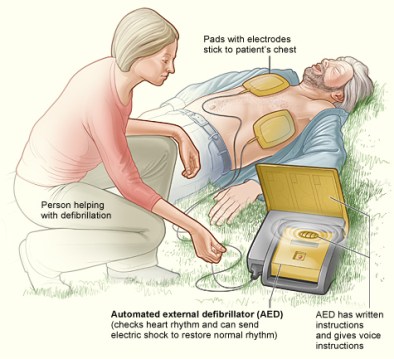 Georgia schools have seen more than their share of such cases. In the past several school years, at least 15 students and 12 adults have died in schools from probable sudden cardiac arrest, according to Project S.A.V.E., an outreach and prevention program of Children's Healthcare of Atlanta (CHOA).
So far there have been 42 "saves" in Georgia: 18 students and 24 adults are alive today because school personnel were prepared and ready to take action when their cardiac function ceased, according to Project S.A.V.E. statistics. Andrew was one of the lucky ones.
"It [the AED] was right there," says Kathy Hawks. "Andrew was a save."
She says that by telling his story, she may be able to help another family. "If my son's recovery can save one more life, then it's worth it — what happened to Andrew was truly bizarre," she says.
Andrew was active in sports, and had no prior health problems, she says.
The program's formal name is Sudden Cardiac Death Awareness: Vision for Prevention and Education.
Equipment plus training
In 2008, Georgia law was amended so every public high school with an interscholastic athletic program would have at least one functional AED on site and easily accessible during school-related functions.
"You never know who the witness will be, so we believe the entire school staff needs training in recognizing the signs and symptoms of sudden cardiac arrest," says Richard Lamphier, RN, clinical program manager for Project S.A.V.E.
Years ago, as a high school student, Lamphier saw a teammate collapse on a practice field, and the young man died even as the coach tried to save him using CPR. Lamphier wonders to this day whether his teammate would have survived if an AED had been available.
CPR can be a lifesaver for a heart attack victim, and any time a person collapses and stops breathing, it should be performed until something better is available. But if the condition proves to be not a heart attack but sudden cardiac arrest, CPR is unlikely to reverse it. An AED's ability to send an electric shock, which restores the heart's normal rhythm or beat, is the best chance for a patient to live immediately after sudden cardiac arrest.
"Project S.A.V.E.'s goal includes not only getting the AEDs into all schools, public and private, in Georgia," says Lamphier. "We educate the community."
In 2003, a number of pediatric sudden cardiac deaths took place over a six-week period in Georgia.
That's when Dr. Robert Campbell began the program here, the first state affiliate of Project Adam, established at the Children's Hospital of Wisconsin.
Since 2004, CHOA's Project S.A.V.E.staff has been busy educating school personnel with an eye on prevention.
Today Campbell is chief of cardiac services at Children's Healthcare of Atlanta Sibley Heart Center and serves as Project S.A.V.E.'s medical director.
The staff educates school system personnel about the importance of AEDs, explains what is known about sudden cardiac arrest, and ensures everyone is focused on a "chain of survival."
What everyone should know
The chain of survival hinges on four critical steps: The first is to call 911 and activate an emergency medical response; perform CPR immediately, until defibrillation can be performed. Then, defibrillate if needed. And finally, ensure that advanced medical care arrives quickly.
Ninety percent of the time, an AED can detect a rhythm that should be defibrillated, according to the American Heart Association. And 95 percent of the time, the defibrillator will recommend when not to send a shock.
Dr. Bobby V. Khan, past board chair of the Sudden Cardiac Arrest Foundation, explains the problem this way: "Something causes the heart to degenerate into a chaotic and abnormal electrical rhythm and the heart beats erratically."
Khan says there are a few warning signs that may indicate trouble, but not always.
One is sudden and unexplained fainting that occurs during physical exertion. This could be syncope, a loss of consciousness from a lack of blood flow to the brain. There might also be seizures. Another warning sign might be a family history of unexplained deaths before the age of 50.
There is hardly any condition more urgent than sudden cardiac arrest. According to the American Heart Association, a victim's chance of surviving drops 7 percent to 10 percent for every minute a normal heartbeat isn't restored.
Even when an AED is available and put to use, not every person who experiences cardiac arrest will survive. But the machine remains the best chance of saving a life when the heart is in ventricular fibrillation. The shock from the AED momentarily stuns the heart so it will resume beating normally.
Khan sees a disturbing trend in the age of his patients. "They are getting younger," he says.
"I'm seeing 17- and 18-year-olds with obesity and high blood pressure." In some cases, Khan explains, these are the children of parents with atherosclerosis. Poor diets and lack of exercise are contributing risk factors, he says.
"The resultant increase in coronary atherosclerosis will surely lead to an increased incidence of sudden cardiac arrest," says Khan.
Judi Kanne, a registered nurse and freelance writer, combines her nursing and journalism backgrounds to write about public health. She lives in Atlanta.