The number of Georgians signing up for a health plan through the Affordable Care Act insurance exchange increased to 6,859 by the end of last month, up from 1,390 as of Nov. 2, federal officials announced Wednesday.
The rise in enrollees reflects, in part, a better-functioning federal website, which has been plagued with problems since ACA enrollment began Oct. 1.
Overall, 364,682 Americans have selected plans from the state and federal exchanges by the end of November, the U.S. Department of Health and Human Services announced.
November enrollment in the federally run exchanges — used in Georgia and 35 other states — was more than four times greater than October's reported enrollment number, HHS said.
But the numbers fall well short of the White House's past projections of enrollment during this period.
The Georgia health insurance industry and local navigators helping to enrolling people in health plans agree that the healthcare.gov website is working better.
"There are some positive steps in the customer experience,'' Graham Thompson of the Georgia Association of Health Plans told GHN on Wednesday.
Health insurers, though, are still experiencing problems getting complete application data about enrollees, Thompson added.
Brenda Pace, a navigator from Stone Mountain-based Oakhurst Medical Center, told GHN on Sunday that enrollment activity "has picked up tremendously over the last two weeks.'' She cited the Dec. 23 deadline for people to have coverage beginning Jan. 1.
"This is major change,'' Pace said at an enrollment event at Fairfield Baptist Church in Lithonia. "It's going to mean a lot to a lot of people.''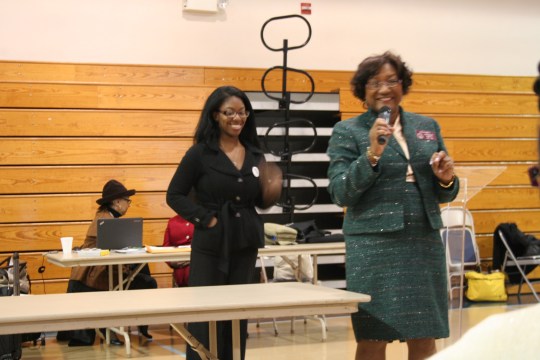 Americans have until March 31 to enroll in insurance and avoid paying a fine for being without health insurance.
Georgia's 6,859 enrollment number trails figures from other federally run exchange states. Florida has 17,908; Texas 14,038; Pennsylvania 11,788; North Carolina 8,970; and Illinois 7,043. But with the exception of North Carolina, all those states have overall populations considerably higher than Georgia's.
HHS also reported that 10,925 Georgians had been deemed eligible for Medicaid and PeachCare, up from 7,709 in October.
Georgia's Medicaid agency, though, is experiencing problems processing information on these people from the federal exchange portal. The administration is asking states to process a file with just basic information, and later go back and reconcile the data once the system is improved, WABE recently reported.
"This proposed process requires DCH to manually input the files, creating a process that is administratively inefficient and increases the risk for duplication of members in the state's system,'' the Department of Community Health said in an email.
HHS also reported that there were 61,443 competed applications in Georgia, up from 28,642, that would cover a total of 122,543 people, up from 56,783 as of Nov. 2.
Cindy Zeldin of the consumer advocacy group Georgians for a Healthy Future said Wednesday that the new enrollment figures are encouraging. "There's clearly a demand for health insurance,'' she told GHN.
"We have a long way to go,'' Zeldin said. "We have a large number of uninsured in Georgia.''
Despite the increase in the number of enrollees, the exchanges have a long way to go to meet their goal of 7 million new insurance customers in the first year, Alan Cohen, the chief strategy officer of Liazon, which provides health exchanges to private employees, told USA Today.
"They've been stunningly, dramatically below expectations," Cohen said.
Two new polls released this week show a slight uptick in job approval numbers for President Obama. Those numbers had plunged with the bungled debut of the federal exchange website, and cancellations of individual insurance policies.
And the health reform law itself still has a ways to go to win public trust, the Washington Post reported Wednesday: 41 percent of Americans now say they approve of it, while 54 percent say they disapprove.
Proponents of the ACA have a big information gap to overcome as well.
A poll released Tuesday showed that only about 7 percent of uninsured Americans felt "very prepared" to sign up for health insurance and that nearly a third had not even heard of the exchanges that many will use to sign up, the Augusta Chronicle reported.
And 61 percent of the uninsured –- whom the law was designed to help –- said they have not done anything to prepare to get health insurance, while 55 percent said they were still "not sure" what they would do to comply with the health insurance mandate, according to the survey by the Transamerica Center for Health Studies, the Chronicle reported.
Zeldin said the enrollment process has been easier in the states that have expanded their Medicaid programs under the ACA.
Georgia's decision to not expand Medicaid – a move made optional for states by the Supreme Court – "adds a layer of confusion for consumers,'' she said.