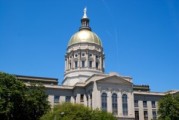 The state is continuing its transformation in behavioral health services by creating "crisis centers" in Albany, Thomasville and Valdosta.
Georgia officials are also seeking to lease empty buildings on the historic Milledgeville hospital campus, which has been downsized as the state moves away from a hospital-based system of care for people with mental illness and developmental disabilities.
The three centers in South Georgia will serve individuals experiencing behavioral health crises by providing assessment, short-term crisis counseling, supportive services and referrals, with a goal of treatment closer to the patient's home.
The new centers will replace some services provided at the psychiatric hospital in Thomasville, which is set to close Dec. 31.
"People will no longer have to travel long distances to get care in a state institution,'' Frank Berry, commissioner of the Department of Behavioral Health and Developmental Disabilities, said at an agency board meeting Monday.
The agency also received good news about its budget. Still, this has been a rocky month for DBHDD, with a lawsuit filed against it and a controversial closing.
The agency's board Monday approved a resolution facilitating potential leases of three buildings on the Milledgeville campus to Outreach Ministry Church, Cogentes Technology, and CAPS/ATL (Analytical Training Laboratory).
The downsized campus can still be an economic magnet for the Milledgeville area, Berry said.
The revamping of the state's services for people with mental illness and developmental disabilities has occurred in the wake of Georgia's landmark 2010 agreement with U.S. Department of Justice, which aims to move people from mental hospitals into community living situations.
Since then, the state DBHDD has closed its mental hospital in Rome and reduced services at its Milledgeville facility.
Meanwhile, more community services such as housing and crisis teams have been created for people with mental illness. And the state said that it has reduced the hospital population of people with developmental disabilities from roughly 1,000 to 333.
The agency also revealed Monday that it's one of six state agencies that are allowed to request more funding in the upcoming budget year. (The others are the Departments of Community Health, Human Services and Education; Board of Regents, University System of Georgia; and the Technical College System of Georgia.)
Jeff Minor, chief financial officer of DBHDD, said state agencies won't face budget cuts as they have in the past few years.
On the negative side, though, an announcement earlier this month that the state would close a program for troubled teenagers in Warm Springs drew criticism from Georgia legislators and consumer advocates.
Commissioner Berry has agreed to delay the formal action that would close the Warm Springs Outdoor Therapeutic Program, state Rep. Debbie Buckner (D-Junction City) told the Columbus Ledger-Enquirer recently. Legislators have sought to allow time for a private entity to propose the same or similar service for Georgia's troubled teens.
Money for the program still will be cut at the end of the month — and the 18 youths will be sent elsewhere.
State officials say the teens in the residential program will be better served in settings closer to home, and that the program's enrollment is at less than half its capacity and runs at a significant operating loss.
Critics of the decision say no adequate settings exist outside this program, and they blame the declining enrollment and financial deficit on the fact that the state has stopped allowing referrals, the Ledger-Enquirer reported.
The Warm Springs program is not appropriate for youths who need higher security and more oversight than that provided by traditional community-based residential facilities, said Matt Carrothers, a DBHDD spokesman.
The Department of Juvenile Justice and the state Division of Family and Children's Services, which refer teens to the Warm Springs program, will be responsible for placing the youths in each agency's care and custody, Carrothers said.
Sue Smith, CEO of the Georgia Parent Support Network, an advocacy group, said the Warm Springs program has helped many teens, including her daughter.
"For my family, it was an integral part of a very ill child's recovery,'' Smith told Georgia Health News on Tuesday. "It makes me very sad that this resource won't be available for children.''
In addition, DBHDD, along with the Department of Community Health, is the target of a lawsuit filed in August alleging the two agencices have failed to reimburse properly the providers of services to people with intellectual and developmental disabilities.
United Cerebral Palsy of Georgia, Coastal Center for Developmental Services, Hope Haven of Northeast Georgia and Creative Community Services, as well as four families representing thousands of individuals with development disabilities, are plaintiffs in the lawsuit, filed in Fulton County Superior Court.
DBHDD spokesman Carrothers declined comment Monday on the litigation.