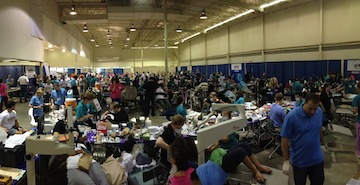 The doors opened at 5 a.m. And for more than 12 hours a day last Friday and Saturday, hundreds of Georgians received cleanings, fillings, extractions, dentures and root canals, along with information about dental health — all delivered free of charge.
The two-day free clinic in Norcross, in northeast metro Atlanta, treated more than 1,600 people.
The Georgia Mission of Mercy, hosted by the Georgia Dental Association and its Foundation for Oral Health, provided services from about 900 dentists, hygienists, dental assistants and dental laboratory technicians. They donated more than $1.5 million in care to patients, many of whom had postponed dental visits for years.
Two years ago, more than 2,000 people were treated at a two-day Mission of Mercy dental clinic in Woodstock.
While roughly 20 percent of Georgians have no health insurance at all, a much higher percentage lack dental coverage. Even in the best of economic times, only about half the state's population has dental insurance, according to the Georgia Dental Association.
One of the Norcross patients, Edwin Weaver, told WSB-TV that he had never been able to pay for dental work and had been in pain for more than two years.
"I had [a] filling put in and I had my teeth fixed. I'm fixing to be cleaned and get a partial," Weaver said.
"I think it's a blessing," he said.
Dr. Sidney Tourial, president of the Dental Association, cited the state's lack of a dental safety net for adults as a reason why such clinics draw so many people.
"We realize that Mission of Mercy clinics aren't a permanent solution to the problem,'' he said, "but we wanted to provide immediate relief for some Georgians who are suffering from oral disease and pain, while also raising awareness of the importance of good oral health."