The old paper charts are vanishing from medical offices at a rapid rate, being replaced by digitalized records.
And Atlanta and Georgia health information technology companies are taking advantage of this transition.
Carrollton-based Greenway Medical Technologies, for example, has recently completed an expansion that added 300 jobs, fueled by the growth of its electronic medical records business.
Revolutionary changes in how health care payments are made and clinical information is exchanged — partly sparked by incentives in the Affordable Care Act — have created an industry boom, says Greg Fulton, a Greenway spokesman.
"All of this [change] is going to be built on data,'' Fulton says. "That's where health care wants to go."
A cluster of health IT companies has mushroomed in Georgia, and especially the Atlanta area. Recently, Healthcare Informatics Magazine listed nine Georgia companies among the Top 100 health IT firms in the nation.
The list, based on annual revenues, places McKesson Technology Solutions, based in Alpharetta, as the leading company in the industry nationally.
The other Georgia companies in the magazine's Top 100: MedAssets, No. 31; HealthPort Technologies, No. 35; Greenway, No. 53; Brightree, No. 79; Navicure, No. 85; Craneware, No. 89; Surgical Information Systems, No. 91; and Vendormate, No. 100.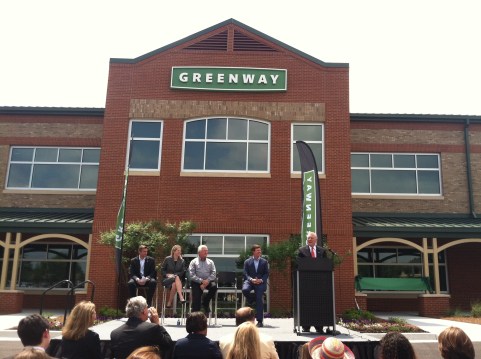 Gov. Nathan Deal, at a ceremony this month marking Greenway's expansion and new headquarters building, said, "This homegrown company has grown rapidly since it was founded in 1998 and has helped Georgia become one of the top three states in the nation for the greatest concentration of health IT businesses."
Just the right combination
The Technology Association of Georgia says there are more than 225 health IT companies in the state, combining for $4 billion in annual revenues and employing more than 15,000 people.
The industry has boomed in Georgia thanks to a mix of homegrown companies and recruitment of out-of-state firms, says Tino Mantella, the association's president and CEO.
"You have talent and you have buzz here,'' Mantella says. "You have schools that will spin off creative new technologies. You have great data centers."
He also lists Atlanta's large international airport and a friendly business and legislative climate, plus synergy with locally based organizations such as the CDC and the American Cancer Society.
Companies in the industry offer a range of products and services, from electronic health records, medical billing and revenue management to diagnostics to preserving the security of information exchanges.
Others offer consumer health information, such as SoloHealth, whose kiosks have been installed in retail and health care settings for people to check their vision, blood pressure, weight and body mass index.
Georgia is the leading state for the health IT industry, Mantella says.
Industry officials credit the Metro Atlanta Chamber of Commerce, the state Department of Economic Development and the Georgia Research Alliance, among other organizations, with helping the industry blossom here.
One company that moved its headquarters here this year says the Atlanta area was the firm's clear choice for its relocation from Jacksonville, Fla.
PaySpan, which electronically handles payments from health plans to medical providers, cites the airport and the fact that the metro area is a hotbed for similar firms.
"We wanted to be in a market with other top financial services and health IT companies,'' says Bill Nordmark, a senior vice president at PaySpan.