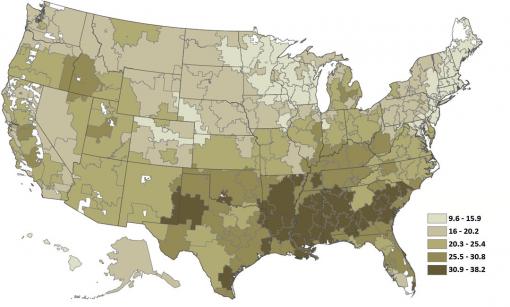 Seniors in the Southeast take more high-risk medications than their counterparts in other regions, a study has found. Nationally, about one in five people in Medicare Advantage plans take at least one of these dangerous drugs. But in many parts of the Southeast, including Georgia, the percentage of seniors in these plans taking high-risk medications is about one in three.
"Geography really stands out," Amal Trivedi, associate professor at Brown University's Alpert Medical School, told NPR. He's a co-author of the study, published in the April issue of the Journal of General Internal Medicine.
The risky drugs include amphetamines, barbiturates, muscle relaxants and narcotics, plus old-style sedating antihistamines and some medications for depression and anxiety, such as Valium, which can cause apnea and cardiac arrest, NPR noted. Many of the drugs increase the risk of falls.
Sandy Turner of Georgia Regents University, after reviewing the study's results, told GHN that she was surprised at the high use of dangerous prescription drugs in the Southeast.
"The South gets a bad rap for a lot of things,'' said Turner, assistant dean in the GRU College of Nursing who directs the college's nurse practitioner programs. "I hate to think we put more elderly people on sedative drugs in the South.''
Still, Southerners tend to have more chronic health conditions, said Turner, a nurse practitioner who is also a professor in the MCG Department of Family Medicine.
Turner noted that it's important for health care professionals to review a patient's medications at least once a year.
As seniors age, their metabolism slows down, Turner added. The medicines that patients took when they were younger may be too strong at the same dosage now, she said.
"We are in a society that believes there's a pill for everything,'' Turner said. "But there are a lot of side effects. The older we get, we should be mindful of those side effects."
A map that accompanied the study showed high use of risky drugs across Louisiana, Mississippi, Alabama and part of South Carolina, as well as Middle and South Georgia. The national analysis is based on prescriptions for 6 million Medicare members in 2009.
The study's authors said the higher Southern rates could be a combination of many factors, including higher patient demand for the drugs; a different "prescribing culture"; possibly higher prevalence of chronic medical problems in the region; or inadequate medical training with regard to appropriate prescribing among elderly patients.
In Georgia, 38 percent of Medicare Advantage enrollees in Albany got at least one risky drug – the highest rate found in the study. The area in the nation with the lowest rate, 10 percent, was Mason City, Iowa.
The people prescribed risky drugs were more likely to be poor, white and female.